And while we are on the topic of barking mad wines, I've had a variety six pack of Domaine Tempier in the rack for a while now. Â Meanwhile, the perfect wine marriage for beans on toast remains unconsummated in my experience. Can you see what's coming?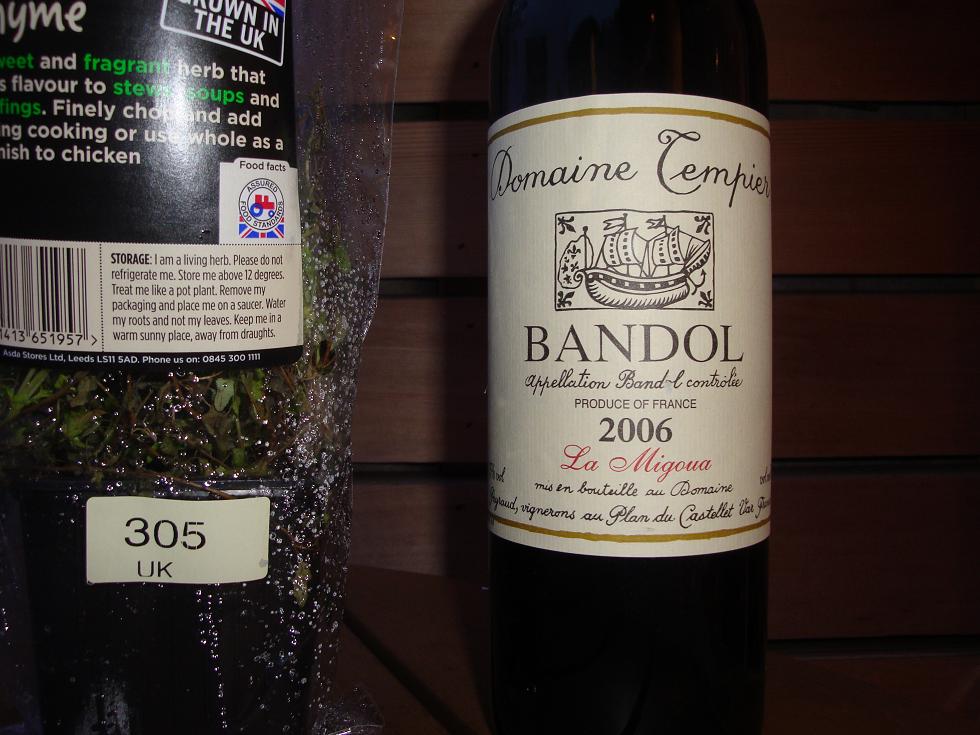 I've had a dabble with Château Musar recently, which reminded me that there is more than one barking mad wine in the world.  After One Flew Over the Lebanese Nest, I reckon that the Mourvèdres of Bandol would be next on most winos' lunacy lists.  And Domaine Tempier is the rabid, mouth foaming chieftain o' the Provence race.
Making wine predominately from Mourvèdre, a grape normally reserved for a cameo role adding a little kick to Bordeaux red varieties like the Cabernets, is a bit like making a dinner of sauce with no meat and no pastry. But, I suppose people do eat vegetable soup.
When I opened this La Migoua, carefully and naturally constructed from 40 year old vines, I smelt baked beans, or more specifically, Branston baked beans. Â Ever since Douglas Blyde and Peter F May educated me in adult beanology (Heinz meanz kidz), I have been a total convert to the meatier, spicier and altogether bolder Branston brand. Â Mind you, like soup, they go much better with a couple of slices of wholegrain toast.
On first sip, Tempier La Migoua is as tasty, dark and mysterious as a Naomi Campbell smile, and almost as sour. But it opens up to reveal charcoal, plums, tomatoes and thyme that make my mouth pucker and salivate like Nick Hewer overlooking some apprentices who are baking geniuses but have no hope of ever cooking the books.
Domaine Tempier La Migoua, 2006 I love you. You cost me 30 bloody quid from the Wine Society, I love the kooky label design but your website is virtually useless.  However, you go brilliantly with beans on toast and if that makes me barking mad, then send me the pills.
But beware, La Migoua is a big and jammy 14.5% ABV. Please don't spend your good money on this woofer and serve it any warmer than cellar temperature (about 16 degrees). Â You will not enjoy. Also, it does not go particularly well with Brie.