Since reviews of the Mark Addy across the web seem to have divided opinion, I thought I would split my own personality and visit twice before drawing any conclusions.
On Mayday I returned to my Manchester flat and found blackbirds nesting on the balcony. Â What better way to celebrate this joyous event than go to the only place in the city that is serving hand picked (maybe 'nest robbed' is a less elegant but more accurate description) gulls' eggs.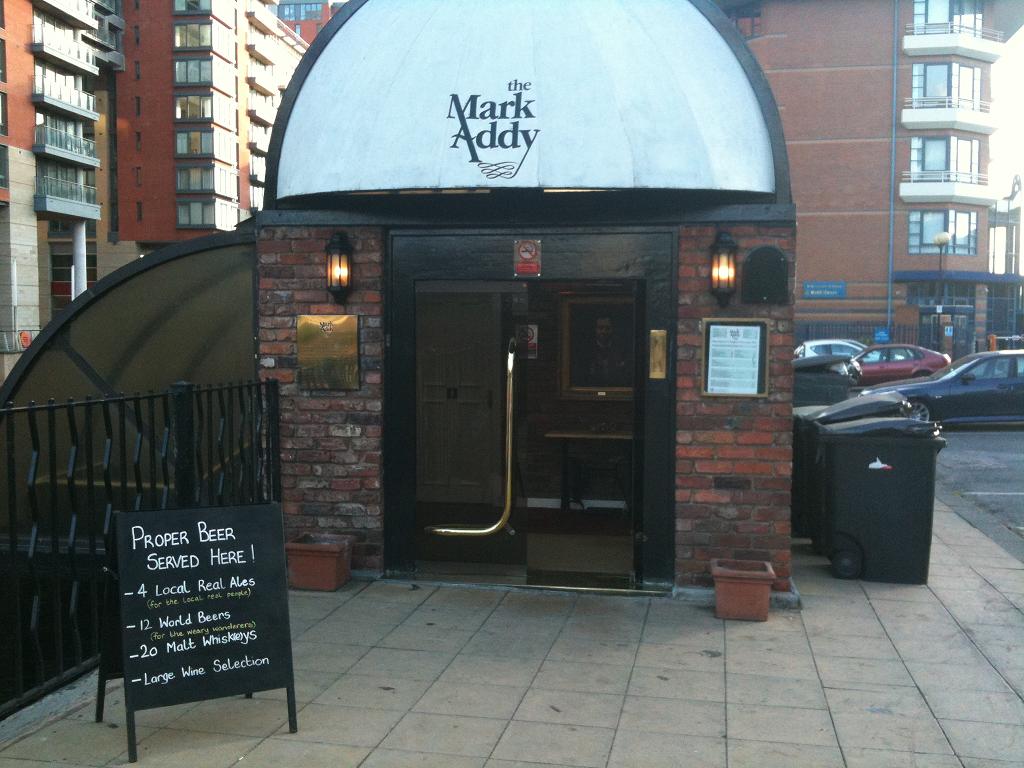 Did you know that blackbirds eggs hatch in around 14 days and it takes another fortnight for them to fledge, whereupon, according to the venerable RSPB, another two batches are typically laid per season, I am not expecting much sleep this summer.
It takes about 6 minutes to cook gulls' eggs due to their density and size, and I found myself wondering aloud if conversely, blackbird ova, which seem to have been the artist's model for Cadbury mini eggs, would cook in under a minute. Â But unlike licensed 'pickers' of gulls' offspring, it is illegal for me to disturb a wild birds' nest so sadly I cannot report back on that one.
My Gull's egg was served on a 'nest' of parsley and chives with a ramekin of celery salt that would charm any Bloody Mary. Â  A wood pigeon was served on a podium of potato, maybe in some ironic Trafalgar Square reference. Â Anyway, it made the new potatoes I was encouraged to order as a side, superfluous. Â The pigeon typically tough as Ricky Hatton, but not as high, was both bloody and bloody tasty.
On my second visit I was about to order the Oysters, when the specials menu opened it's raincoat to flash the porcine equivalent, bone marrow. Â  Slimy, meaty, gloopy deliciousness and, contrary to popular opinion, it was served with salad, not Bonio, all of which rattled my tibia and fibia hollow.
Pork belly arrived next with another potato podium. Â The crackling was a perfect caramelised square, golden, sticky, crunchy and munchy. Â  The whole dish was tasty and I eventually, and with some regret, picked the final bits off my teeth on the way home.
On Mayday, service was very friendly but a bit slow (and the place was only half full) and my starter was served before my Fleurie, which when it came was at a predictable 25 degrees on this warm afternoon. Â However my request for an ice bucket went without a grimace, stare, or even odd look, which makes a pleasant change from most UK restos.
My Thursday night visit found the place busier, although I was the last to leave at only 10pm.  Service more efficient and knowledgeable, and  I chose to drink beer this time which was best buddies with the meaty plates.
For dessert I recommend the super cheese selection which for only £7.20 gives four big wedges (and if you are used to eating in London, each wedge is twice the size of an entire capital portion). Hope you get better luck with your chutney (disappointingly bland) and celery (stringy), though.
The atmosphere at the Mark Addy is a little bit, no a lot, 1970's but this is no bad thing. Â  It IS a 1970's pub, remember. Â  The wine list is a Coronation street ahead of the yawningly predictable ones that suffocate Manchester dining, and it is very well priced. Â Come to think of it, the food is top value too. Â  The menu is one of the most inventive in Manchester, especially if you eat from the specials, but it also contains pub favourites like fish 'n' chips, toad in the hole, and steak and oyster suet pudding, as well as a range of door-stop sandwiches.
A changing selection of four well kept beers means that there is something for everyone. Â Not all will love it like I do, but if you are a foodie or wino that has unadventurous friends, why not bring them here and you can explore the devilled kidneys and hogget and wild rabbit and Cahors, while they munch on a cheese sandwich with a Carlsberg.
The Mark Addy
Stanley Street
Salford
Manchester
M3 5EJ
T: +44 (0) 161 832 4080
W: Â www.markaddy.co.uk