In the world of dining out, if there is one place in Manchester where you could pretend you are in London, it is on the banks of the dirty Irwell. Â I say dirty in the sense that if you jumped in a canal barge and headed south you would find yourself at Old Trafford, home to a certain team that plays in red.
This is exactly what the majority of residents of the hotel were doing on Sunday 8 May. Â  Not all by boat. Â Some chauffeured by limousine, taxi, helicopter or rickshaw. Â Chelsea and United fans altogether, all up for the day from London.
But it is more than the famous and rich patronage of the hotel that is capitalesque. Â  The restaurant ambience, service and food bring to mind upmarket places in Notting Hill and Knightsbridge, rather than Cheetham Hill and Chorlton-cum Hardy.
The River Restaurant is styled a bit like Boxwood Café (RIP) with the atmosphere of Scott's of Mayfair, only with more daylight flooding in, and a larger ratio of famous faces to plebs.
My choice of aperitif exposed my desire to join the elite, an aspirational effervescent bubble short of London pricing, Billecart-Salmon at £10.50.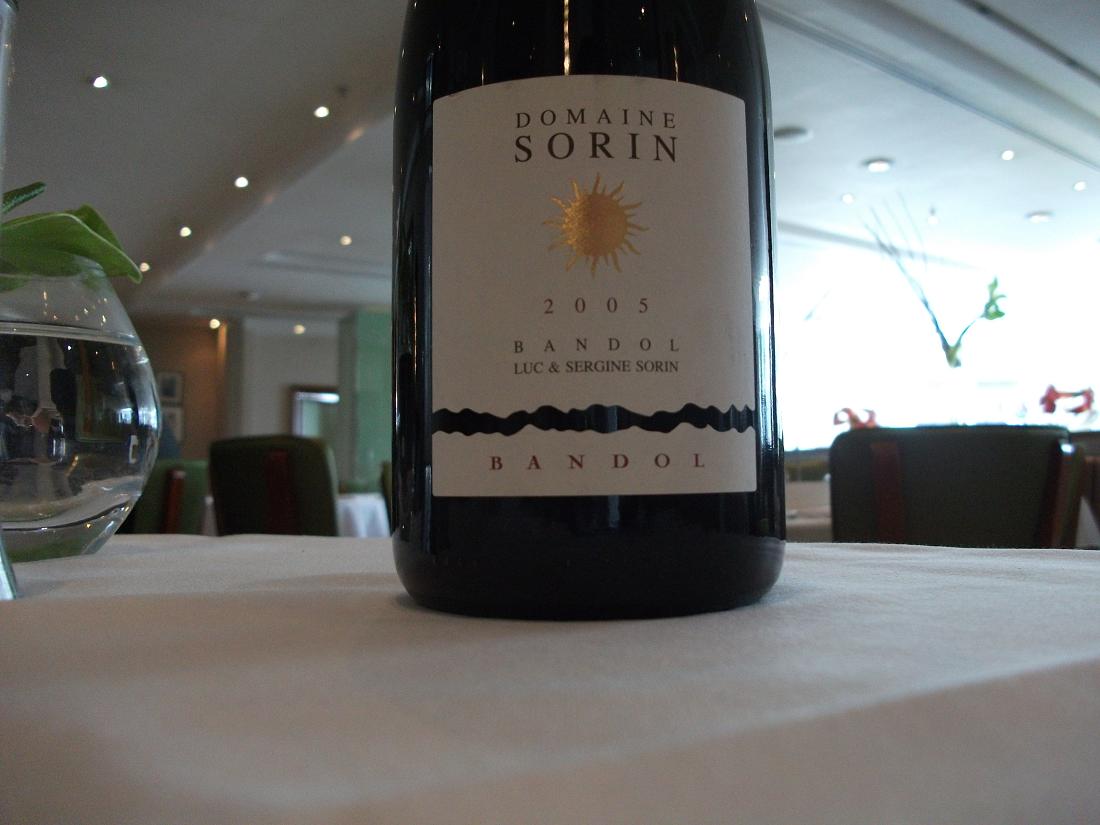 Not wishing to re-invigorate the rather pointless wine and food matching debate – red wine with Smoked Salmon?  Works very well if the venerable fish comes as part of an Eggs Benedict variation.   The red wine in question, a Mourvèdre dominated Bandol by the name of Domaine Sorin, 2005 at £48. Earthy, rich and both vegetal and fruity in equal measure and with deep smooth vanilla pods and milk chocolate.   Served too warm as ever, but the waiter did not even a wince at my #WART request.   The ice bucket turned out to be a sexy inverse cone but contained only ice.  The lack of water means that the wine takes 3 hours to chill rather than 10 minutes, but fortunately this is a wine that for me tastes better at the upper end of red wine drinking temperatures – about 18 degrees I reckon.
A tasty rib of beef with Yorkshire pudding main was followed by a dessert constructed of Glasgow inspired deep fried strawberry in batter, with white chocolate mousse and strawberry ice cream. Â I don't normally do desserts but I managed to swallow this erection by lubricating my throat with a sweet Beaumes de Venise. Â Violets and honey – yum.
Back to work with irony now as have to take a train to London – hate doing that on a Sunday.  This place stands up against the upper echelons of the capital dining scene.  Price-wise, we booked under a Manchester Confidential "special offer" of a £19.95 Sunday lunch.  Turns out that is the normal price for any punter that blows in off the street – hmmph.  I don't find the Confidential websites particularly well informed, well researched or well written.  The Lowry is an altogether more reliable proposition and very good value when you consider its peers.
The River Bar and Restaurant
The Lowry Hotel
50 Dearmans Place, Chapel Wharf
Manchester, M3 5LH
England
T: Â  +44 161 827 4041
W: Â www.theriverrestaurant.com