Situated in a lovely part of Amsterdam with a village feel that reminds me of certain parts of New York and London (but with more canals and lower rise buildings), Fred had telephoned ahead to strong-arm them into giving us a good table (on account of it being my birthday).  They delivered on that front, with the best table in the house in the corner of the window.  But did the food and wine follow suit?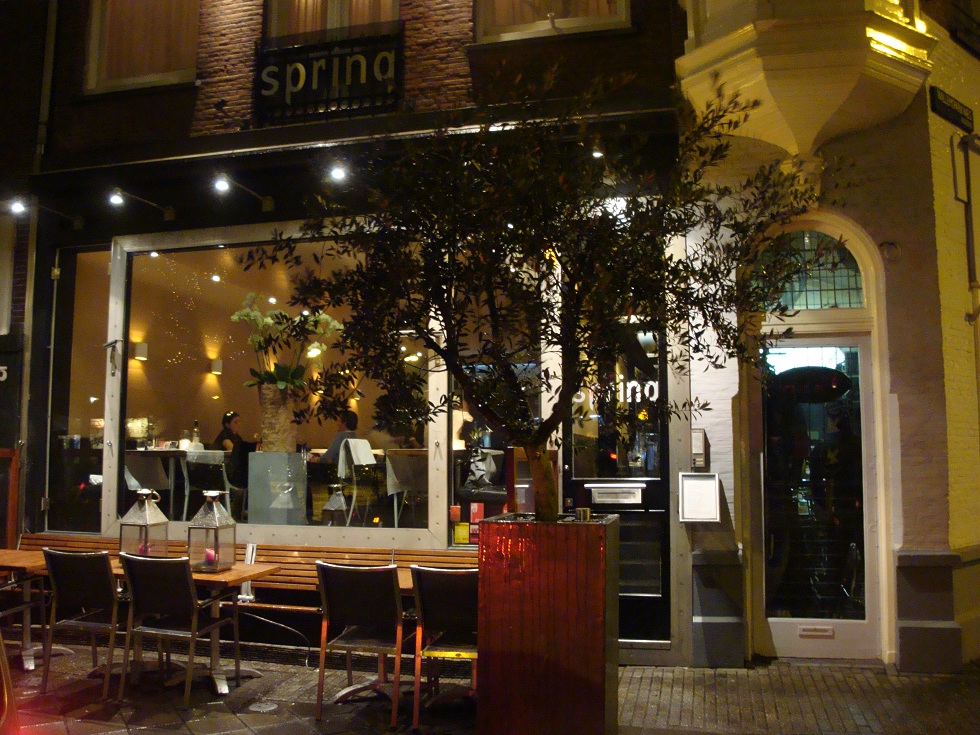 The menu was €54 for a four course special. Matching wines "from €7 per glass".  It took a lot of persuasion to wrangle a wine list out of them.  Turns out their €7 recommendations were from a limited list of 3 whites, 2 rosés and 3 reds.  My initial reaction was that this is not a wine place.  And yet the full  list was interesting and well priced.  For example a 2006 du Tèrtre is €95.
After I kicked off a bit about the lack of taster wines information, the sommelier opened up his legs and showed his class.  I think he saw me as a challenge (correct) and an interesting specimen (sadly, way off the mark).  It also seems that there is a whole heap of non-listed wines in a secret cellar somewhere that only he has the key to.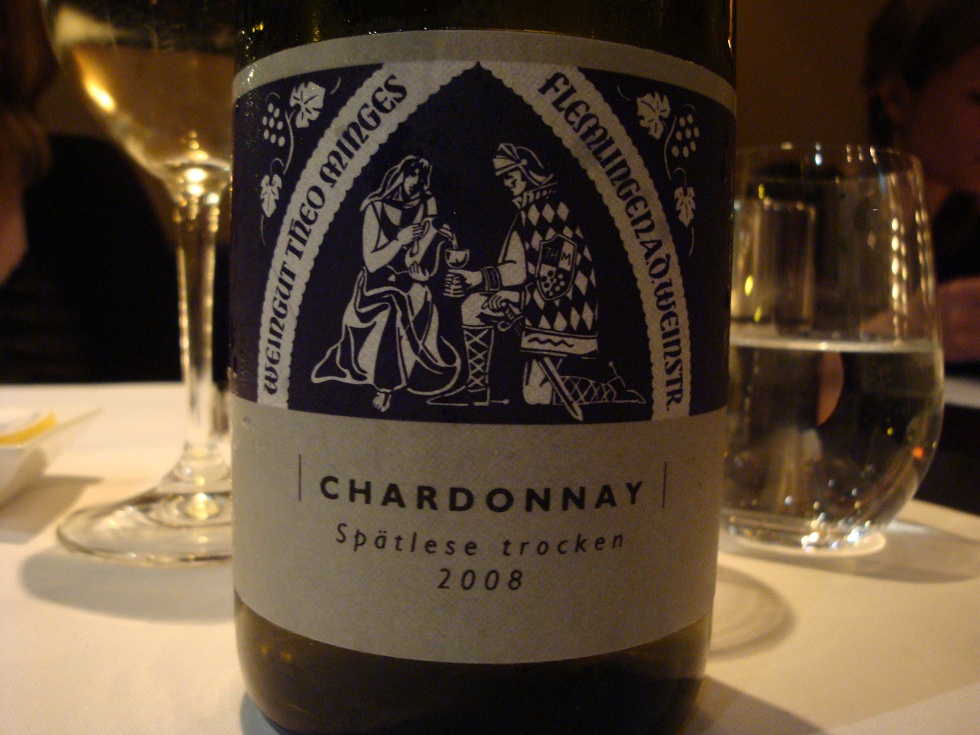 His first retrieval from the hidden vaults was a Chardonnay in a Riesling shaped bottle from Weingut Théo Minges was bone dry yet full of fruit.  Not as opulent as a Riesling but well matched to the prawn salad starter.  Prawns, that is, in an Asian fusion manner with various root vegetables including one from Turkey that I had never heard of and can neither pronounce nor remember.
A moderate South African Chenin Blanc slipped by with some crab dim sum and seared tuna.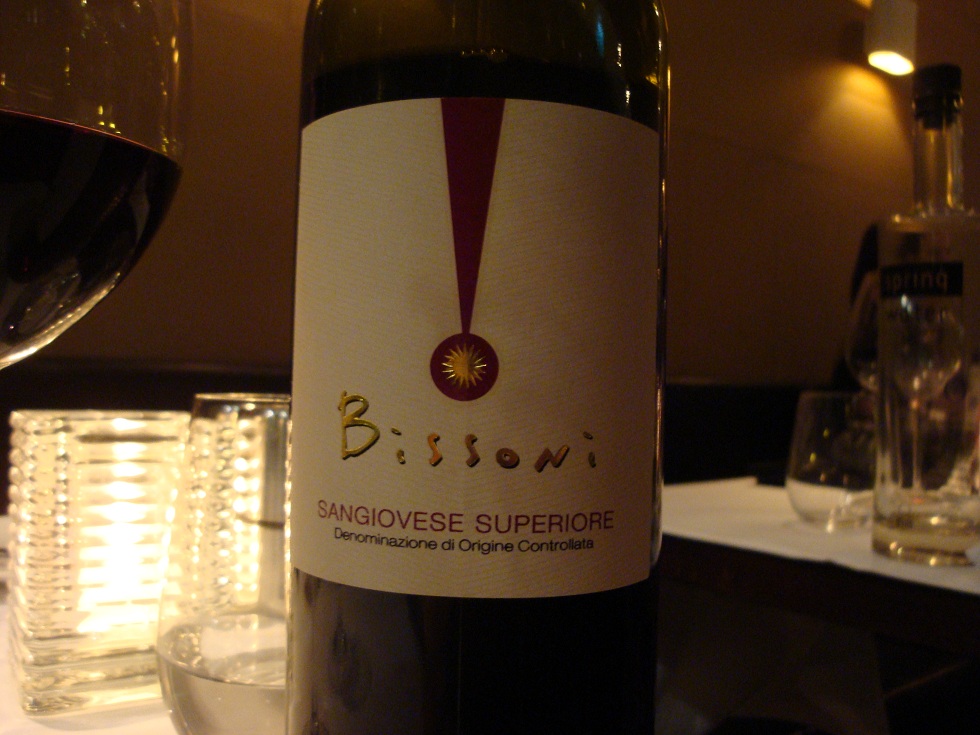 I am not a massive fan of Italian red wines but a 2009 Sangiovese di Romagna Superiore, by Bissoni renewed my interest. Â Served with sirloin of beef, it was a bit fruitier and less tannic than many Mussolinis, and smelt a bit meaty in a beef tomato kind of style.
Dessert was lemon meringue pie by some posher name, which I felt was a massive wine match challenge.  Something sweet, yet acidic enough to counter the lemon.  Sugary yet not too honeyed.  Sommelier's choice of Noble Taminga 2006, from Oz pressed all my buttons.  Raisins but with a citric buzz.  Subtle as soft meringue, and zingy as lemon curd, but with chewy toffee bed linen to sink into.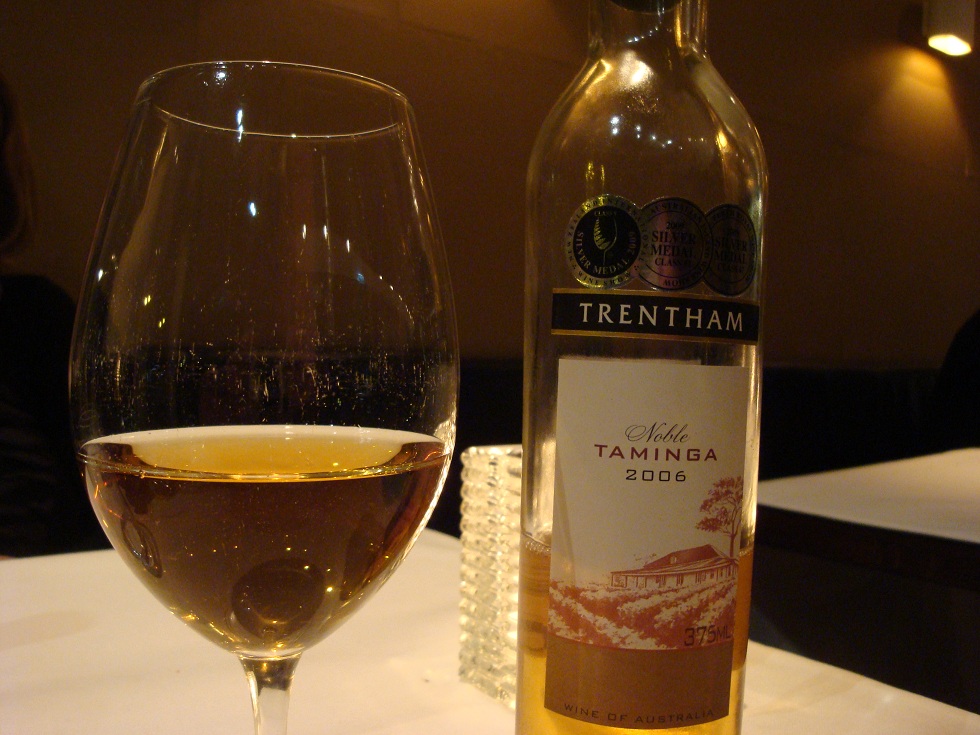 If you like Asian fusion you will love this place.  But if you are a wino you have to act tough.  Hold your corner with the sommelier and you will get yourself on a ride to rival the Pepsi Big Max.  Super wines, reasonable prices, great food and good banter.  Next time I'm in the port of tulips and ice, I'll be back.
My only complaint?  The macchiato was rubbish.  I suppose we are a long, long way from Italy, both geographically and culturally.  But then again, we are a long way from London too, pecuniarily at any rate.  The bill was only €131 plus service. I think the sommelier was making a contribution to my birthday celebration.  I drank a lot of good wine for €25.
Spring is well worth straying out of the City centre for.
Restaurant Spring
Willemsparkweg 177
1071 GZ Amsterdam
T: +31 (0) 20 6754421
F: +31 (0) 20 6769414
E:Â  info@restaurantspring.nl
W:Â  www.restaurantspring.nl