A free day in Vienna and a hatful of recommendations for lunch, many of which were either closed or impossible to find.  My iPhone had given up on data so my life-raft (Google maps) was not the usual powerful tool in my weaponry. Relying on analogue techniques from ancient history: Metro maps, street plans and gut feel, I stumbled across a very posh place next to the KK Hofburg Theater.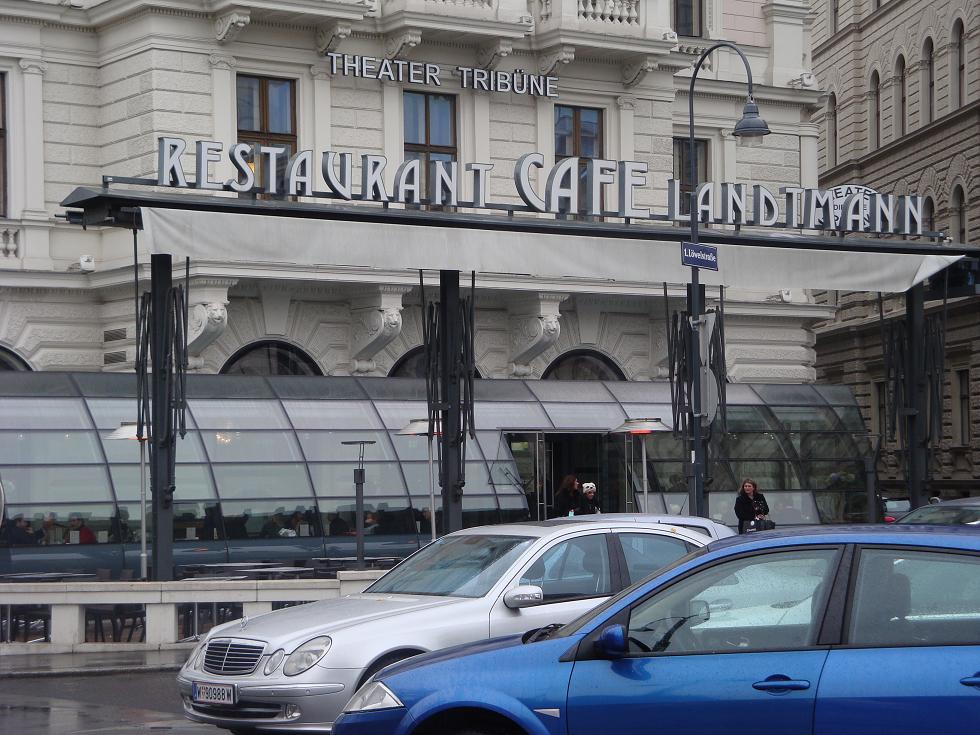 Austrian wine, may I say, is something you should discover in more depth than Sainsbury "Taste the difference" Grüner Veltliner.  I am a complete, but recent, convert.
Kopfensteiner Deutsch-Schützen, Blaufränkisch Brundlgfangen, 2006 is from the Burgenland district.  Austrians are not renowned for red wines particularly, nor for label brevity, but having spent a couple of days on EWBC 2010 learning about Austrian wine, I discovered that some reds are rather nice.  My favourites mostly came from the Sankt Laurent and Blaufränkisch grapes.  This example was a gorgeous mixed berry compote. Soft and fruity rather than hard and tannic. It compares well to a fresh French Pinot Noir or a juicy Merlot and probably matches similar foods.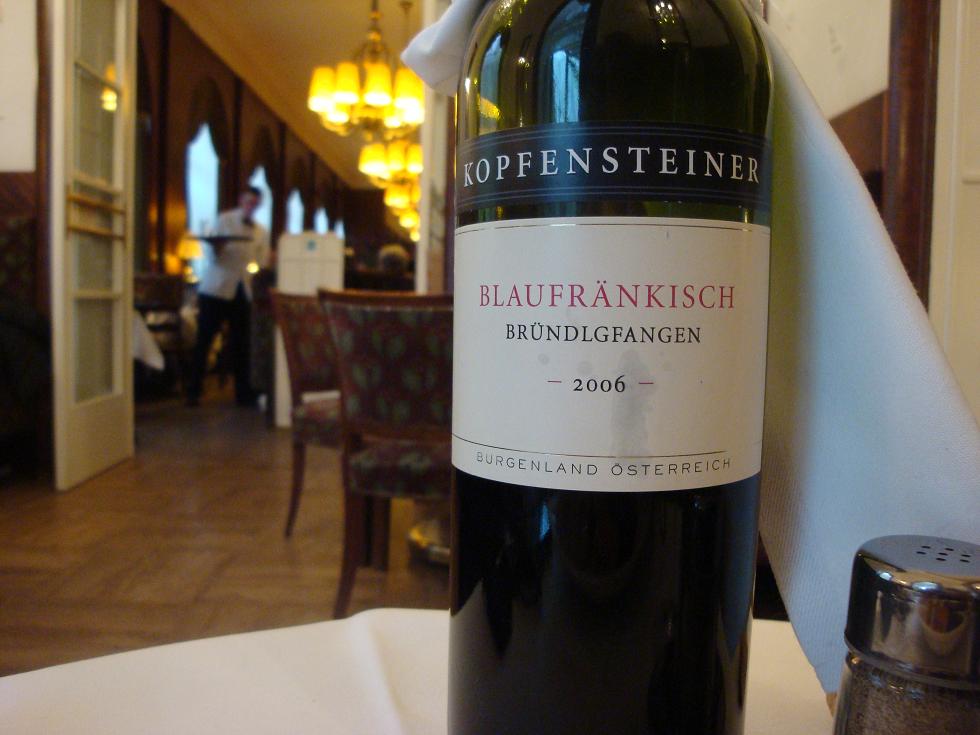 Talking of which, I decided to go rich and opulent which may not be a classic match for such a wine but I think worked very well.
Arranged tours like EWBC usually mean repetitive 'typical' cuisine every meal, and I had had my fill of pumpkin soup, sauerkraut and Wiener schnitzel. In fairness, on the whole, I love Austrian food but I can't work out why the Viennese are not all big fat porkers.  I find them a most elegant and trim crowd on the whole, as well as being as polite as the Japanese and more organised than the Swiss.  Hard to stomach based on the high fat-high carbohydrate ingredients and the Giant Haystacks portion sizes.
Landtmann's clientele appears to be in two camps, either posh or arty.  Sometimes strikingly so for such a smart place.  Shocking turquoise hair, dirty camouflage pants, and incredible moustaches mingled with polite grey mops, smooth cashmere jumpers and genuine Burberry scarves.  A place to be seen and to be pampered. Nice bogs too…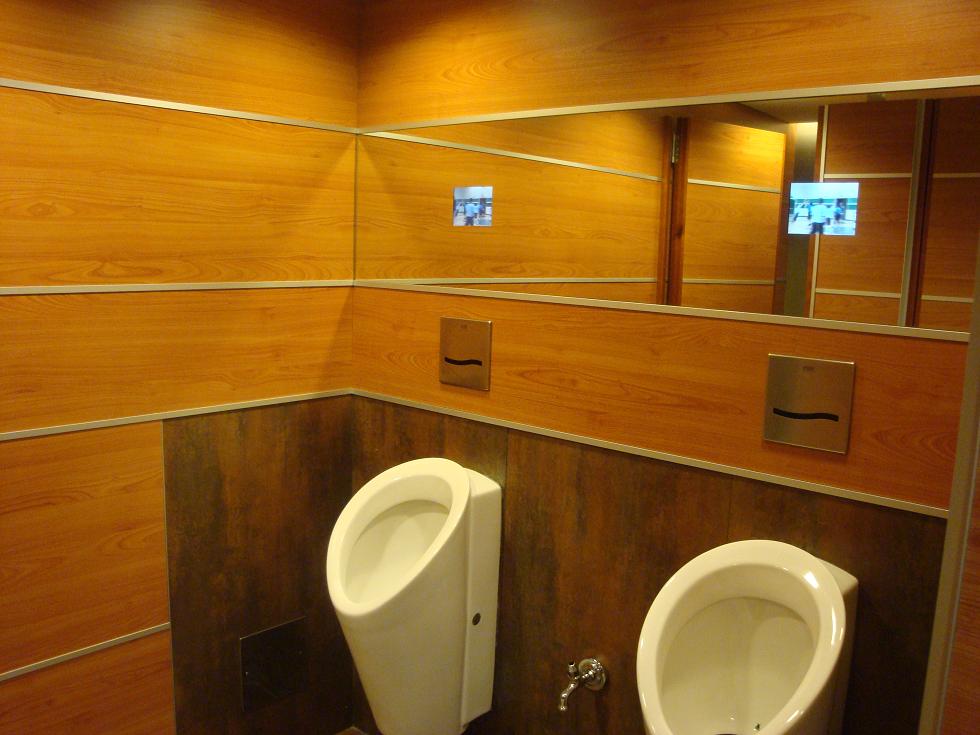 Goose liver terrine with apple confit and brioche was a huge pavement slab of paté served with a harvest of apples and redcurrants.  Nice, but way more than I could eat.
Deer stew and saddle of deer with mushrooms, marinated berries and potato croquets, might have been more appealingly described as venison two ways, but couldn't have tasted much better if sprinkled with cocaine.  Something green would have been nice on the perfectly presented plate, though.
I don't know if it's a seasonal thing but it seems very common to serve stewed berries with meat in Austria.  It is particularly interesting with venison as it adds a pungent bitterness as well as a light sweetness that brings flavour out of the deep dark devious and rich flesh of the Bambi in the same way that salt does with beef steak.  And the wine was a match that got the juices flowing like the Danube past Domäne Wachau.
Dessert of Topfenknödel was described as white cheese curd dumplings.  I'm sure you have already guessed that it was served with berry compote.  The berries were not too tiresome but the dumpling was mere flat stodge and tasted of little more than calories.  Oh well, I can always start the hopeless diet tomorrow.
This is a place where mutton dressed as lamb mixes readily with lamb dressed as Andy Warhol, and the penguin waiters wink at each other in mature and knowing bemusement.  On a wet Monday afternoon, only the Wolseley in London might have been busier, which, on balance, is a huge compliment.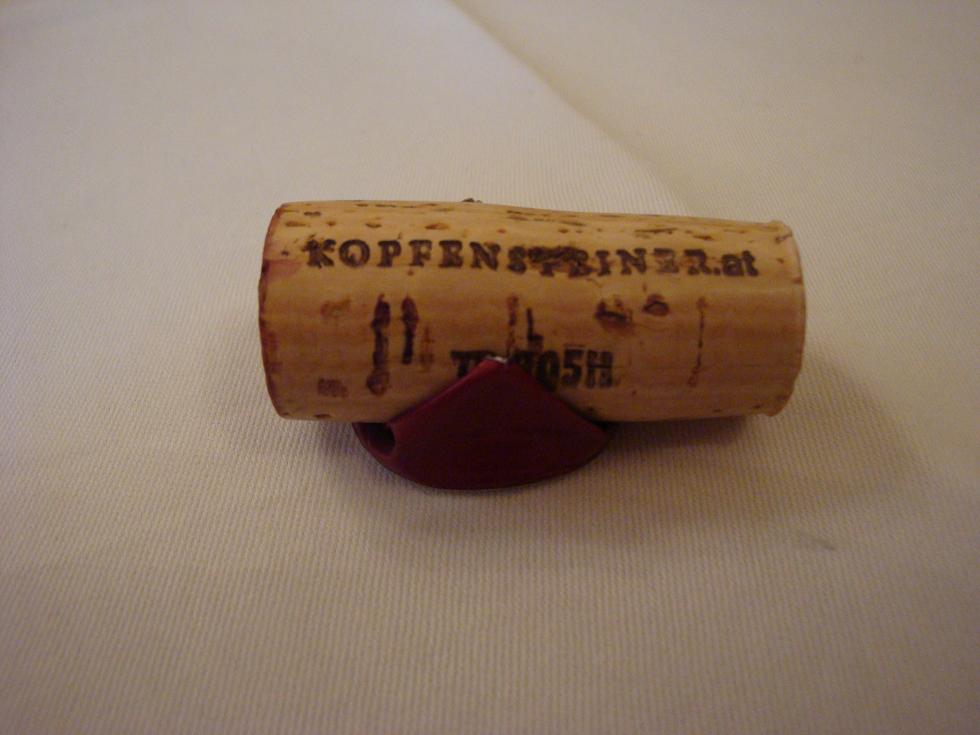 The bill at €77 seemed pretty good value on my Jack Jones.  At today's exchange rate, that is less than £100, just.
If you find yourself in Vienna, you should try a full meal here and if I can give you one tip, please be more adventurous in your wine choice than Grüner Veltliner.
Café Landtmann
Dr. Karl Lueger-Ring 4
A-1010 Vienna
Austria
T: +43 124 100Â 100
F: +43 153 20625
E: cafe@landtmann.at
W: www.landtmann.at