Interest rates artificially low.  Share prices rising.  Inflation a constant news item.  Retailers gloomy.  The price of luxuries like clothing and food are under threat.  Irish banks bailed out yet again.
Could there be any clearer signals that the double dip is on the way?  When it comes to recession theory, I firmly believe in the BIG W.  The other big W in my life belongs to Bacchus.  But how much longer will I be able to subscribe to the President's Cellar?  Pretty much the only wine I buy from the Sunday Times Wine Club these days, and the only circumstance in which I relinquish the responsibility of choice, delivers 6 secret bottles every 6 months at about £20 a head.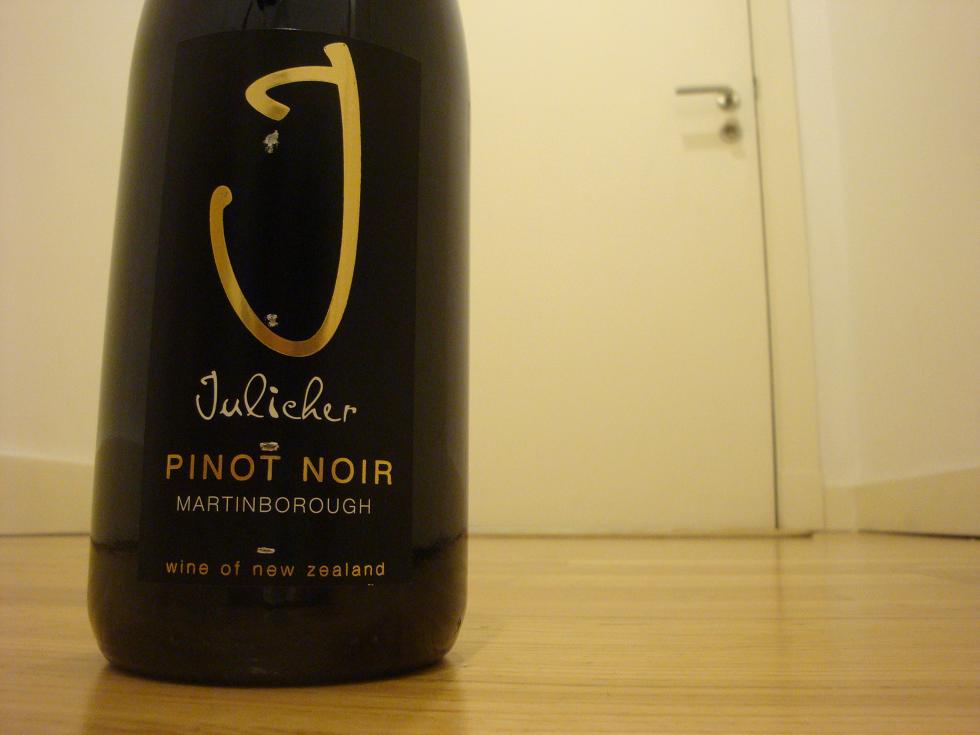 The good thing about President's Cellar is that the wines are usually selected to be ready for drinking, but also good for another 5-10 years.  I can salt a few bottles away for hard times to come, yet enjoy an odd bottle now so that I don't have to bequeath all my most expensive alcohol to some undeserving bastard.
Julicher Pinot Noir is one that I am not sure whether to drink or bequeath.  On opening there is a really strong smell of glacé cherries and compost.  The taste is incredibly rich for a Pinot Noir, many of which could rightly be accused of being a bit thin.
I would recommend chilling quite aggressively to get the best flavour.  I drank at <10°C and that made it enjoyable with leek and potato soup and a rustic omelette.  Bit too jammy to finish the bottle once the food was over, though.