The hyper-observant of you will notice that there is a sex shop a couple of doors up from this back street tapas joint.  When I sat down to eat at La Taberna del Gourmet recently, I started to wonder whether "Pikante" might offer better value, and possibly have more edible items for sale.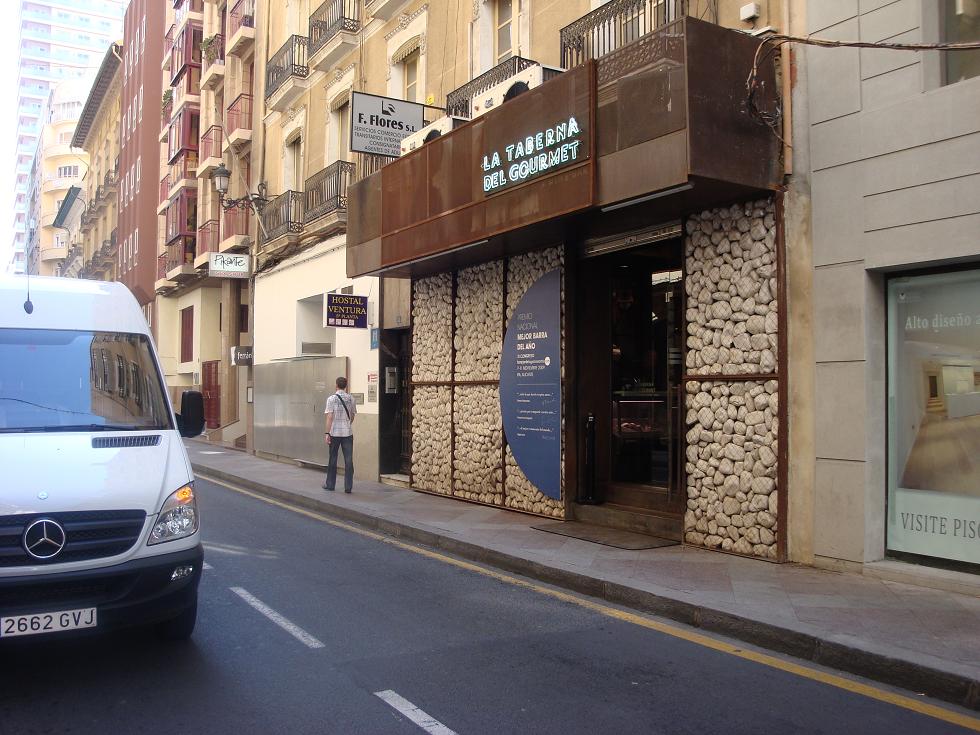 It looks like a solid and dependable tapas bar.  The decor and atmosphere is very appealing.  The staff are welcoming and even speak a bit of English which is very unusual for Alicante.
The oysters were small – looked and tasted like shrivelled rats' sweetbreads.  But then, with no R in the month I was taking my life in my own hands.
A bottle of Cava – Raventos 2001 Gran Reserva was barely drinkable.  In fact two glasses and two thirds of a bottle headed for the spittoon faster than a Justin Gatlin comeback.  Fortunately two glasses of Luis Canas Rioja were more intoxicating than a Dwain Chambers urine sample.
Once through the Cava and oyster faux pas, it brightened a bit.  A well composed salad was over-dressed, but a plate of freshly carved jamon with tomatoed bread had my tongue somersaulting for days.  Then the lamb chops arrived.  There is something about Spanish lamb.  Skinnier than Naomi Campbell but twice as tasty, although not as bloody as a South African diamond.  A little marinade, seasoning, some simple sautéed potatoes.  Stellar, but not in the McCartney sense.
So was it legendary?  Not quite.  Was it cheap?  Not for the area.  I would rate it third for quality out of the three places we dined, and definitely worst value, but that may be unfair.  Compared to ANY English restaurant, it would hold its own.  Whatever you may think about Spanish cuisine and chew over how Iberian restaurateurs ever make any money due to under-billing, I would strongly recommend that you call in for a tapa or two if you are in Alicante.
La Taberna del Gourmet
Calle de San Fernando, 10
03002 Alicante/Alacant, España
T: +34 965 204 233
W: www.latabernadelgourmet.com