A recent Sunday lunch in London lead to a worrying discovery.  My favourite haunt for a wine aperitif, 1707 Wine Bar in Fortnum and Mason basement, no longer opens on Sunday.
Forced into trying somewhere new, the Ritz doormen, just along Piccadilly took exception to my smart jeans (yet they tolerate Michael Winner).  The Wolseley had welcomed us the day before (and warned me not to darken their door again in a rush).  And picking on someone nearer my own age, Madonna's ex-local didn't appeal.  I wanted wine.
In a frustrated fit of anxiety (that I would have to go to lunch without a wine warm-up) I remembered Selfridges, a mere 10 minute stroll up Park Lane.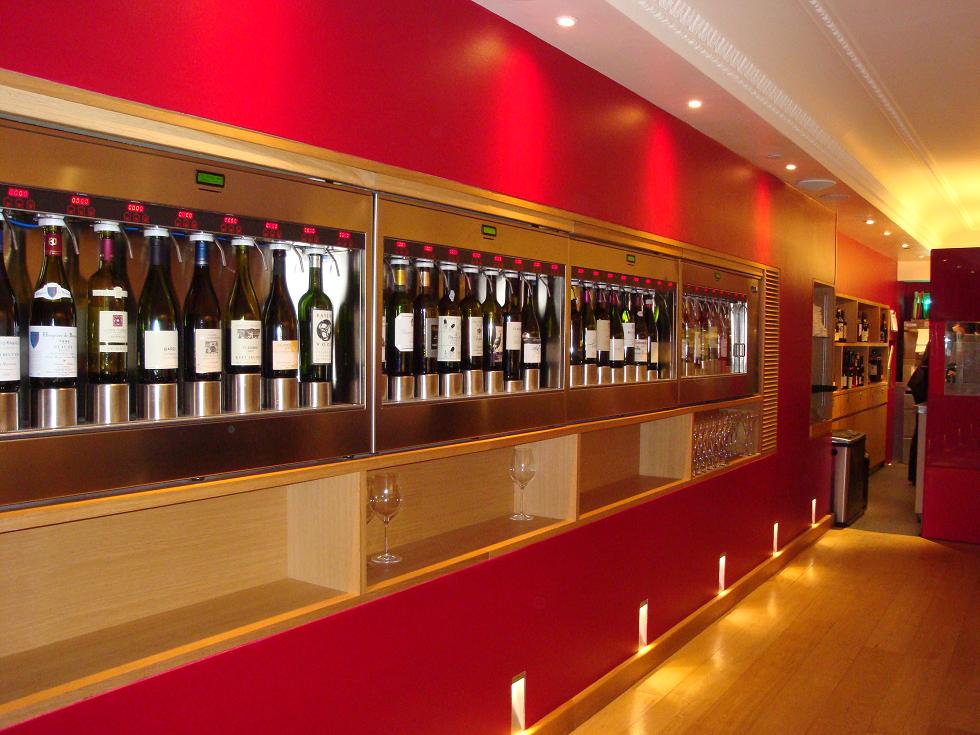 The wine bar, cheesily titled "Wonder Bar" has a couple of flaws.  The self serve "juke box" concept is interesting but just about every bottle was empty.  This meant that the two poor guys at the table next to us had to keep asking the waitress to replace the bottle before using their access card to dispense a clumsy beaker-full.
Meanwhile I simply asked her for what turned out to be a super sherry, which was delivered long before their first bottle was ready for action.
The other flaw is the proximity of the bogs.  You are probably thinking I am going to complain about a nasty whiff spoiling my wine time, but quite the reverse.  Ranulph Fiennes (coincidentally his mother is buried next door to mine) would have struggled to find the toilets and it took me longer to get back than the entire length of his last Arctic adventure.  In fairness I didn't have to resort to hack-sawing off my own fingers.  Although I am sure the sherry might have made such a feat less painful, it could have restricted my future drinking to a single hand.
If you ignore the self serve idea and stick to conventional waiting, and you consume no more wine than requires you to empty your bladder, Selfridges' Wonder Bar is fine, has an extensive and well priced wine list, and mostly friendly staff.  All in all it's just not quite the same atmosphere as my favourite.
I appeal to 1707 to open on Sunday lunchtimes again.  The best (and best value) wine bar I have found in London.  And the WCs are closer than a Remington shave.
Selfridges & Co
Wonder Bar
Ground Floor
400, Oxford Street
London, W1A 1AB
T:Â  0800 123 400
W:Â  www.selfridges.co.uk