The wine bar in the lower ground floor of F & M Foodhall on Piccadilly is so cool, and I'm not talking about the ambient temperature.  Staffed by a range of nationalities with a variety of experiences in wine.  Our Polish waiter, Artur Zarzycki "vaz early on hiz vine joornee" but seemed to know plenty despite his claimed one year of experience.  And he almost knew how to operate a camera!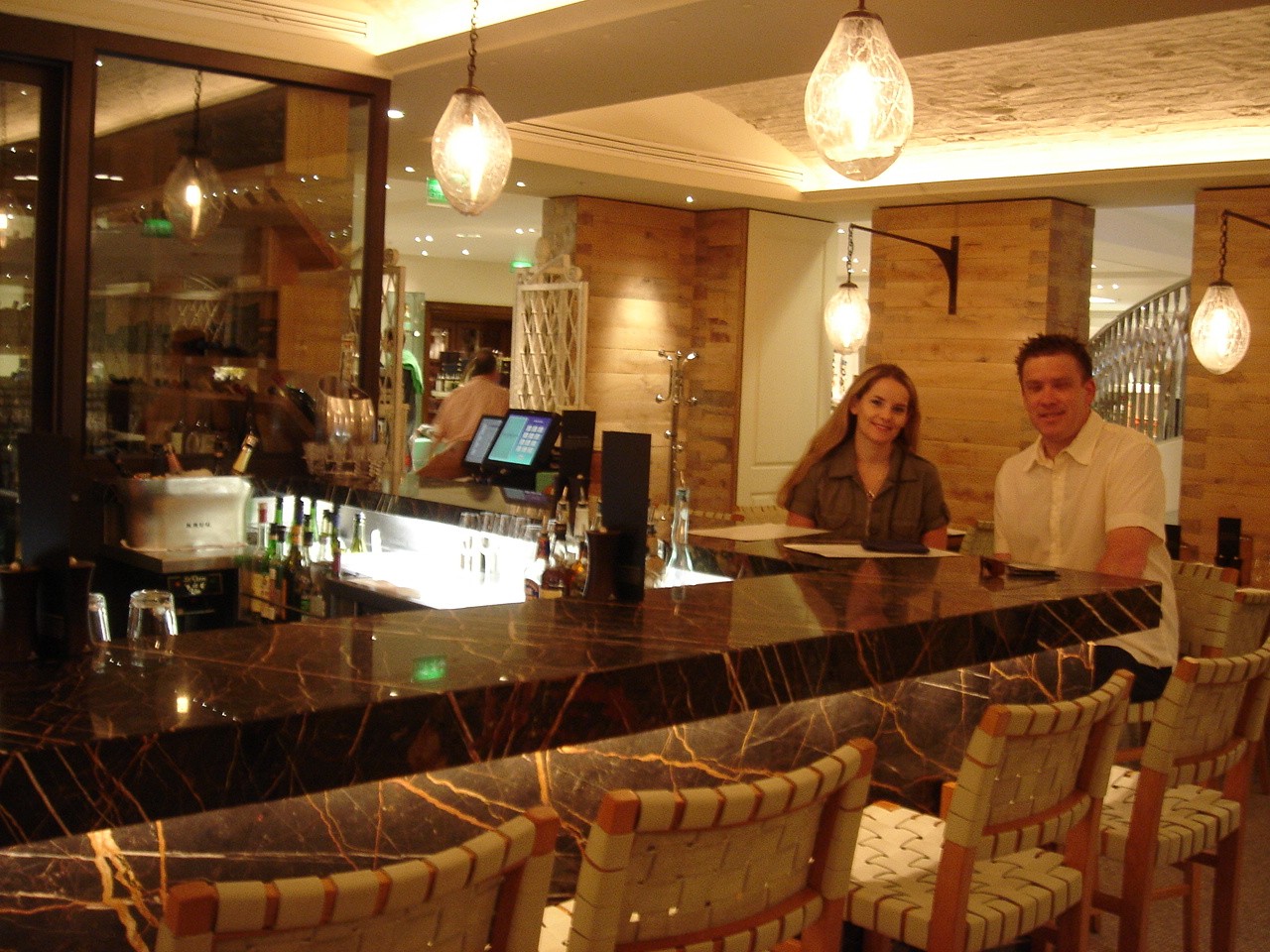 Queuing outside F & M on a Sunday at midday (the bloody shop opened late by about 2 minutes 30 seconds), because we had an hour to kill before our reservation at St Alban (more anon).  So, as all the restaurants and cafes in F & M were being refurbished, we dashed down to the wine bar "1707" where, for £23.90 (inc. service) we got to try a fantastic range of wines.  Who says the posh shops are expensive?
Now the shop has been on Piccadilly since 1707 apparently (hence the name of the bar), but the wine is a bit more recent.  They have a fabulous markup policy which basically means they add £10 corkage to the shop price if you want to drink it in the wine bar.  What a great idea…
First off, £12 got me a flight of Tempranillo wines.  Three (125ml) glasses of  similar wines: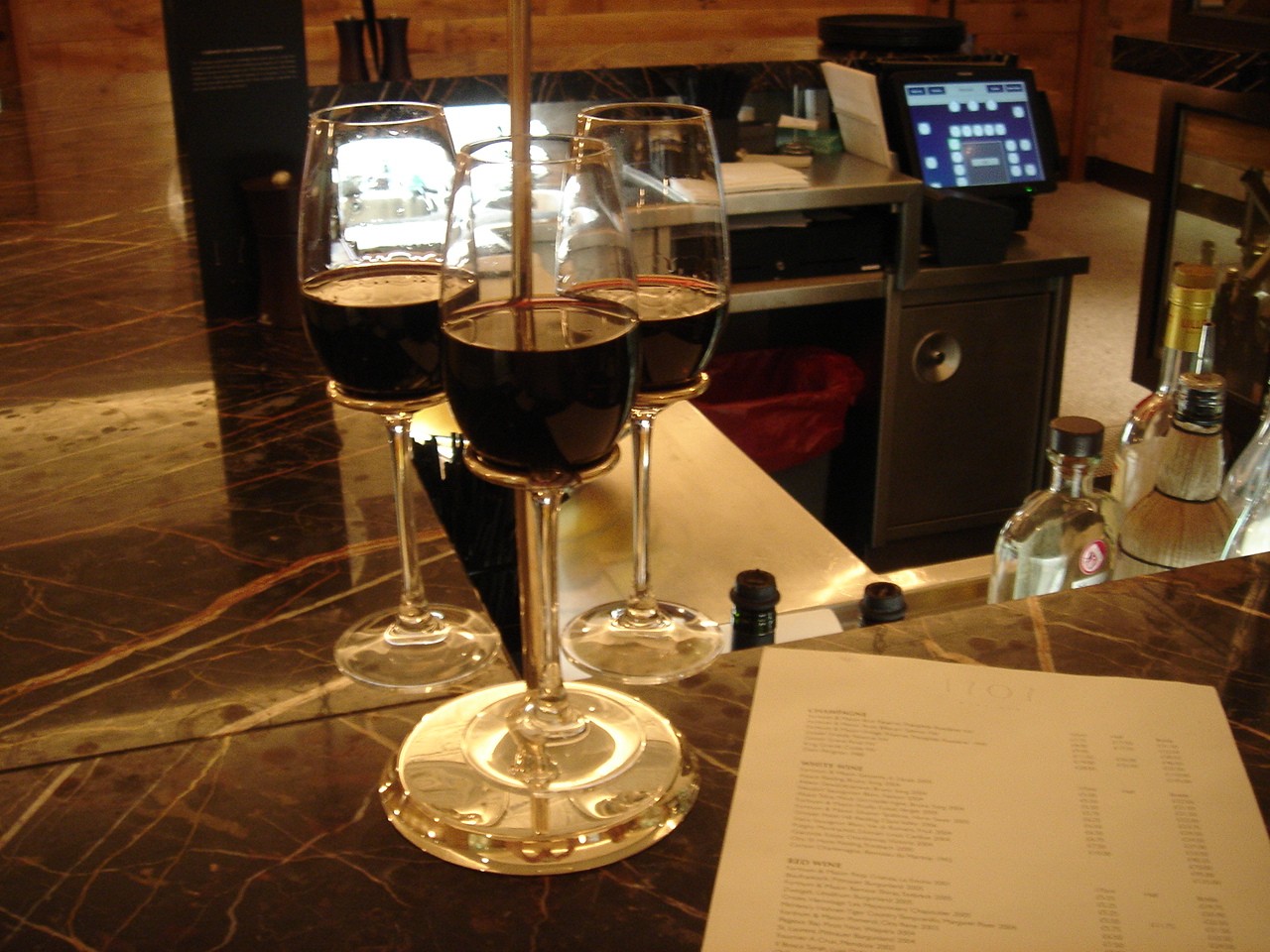 Here's my take on the three "tempranillos" and you will see why the quotes are there:
Fortnum & Mason Rioja Crianza, La Encina 2001.  At £19.75 a bottle pretty reasonable.  A strong flavour of blackcurrants supported by bilberrries and just a touch of vanilla.  Nice wine.
McHenry Hohnen Tiger Country 2004.  Tempranillo, Petit Verdot and Cabernet Sauvignon mix.  At 14% a powerful wine with a slightly higher price tag (£24.50) and more subtle and smooth than the Rioja.  Having said that, what a distinctive wine!  White grapefruit with raspberrry ripple ice cream and a touch of leather.  Earthy wine to knock you out!
The third wine in the flight was from Argentina, one of my favourite wine nations right now.  Fournier A Crux Mendoza 2002 was a mix of 65% Tempranillo, 35% Malbec and 5% Merlot.  At 14.5% alcohol and £32.50 it hit me hard in more ways than one.  Strong spicy flavours – ginger, cinnamon and blackcurrant.  Again quite earthy (as we were in London for Live Earth maybe this was appropriate).
I started exploring the full wine menu and selected a Tokay Pinot Gris Vielle Vigne by Bruno Sorg 2004.  Have you ever tasted Thornton's Continental chocolates?  There is a lemon mousse milk choc which is almost certainly modelled on this wine.  There was also evidence of honey.  On hearing me mention this, Artur brought over another wine "you veel loov theez zveet vine from Owstria!"
In fairness he was right.  I looved it so much I bought a couple of bottles to take away.  Golden colour with strong flavours of honey and butter on a fruit scone (pronounced as in "con" not "cone").  It was an Opal Fruit wine – Opal Fruits made to make your mouth water ooh aah….. Yes it was a wine you probably are already familiar with, Ruster Ausbruch Feiler Artinger 2004.  OK I hadn't heard of it either.  I asked the wine supervisor if it was selling well, "er it"s early days sir but I have high hopes for it".  Oh well, I like to be to be on the early part of a trend, although at around £20 for a half bottle I think they could reduce the price a little if they want to sell in larger quantities.
Whilst perusing the new wine list (out in two weeks), Artur demonstrated (and we sampled) a number of wines which only led me to believe I should be buying more from Fortnums.
Oh dear, the hour mark had passed.  Time to move on.  Hang on, my legs don't work any more!  Artur, please can you send me back the sunglasses I left on your counter, by email if possible.  Thanks for your kind hospitality and see you very soon.
Fortnum & Mason, 181 Piccadilly, London W1A 1ER, United Kingdom
Tel:  +44 (0)20 7734 8040,  Fax: +44 (0)20 7437 3278, www.fortnumandmason.com.