I am a big fan of Oliver Sweeney.  No, he is not a pop star, nor an artist, but a shoemaker.  Think of him as the Paul Smith of shoes.  Designs for the guy who still thinks he is younger than he is, but appreciates quality without the stuffiness of "city" attire.  They are fun shoes but they are not cheap.  The killer feature is that unlike most shoes you may buy (albeit at less than half the price Oliver charges), his shoes actually fit first time and you don't need to break them in.  Only one pair of Ollies have I ever suffered blisters from.  Compare that to Barker's, Church's, Grenson's, Cheaney or other leading (and expensive) brands that can take weeks to break in.  So why can't winemakers in Bordeaux make wines that one can drink straight away?  Where is the Oliver Sweeney of the Bordelais?
The French might argue that the British taste is a bit behind the zeitgeist. Hey - modern French people might use a German word once in a while!  Ever since winemaking began in Bordeaux it seems that Brits (and especially the English) have paid through the nose for old claret.  Is it time us Brits should change our tastes?
I'm running out of Château Citran 2000 which is a shame because it's bloody nice.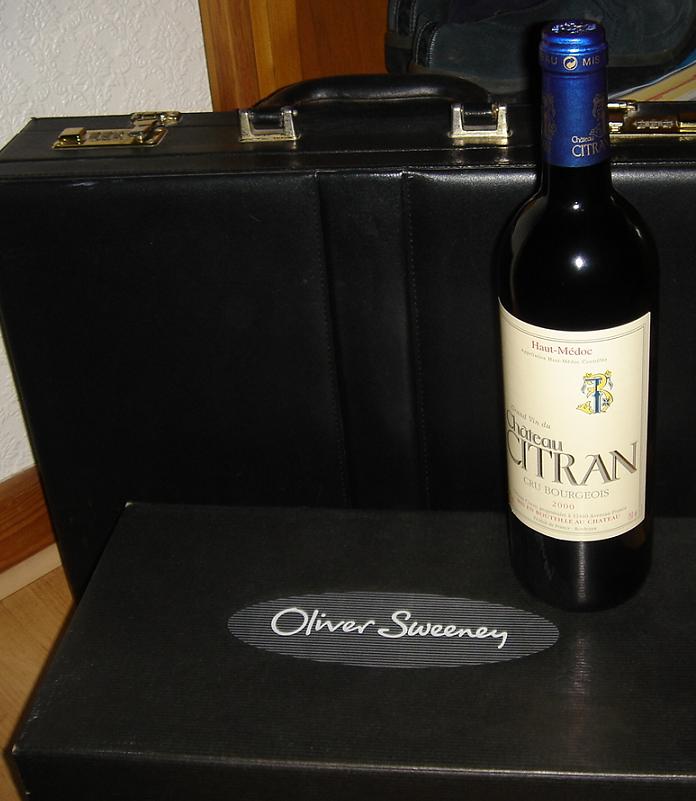 But the reason I am running out is because it tasted nice early in its career.  I only ever had 12 bouteilles.  Last night I opened my 7th bottle – is there any more available?  Actually I saw it in the Cork & Bottle at only £35 per bottle.  That compares very favourably to the £25 odd I paid for it in 2001 en primeur!
Life is short.  Don't leave your best wines for someone else to drink…..