When we arrived at St Alban for Sunday lunch there were only three other tables occupied!  This despite the day being the biggest sporting day in the UK calendar – men's final at Wimbledon, Tour de France starting at Trafalgar Square (just round the corner) that morning, British Grand Prix at Northampton (Silverstone), and me dancing at Live Earth the night before (and that is a rare occasion).  This despite the fact that St Alban had telephoned us the day before to push our booking back from 2:0pm to 2:15pm – hmmmm.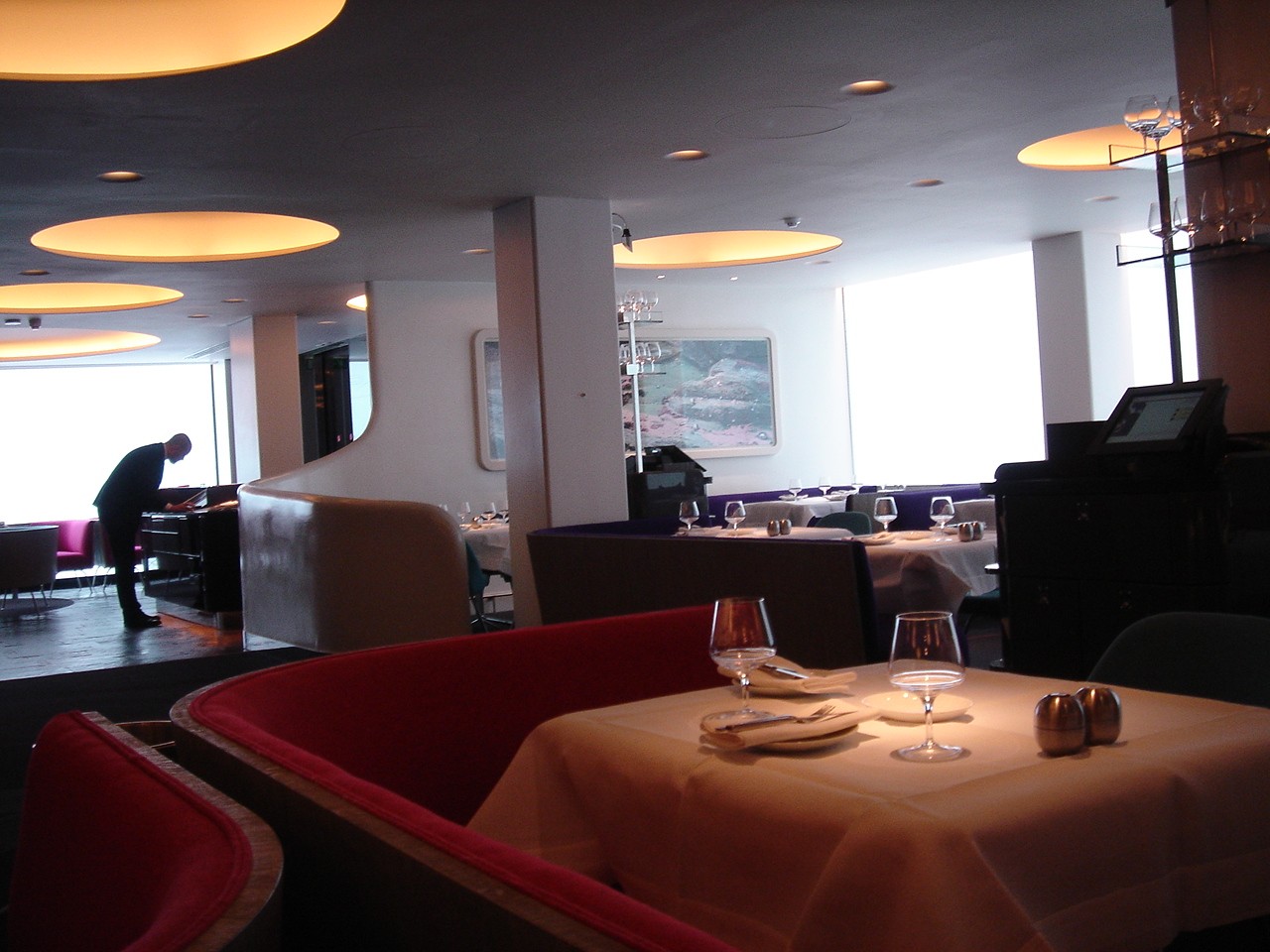 I wondered if the entrance was a little too discreet?  I mean the Ivy is also discreet but that's been there for donkeys so people come in droves…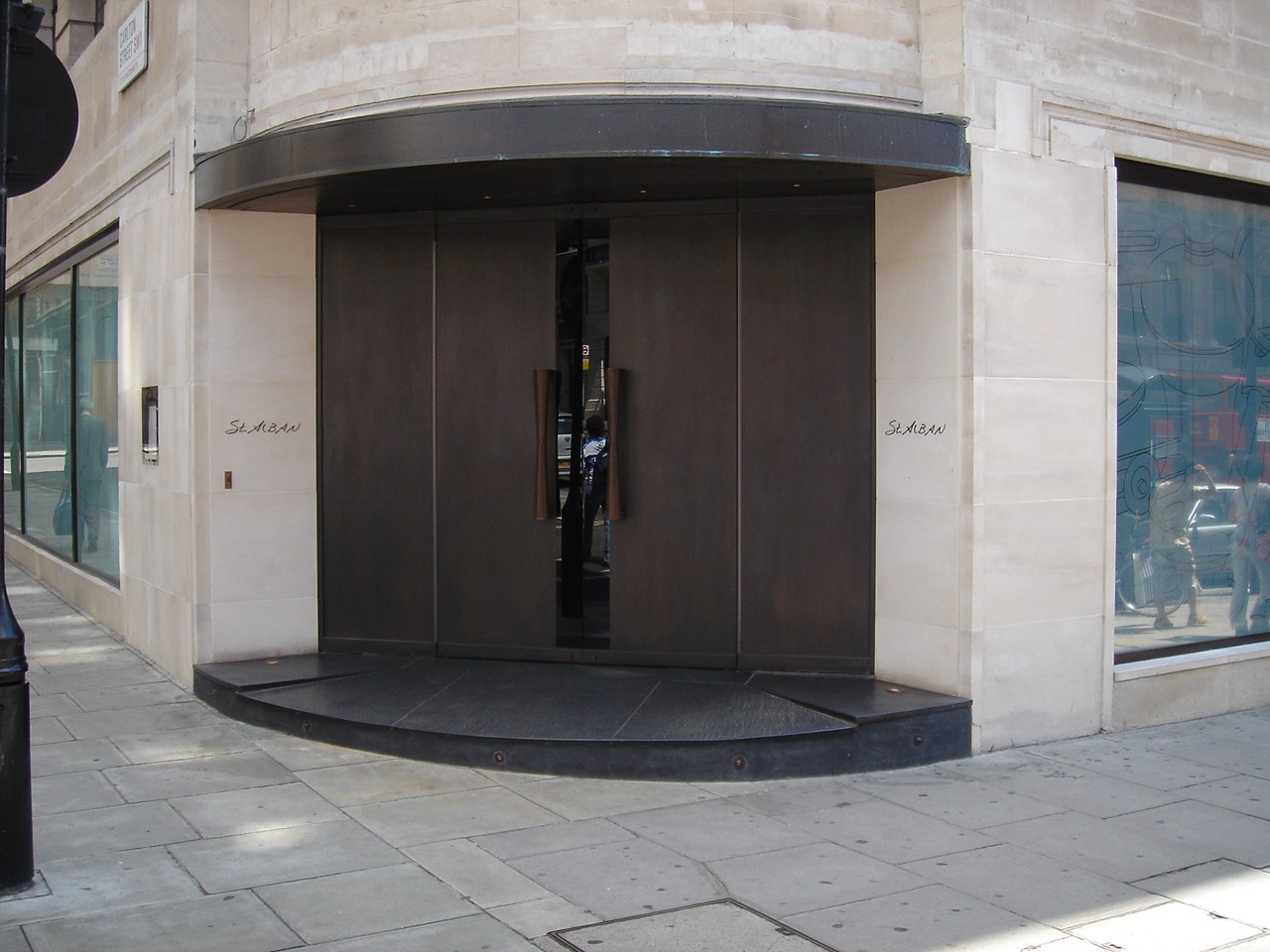 Anyway, despite the quietness, the food was actually excellent.  Here is the menu: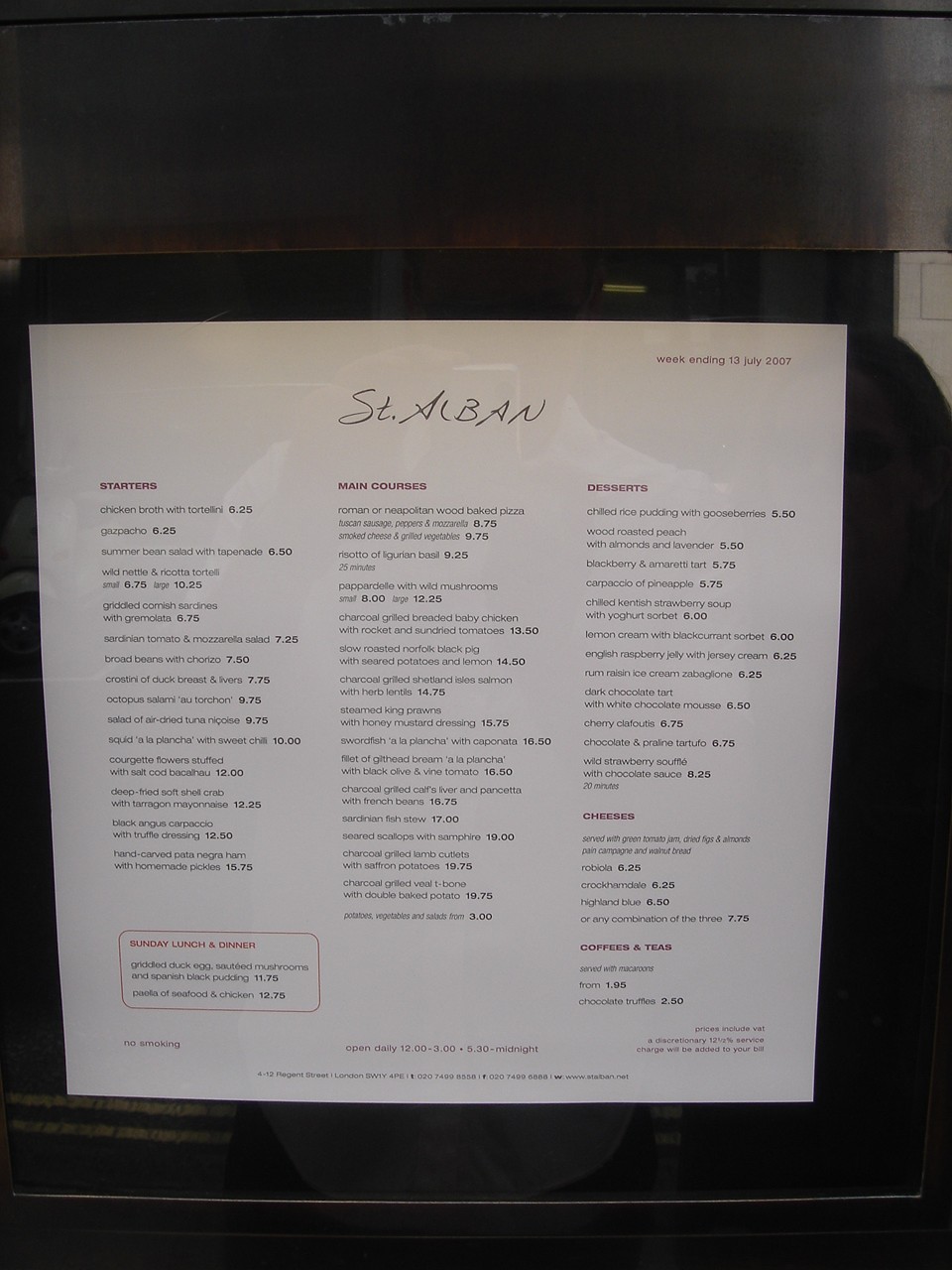 I tried the Cornish sardines (skinny but just superb) with a glass of Albariño 2006 Lagar de Cerrera, Rias Baixas.  The wine was OK, with apricots and rhubarb crumble flavours.
The wine list was unusual to be honest.  I looked for a couple of staple items, for example a quality Bourgogne red but to no avail.  I plumped for the Portuguese Gloria Reserva 2003 Douro to go with my pork.  It smelt dirty with a taste of leather, cigar boxes and earthy spice.  That is not an insult, however, I enjoyed it and was surprised at how well it went with the dish.  My quick Google search found only Portuguese websites with the wine listed so that is encouraging, albeit no help in assessing whether the £42 price was a rip-off markup or good value, especially since Portuguese is not on my list of second tongues.
The pork was slow roasted and served with the best crackling I have ever tasted.  The sautéed potatoes were a bit different, more like a pancake, folded and crisped but nice, and a black pudding to die for.  It does rank amongst the best tasting dishes I have ever encountered.
I was also delighted to see that the St Alban cheese ranger had selected a number of British cheeses – a particular hobby horse of mine.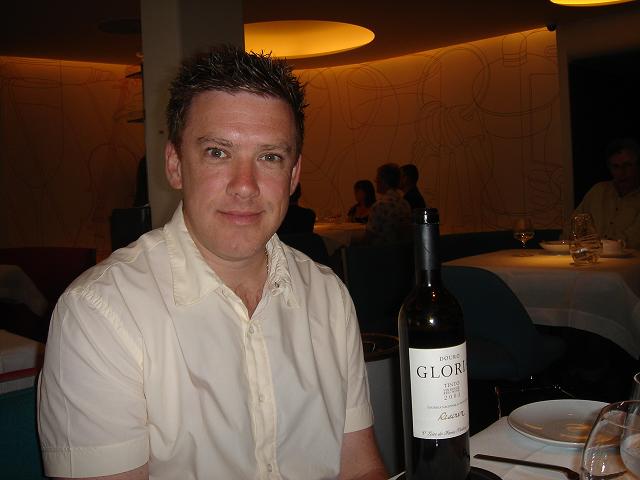 However, all the reviews I have read of St Alban seem to defer too much to the fact that it is the latest project from the legendary Chris Corbin and Jeremy King.  I love the Ivy and I consider the Wolseley to be the best restaurant on earth, but St Alban is a miss for me in atmosphere terms – wierd and drab.
That could be because the interior designer was on drugs (although in  fairness the layout of the banquettes really worked for me).  But maybe it's because I visited at the wrong time.  I mean, the service was exemplary, the food just great, and the wine list unusual, interesting and different (that is good!).  I think if St Alban wants to fill up on a Sunday lunch it needs a set menu like the Ivy's £26.95 three-course trad menu.  That may well persuade me to visit again.
St Alban, 4-12 Regent St, London SW1Y 4PEÂ  T:Â  020 7499 8558Â  F:Â  020 7499 6888Â  E:Â  info@stalban.net W:Â  www.stalban.net.