I was invited to Live Earth.  What a dilemma.  All tickets cost £55.  I went free.  Should I make a charitable donation to some worthy cause?  Which cause exactly?  I mean this was not a charity event, it was about awareness, man.  Quite a hippy concept really, but played out in the hard commercial word of the new millennium.  Some of the messages from the various entertainers who participated were more genuine than others but I have to admit to laughing.  It's not very rock and roll having some pop idol jumping on stage and telling us all not to leave our TVs on standby, before launching into some familiar guitar riff.
There were also doubts about the CO2 created by the event itself.  I travelled public transport all the way, only to see the Black Eyed Peas being helicoptered in to Wembley for Al Gore's denouement.
All in all though, a fantastic day out.  It's not often you get to see such a high class line up.  Here's the pictures:
Firstly my (somewhat feeble) attempt at a panoramic view of Wembley.
From a distance, Simon le Bon is looking pretty good for his ripe old age.  Must be his wife who keeps him fit eh?  Here's Duran Duran hard at work.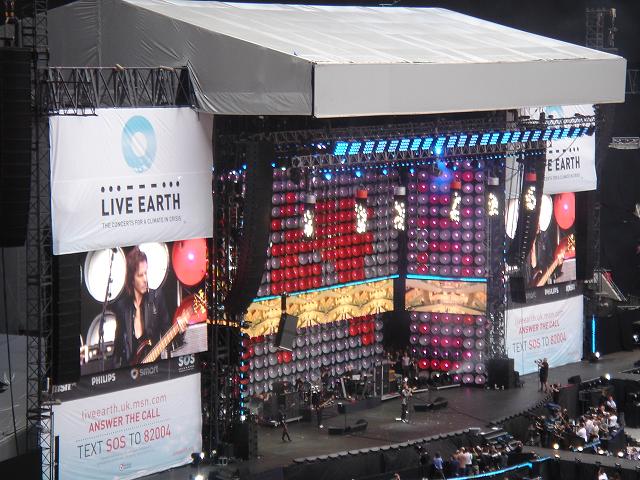 I heard that some of the Pussycat Dolls used to be strippers so I had high hopes of a decent show but sadly all the clothes stayed on.  Better music than I expected though.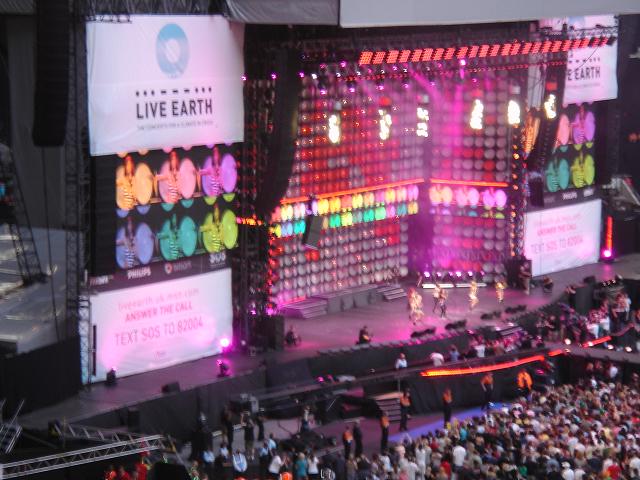 I loathe most heavy metal music so feared Metallica would be my low point.  Actually that award belonged to the Beastie Boys (but weren't they so cutting edge in the 80s?).  Also-rans these days.  Here's the second worst band.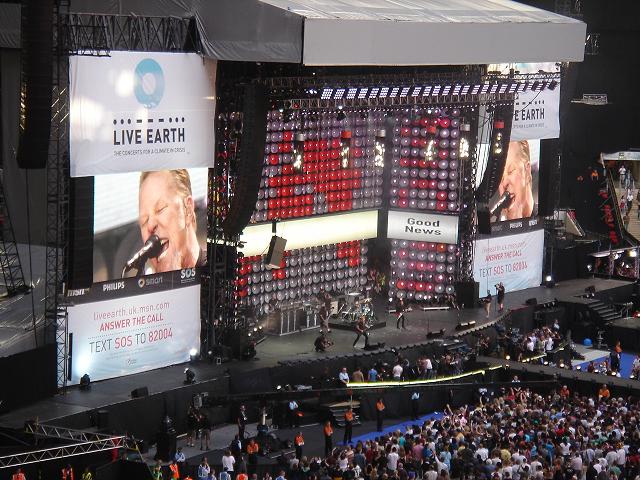 Early on in the event I was vociferously indicting Madonna, to anyone who would listen, for being so pompous and big headed as to want to close the show.  I also heard that the Foo Fighters (just brilliant) were going to be bounced if time was running out, just so that Madonna could start on time.  Firstly Brent Council fine Wembley several thousand pounds if the show runs past 10:30pm.  Secondly, Madonna's set was being syndicated to other Live Earth sites so synchronisation was important.  Fortunately the Foo Fighters played a full set and got probably the best crowd response so far.
When Madonna finally came on stage I begrudgingly admitted she was the best act of the day/night.  Another angle on La Isla Bonita courtesy of some "gipsy" violins was welcome new light through old, 1980's windows.  Ray of Light (probably my favourite Madonna track ever) was superb and only marginally spoiled by Madonna looking silly dressed in a Gibson Les Paul (I think – it was a long way away).  Really she should stick to singing and dancing.  When the dress came off and she was down to her leotard, rumours of a sex change operation were sweeping the stadium.  Ladies of a certain age are probably well advised to dress demurely even if they spend 4 hours a day down the gym.
In truth though, Madge was in great form.  That woman does pay attention to detail and she certainly tries to entertain rather than just perform.  For me she succeeded in Spades.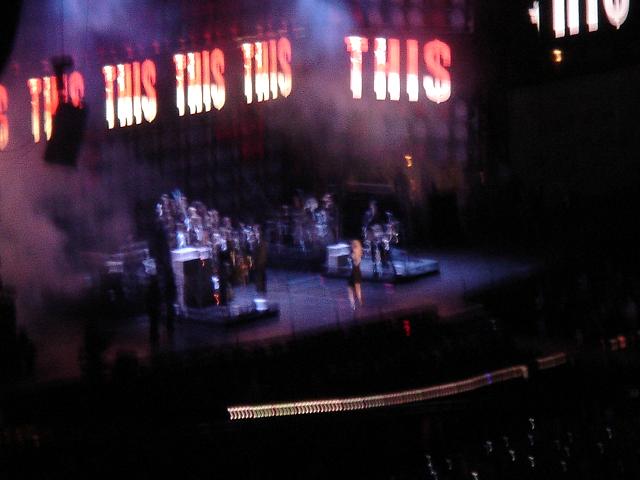 I know what you are thinking.  Where was the wine?  Oh yes, Wembley does serve wine.  The most memorable one I tried was Viña Chilcaya Cabernet Sauvignon 2005 from Chile.  I discovered this was a new brand from the unremarkable Ernest & Julio Gallo.  Black cherries and damson with cigar notes – I thought it was pretty good actually.  Not cheap at £28.60.  I found it available at £6.99 which makes the mark up an eye watering 409%.  Even the Gaucho Grill is not that cheeky.  Talking of which I recently revisited the Manchester Gaucho and I see that their response to my accusations of over priced wine is to put their prices up again!  Although their steaks are great, I've given up hope on them now and won't be returning.  I guess Wembley's only excuse is that for intermittent events the cost of staffing, storage, security, safety etc. is higher than most.
It was time to leave Wembley and after a full day's drinking I felt surprisingly OK.  I'd like to say hello to Rob from Virgin and John from Homeserve and their charming wives, Andrea and Elaine respectively.  A great day out and I promise not to leave my lights on unnecessarily from now on.