Anthony Flinn is a bit of a food legend in Leeds.  His impressive CV includes a two year stint under Ferran Adrià  at the world's "best" restaurant, El Bulli.  Flinn's own flagship restaurant, Anthony's, is perpetually tipped for a Michelin star.  His latest project, Piazza, opened in late 2008, is situated in one of the most impressive, historically beautiful buildings in the North of England – Leeds Corn Exchange.  Anthony's footprint includes an impressive 125 seater brasserie, a patisserie, bakery, chocolatier and delicatessen.  Wine, however, is another science.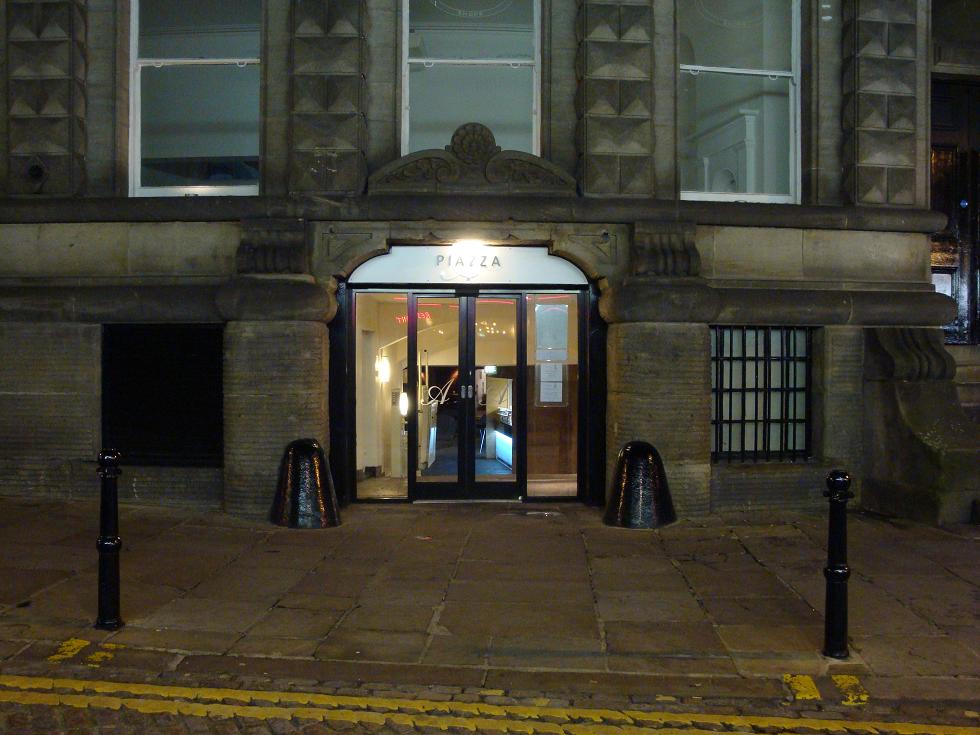 My opening exchange with the waitress:  Gevrey Chambertin Domaine Heresztyn 2005 please – what temperature would you serve that?  "About two above room". Ouch, no WART awards here.  Please can I have an ice bucket?  "Yes sir, no problem."  Things are starting to improve already.  After all, the wine list looks well thought out, and superbly priced, and the menu looks bistro chic.
The wine turned out to be much warmer than the room, which was about "cellar", confusingly, and served (the wine) in Riedel Vinum Bordeaux glasses to complete the wine misplacings.  After waitress stares colder than the ice bucket, I didn't dare enquire whether the Pinot Noir glasses were just being washed.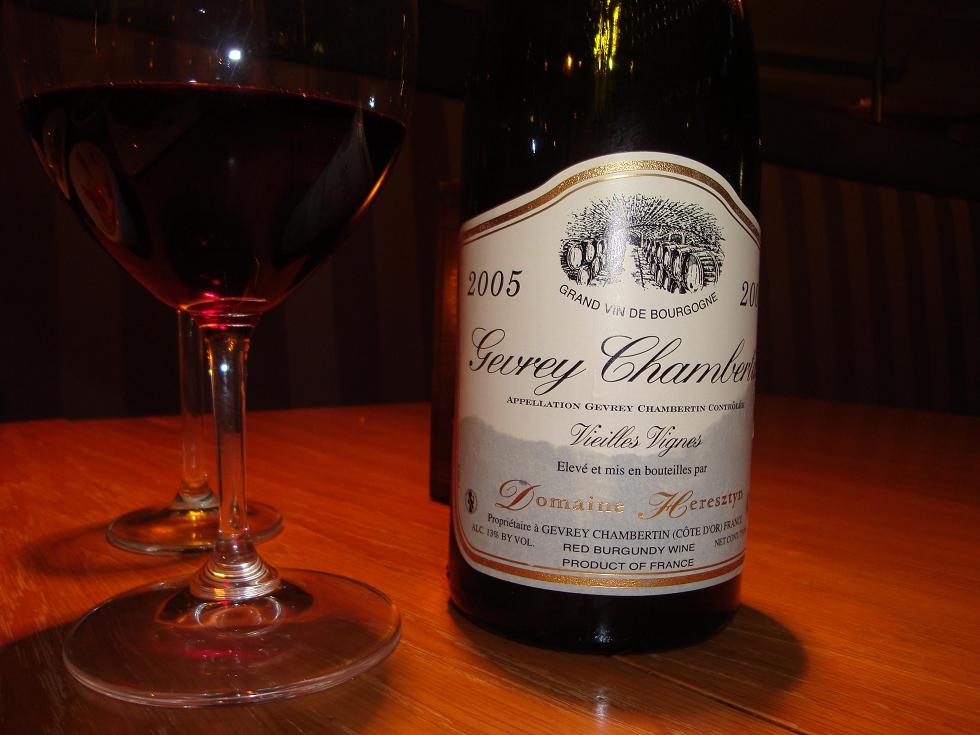 The wine itself was super. Not so much barnyard as tea room with warm flavours of fruit loaf, Darjeeling, and plummy blackberries.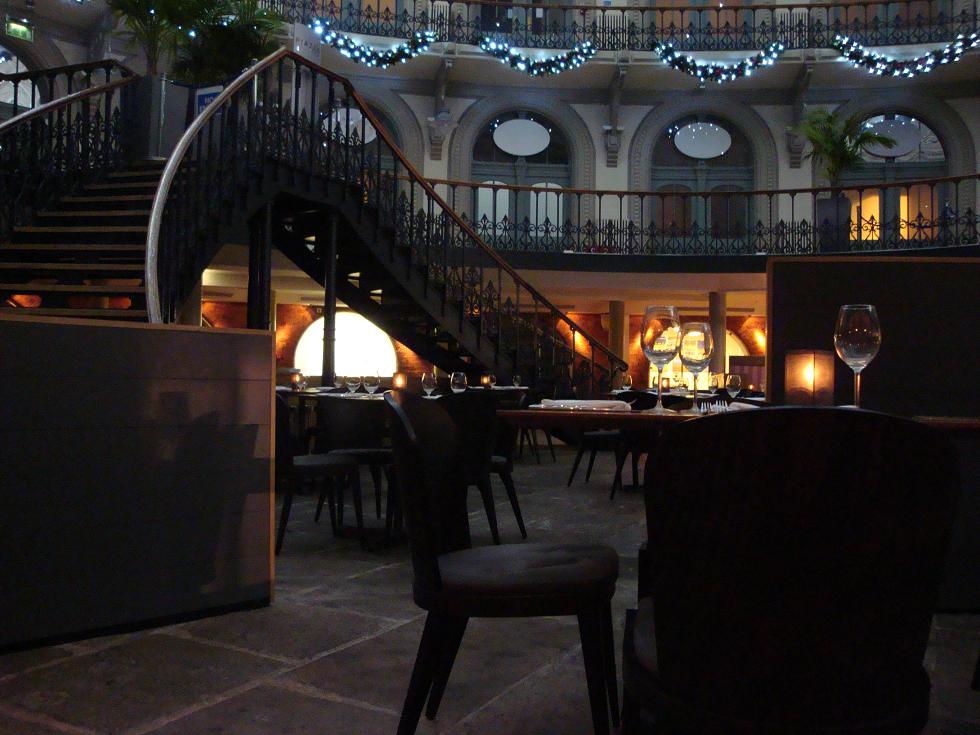 A Bury black pudding salad with hen's egg (interesting how modern menus often clarify this – the source bird, and "hen" I took to mean "chicken") was proper northern pudding attired in Parisian haute coutoure.  Tart Dijon dressing and tidy leaves, presumably to acknowledge Autumn has arrived in Leeds.
Wood pigeon came on braised red cabbage as if shot down in a farmer's field, and the pigeon was redder than the cabbage which is how I like it.  However, I need a training course in eating small birds.  There has to be a better way of eating wood pigeon than scraping it off the bone with a fork.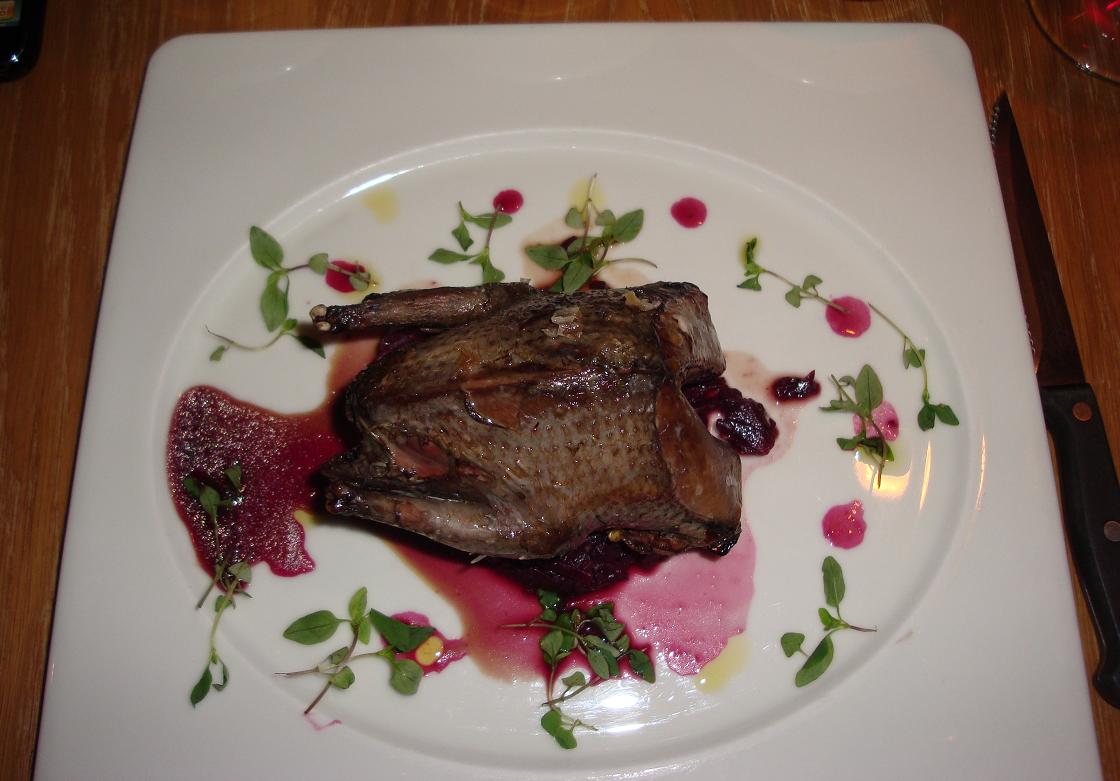 The veg was no less than superb, I won't bore you with the inventive detail.
Dessert for Fred was vanilla rice pudding with spiced orange jelly and fudge pieces – if only I was served this at primary school 40 years ago.  I had a selection of cheeses with a small glass of Fleur d'Or Sauternes (violets and honey), both of which filled my belly intensely and admirably, although I'm sure the waiter saw the irony of removing my macchiato before the cheese was served.
At £131 for two including numerous alcoholic beverages and with a bottle of fine wine, this is good value.  In London it would be stupendous.  In Leeds, sadly, it is simply a rare occurrence to find food this good, and a totally normal occurrence to find wine knowledge so lacking.  I was chatting to a mixed European group on the next table who had already sent back one corked bottle of claret (to considerable resistance), and complained that the next, whilst not TCA tainted, was too warm.
I recruited them to my WART campaign.
If you are teetotal, or simply prepared to argue your corner against wine ignorance, you should spend some time here.  It is so much better than the somewhat soulless, and much more expensive, Anthony's fine dining sibling, a pigeon stride or two along Boar Lane.  Piazza's potent combination of architecture, atmosphere, and food is unbeatable.  The mere addition of a little oenological schooling would put it near the top of my list of favourite places in the North.
Piazza by Anthony, Corn Exchange, Call Lane, Leeds. LS1 7BR.
T: +44 113 247 0995
W: www.piazzabyanthonysrestaurant.co.uk