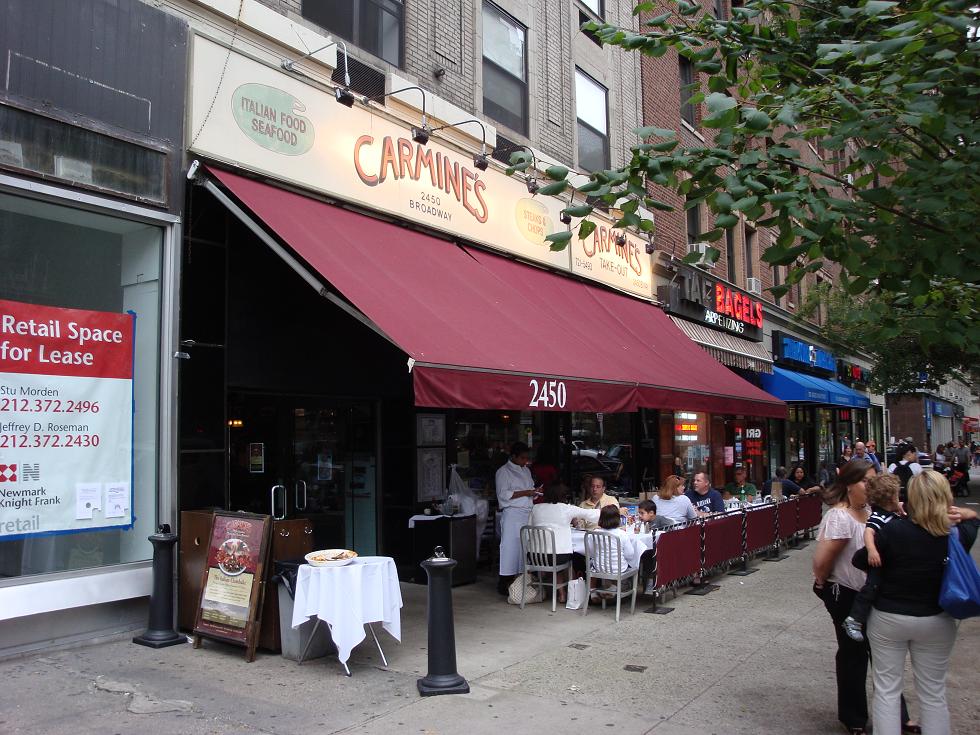 "This is a traditional New York Italian family restaurant" said our Pacific Island looking waiter pointing at a huge canoe full of pasta being delivered to the next table.  A random walk around the pleasant residential areas of the upper west side had allowed us to use the antiquated predecessor to www.stumbleupon.com to find an eaterie.
So we ordered deep fried zucchini to share followed by Chicken Contadina, again to share.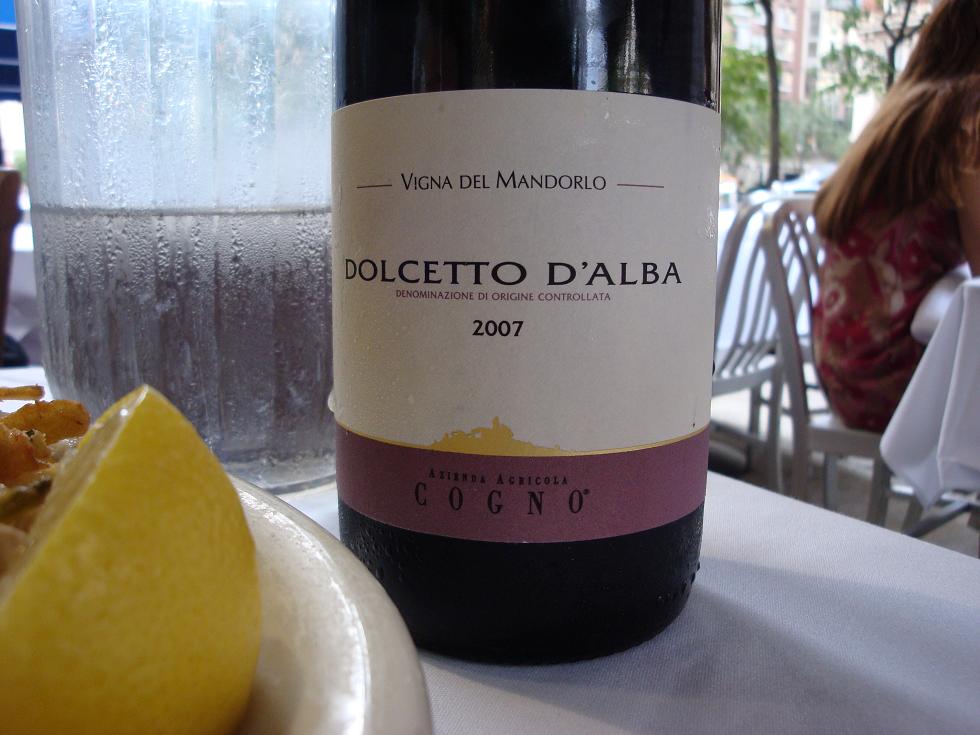 A bottle of Dolcetto d'Alba came with an ice bucket without a big fuss, to take it down from incumbent 25 degrees Celsius (77 Fahrenheit) – WART in America coming soon?  Earthy beetroot yet light and fruity, it warranted the chilling on a hot NYC afternoon.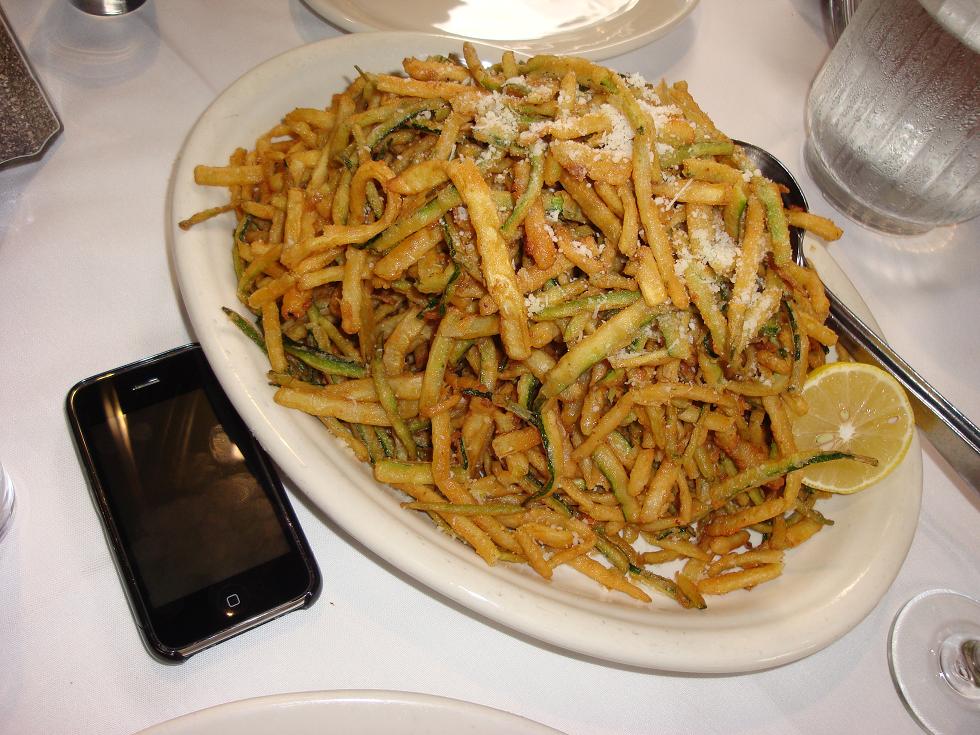 The zucchini arrived by Brinksmat van and was served to the table by fork lift truck.. We barely made a dent in this Mount Rushmore sized "appetiser". As it happened it would have been nicer without the parmesan but that was not the reason for being unable to finish.
The chicken, and sausage, and peppers, and onions, and tarragon, and potatoes and so on and so on I could describe in terms of flavour, but it is easier to describe in kilograms, or metric tonnes.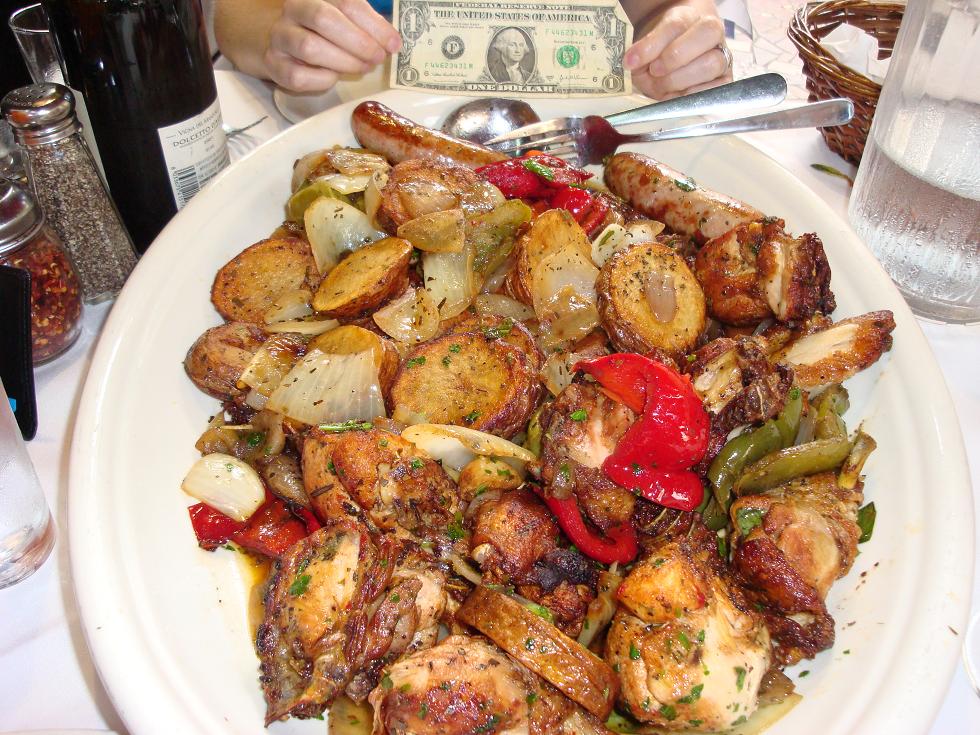 Even in this land of excess, where clothes are sized XL, XXL, XXXL, and FM (think about it) this sets a new all-American record for blatant waste.  I didn't dare order an espresso in case it was served in a wine cooler.
The check came to $95.81 plus service which you could argue to be the best value meal since the five loaves and two fishes incident, and would have fed almost as many.
But only come here if you are a party of six and then order one dish to share. It will seem like great value, and the food is ok.  If you like fussy dinky little portions (that a lone human being could consume in less than 24 hours) and preserving the world's food reserves, steer your SUV well clear and head for downtown Manhattan.
Carmines, 2450 Broadway (at 91st) New York.
T: +1 212 362 2200
W: www.carminesnyc.com
***enter access code 999 for chance to win $100 gift card***