I've spent a number of happy occasions rinsing my bladder in perfectly poured Guinness in this imposing public house overlooking O'Connell Bridge.  The architecture both inside and out is stunning and the location and views of bustling Dublin are unparalleled, yet I have always thought it quite an ordinary pub grub place as far as food is concerned.
When I saw that Michael Winner had raved about Messrs Maguire in a Sunday Times review I thought I would revisit and try the food again.  It was still ordinary.  But for me, eating is not the point of this place.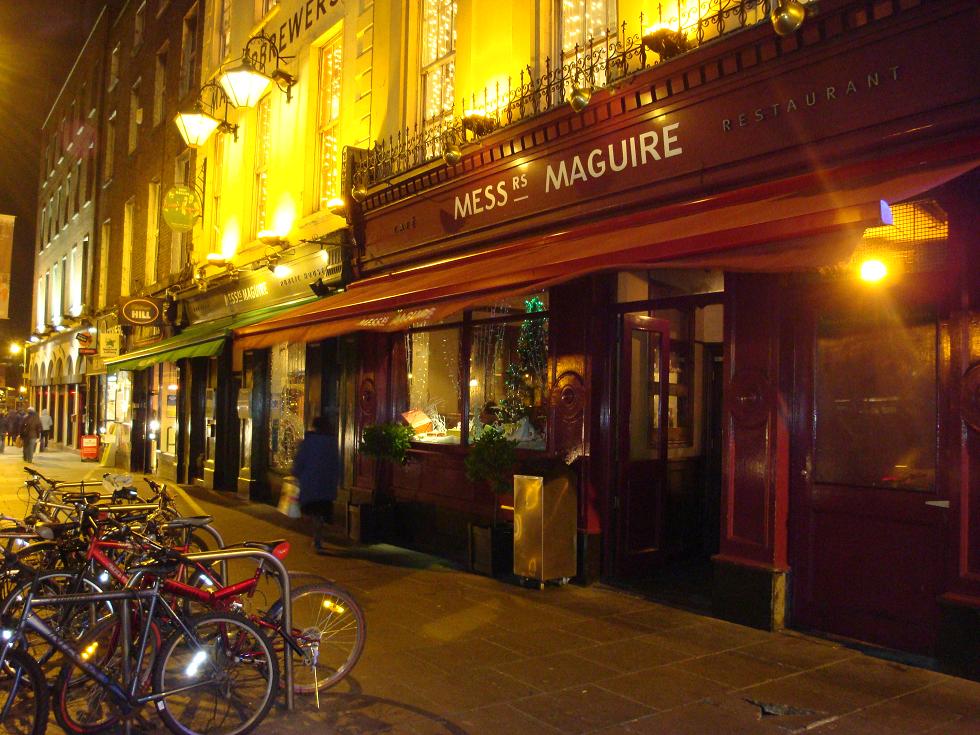 Maguire's prominent frontage makes it a haven for tourists which often points to high prices, low quality and a slight shortage of craic.  A pint of Guinness was a reasonable EUR4.60.  A half pint of Budweiser was an unreasonable EUR3.30, but looking out over the Liffey, with the St James' Gate brewery little more than a good hurley whack away, why drink anything other than the black stuff?
I have drunk enough of varying quality to know that the pour is the single most critical contributor to a good pint.  I may be a Guinness snob because outside Ireland (where rumours of poor pours can close a place in seconds) I watch bar staff like a hawk to make sure that some effort is placed on getting it right (improbably rare in the UK, sadly).
The Guinness at Messrs Maguire was poured suspiciously quickly but tasted as good as any I have tried, and that is very good indeed.
Maguire's staff was mostly Irish which is a good sign.  10 years ago in Ireland, all bar staff were Irish.  It was considered a profession and paid a living wage.  However, the Celtic Tiger and European immigration is changing the face of Dublin and bar waiting is gradually being deskilled to a minimum wage job performed by Eastern Europeans.  Whilst the quality of service in general is variable as a result, thankfully most pubs still train their staff rigorously in the noble art of pulling Guinness.
The ground floor bar is friendly but a little tight to eat, the first floor was capacious but full, so we decamped to the top floor after we had ordered.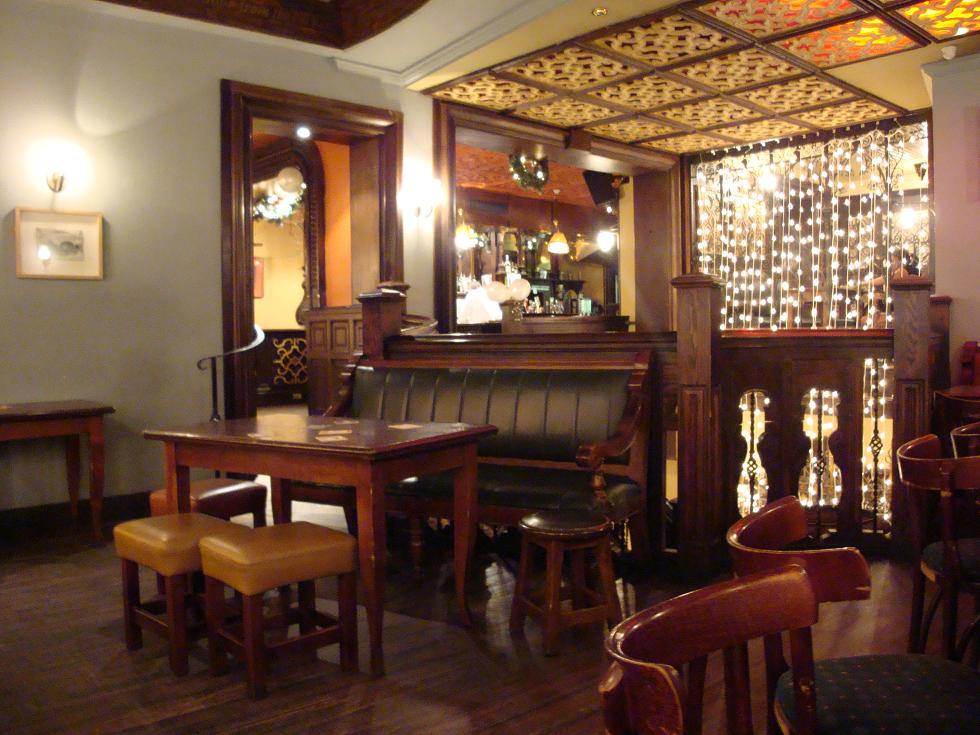 The whole interior of Messrs Maguire looks and smells solid and reliable.  The fixtures and fittings bear the scars of ghosts of Irish past, sailors who docked at Burgh Quay, traders, layabouts and who knows if even de Valera, Collins, Pearse, Connolly and others enjoyed furtive pints here in 1916.  They may have feasted on an Irish steak cooked medium/well rather than the rare they ordered.  And they may have risked grilled mussels in garlic and breadcrumbs as they plotted the downfall of the British Government.
Ninety eight years later I enjoyed a not so furtive pint, warm friendly atmosphere, good service and a feeling of peace with the world.  Dublin is as relaxed a city as you could visit and sinking into one of Messrs Maguire's leather seats, it's difficult to imagine what could improve my mood.  Oh yes, "barman, bring me another Guinness please".
Messrs Maguire, O'Connell Bridge, Burgh Quay, Dublin 2.
T:Â  +353 1 6705777
F: Â +353 1 6705777
W:Â  www.messrsmaguire.ie
E:Â  hickeygroupinfo@gmail.com (please include Messrs Maguire in the title of email).