I'm in Dublin for Christmas and for the first time there are several pubs opening on St Stephen's Day.  There was a time when this holy, but dry, day was almost as sacrosanct as Good Friday.  It's always fun coming for an Easter break, getting on the plane with a load of stag and hen parties innocent of the complete pub shut down.  Already anticipating a top Friday's binge drinking, like alcoholic lambs to the slaughter of the Guinness Reaper, the look on faces when word gets around, and if no-one else has told them then I am happy to take on the role of harbinger of doom, that Ireland does not do pubs on Good Friday.  But judging by this St Stephen's, maybe next year will be different.  Irish Society has changed dramatically in the 10 years I have known it.  Part multicultural immigration, part Celtic Tiger driven affluence (and effluence), it is even possible to find a good selection of restaurants in Dublin these days (although fewer and fewer pubs).
Talking of expectations, I have few when it comes to Rhone reds.  It is probably the single region of France I ignore the most.  But this is not a dislike of wines from the region, simply a blind spot.  By the time I have drooled over various Bordeaux and Burgundy reds, my French Red Wine Budget has such an adverse variance there is nothing left for other regions.
But occasionally a nice looking wine arrives and is debited to my Mixed Case budget.   This one was a double entry in a 6 bottle pack from the Sunday Times Wine Club as part of their President's Cellar offer – two half cases per year at about £20 per bottle.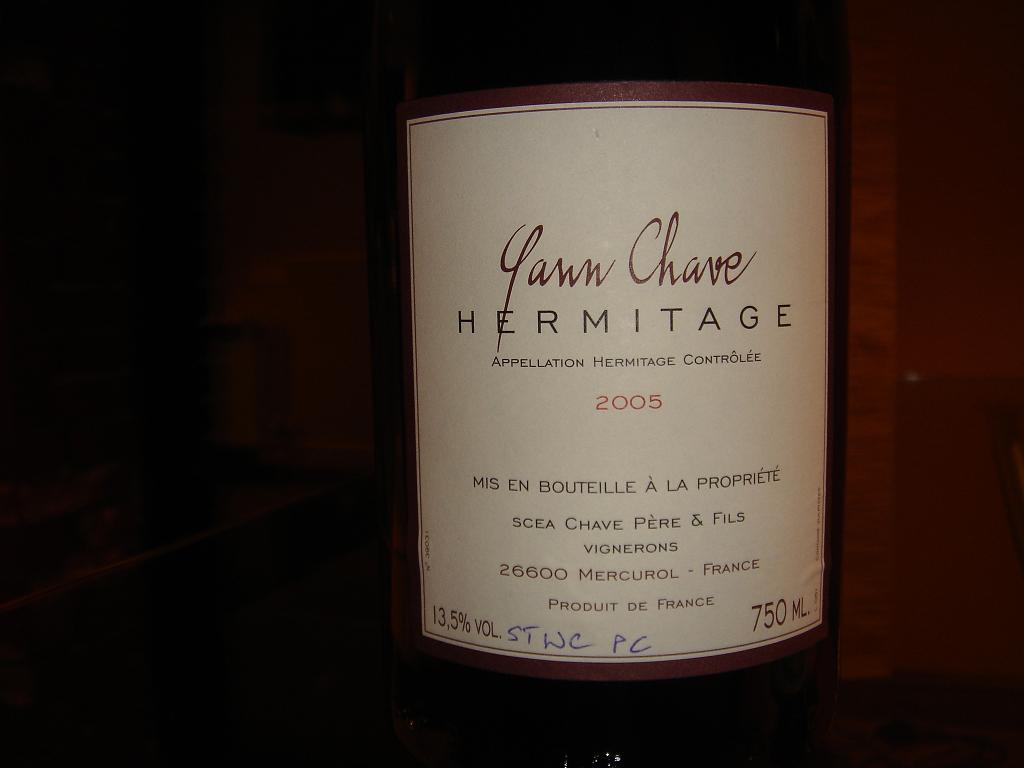 Yann Chave Hermitage 2005 is actually reported as £30 per bottle on the STWC website – ouch!  Is this spicy Syrah worth that?
I am not sure, but it does taste good.  It looks and smells purple, if you know what I mean.  A bit of beetroot, ripe cranberries and mustard.  The flavour is super intense and a bit like swilling clove flavoured mouthwash mixed with black treacle and eucalyptus.  I wouldn't expect it to quite clear your nose though.  If you have a cold, try Beecham's.  Your £30 will be wasted if you can't get a good snort of this unusual yet appealing Hermitage.
If, on the other hand, you are in full health, sell the socks and ties you got for Xmas on EBay and reinvest the loot in a bit of Chave.
I support the closure of the pubs on certain days of the year but not necessarily for religious reasons.  It allows families, otherwise separated by being part of a 24/7 trade to get some time together.  We don't all have the luxury of nesh jobs with software companies or banks (not that the latter is a bed of roses right now, but it does offer sociable working hours to those still employed).  Is there any time left in modern life for an occasional breather?