Château Durfort-Vivens Margaux 2003, a deuxième cru from Lucien Lurton who also owns another 2nd growth Margaux property, Château Brane-Cantenac,  82.3784% Cabernet Sauvignon with 9.632% Cabernet Franc and the remainder Merlot.  20 months in oak.
If you want to read stuff like this go somewhere serious like www.decanter.com.  If facts bore you and you prefer the experience of wine, then why not join me having fun as I learn.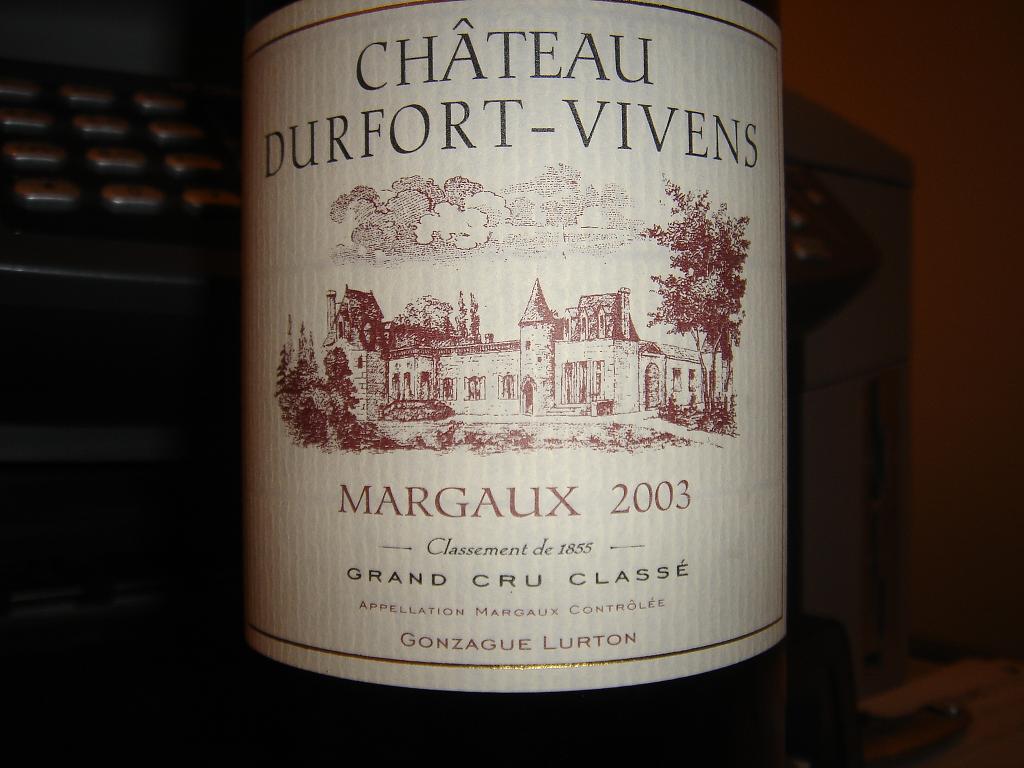 2003 Bordeaux was hailed as a superlative year on release, but since then, I have seen mixed opinions from "serious" critics.  I guess if a year is so freaky hot that it broke statistical records and deep-fried numerous Gauls, then intuitively that isn't going to be good raw material for the best wine ever.
I tried a 2001 vintage of Durfort-Vivens at Morgan M's in Islington recently.  It's a good food wine but on the evidence of the 2003 I think it also stacks up as a drinker.  The smell reminded me of iles-flotantes (meringue and fruits of the forest).  The taste was quite tannic with a little tomato, lamb casserole with Mediterranean herbs and a bit of blackberry and cherries.
Very impressive wine, though, and I would always choose a Margaux if I had more than two sous to rub together.  I got this from the Sunday Times Wine Club President's Cellar which usually means about £20 a bottle.  It is no longer available there but Everywine has it at about £27 per bottle.
By the way, if you want to read someone who tells it like it is, delivering facts but in an unstuffy way, you could do worse than Jamie Goode.  For example, you can read his thoughts on the 2003 vintage here.