The death of Robert Mondavi, in May of this year, caused a wine world reaction akin to the British mourning the death of Princess Diana, the 11th anniversary of which is today.
Credited with transforming the Californian wine industry, I wonder what this "colossus" of the wine world would have been like to meet.
I had a mad dream that I walked into Costco in Leeds and Mondavi was a guest wine guy for a day.  Admittedly this is a bizarre dream since I have never seen any sort of wine guy at the Leeds branch.  I hear tell of such wondrous myth in the stores of our transatlantic cousins, but here in the UK, Costco wine shoppers are left to their own devices.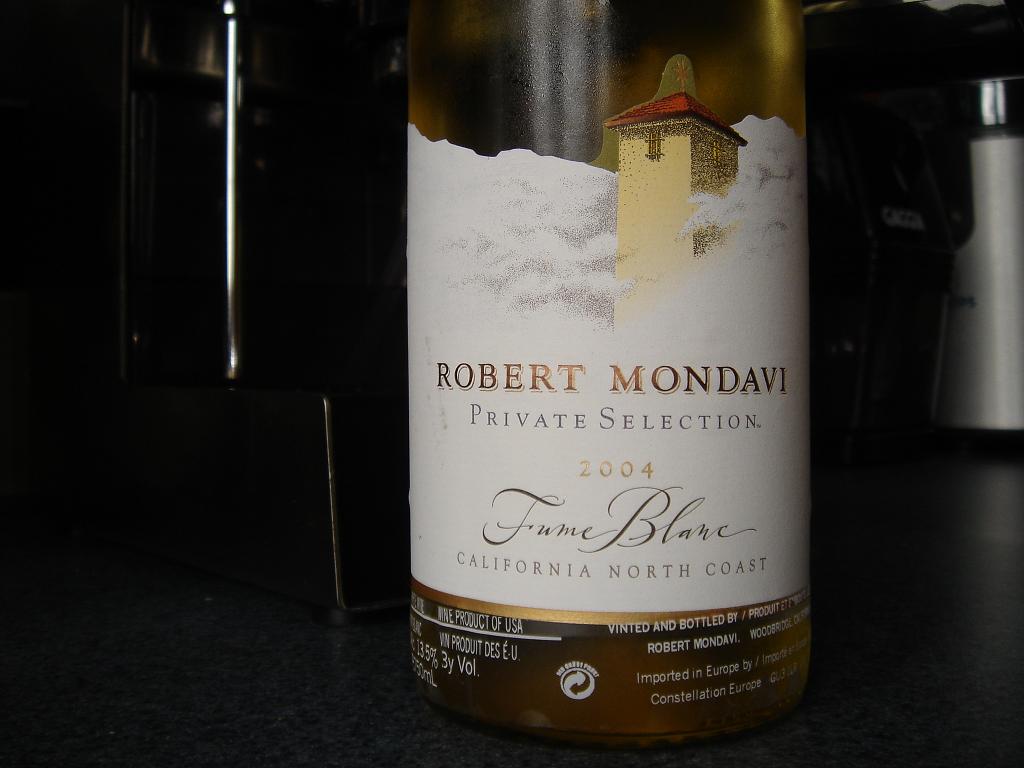 If my dream had come true, I think Mr Mondavi would have been disappointed to see that the empire he spent his entire life building, was celebrated by this sole, lonely representative on the Costco wine shelves on the day of my visit.  And this from a store that is US owned.  In his memory, I put a bottle (£7.39) in my trolley.
I learnt from one of Jancis Robinson's books that Fumé Blanc was a marketing term invented by Mondavi to sex up his otherwise unfashionable Sauvignon Blanc and make it sound more like the French Poully-Fumé , which in the 1970s was the Sauvignon Blanc benchmark, Cloudy Bay not yet having been so much as a glint in David Hohnen's eye.
Mondavi Fumé Blanc 2004 Private Selection looks quite old for a Sauvignon.  Most, especially those from the land of kiwi fruits, tend to be drinking best a year or two after harvest.  I guess the extra couple of years was reflected in the colour, which, through the clear glass bottle looked like a sample from someone who had not been taking enough water onboard.
In fact the wine bore only reminiscences of "typical" SBs.  The crisp acidity was there, but with toasty overtones of honey and perhaps rose hips.
If I was to try to find a taste-u-like for this wine it would be a combination of pear drops, fruit salads, and strawberry & creams.  Bon-bons all and 1970's memories which seem appropriate to celebrate the life of one of the masters of the wine universe.
As for the the Fumé Blanc, it is an interesting take on Sauvignon and different enough from today's Kiwi benchmarks to warrant pulling a cork on a sunny afternoon as lovely aperitif.