There is a lot written about matching wine to food.  There are some basic rules which I tend to follow and it's never as simple as white with fish, red with meat.  It's more about trying to find a balance of complementary styles.  For example, have you noticed that cheese is often served with sweet fruits like grapes?  So, no big surprise that sweet wine goes excellently with most cheeses.
On the occasion of a barbie on the balcony, I was trying to balance simply barbecued sardines with dill and lemon, fresh spring lamb chops with rosemary, and a warm summer afternoon.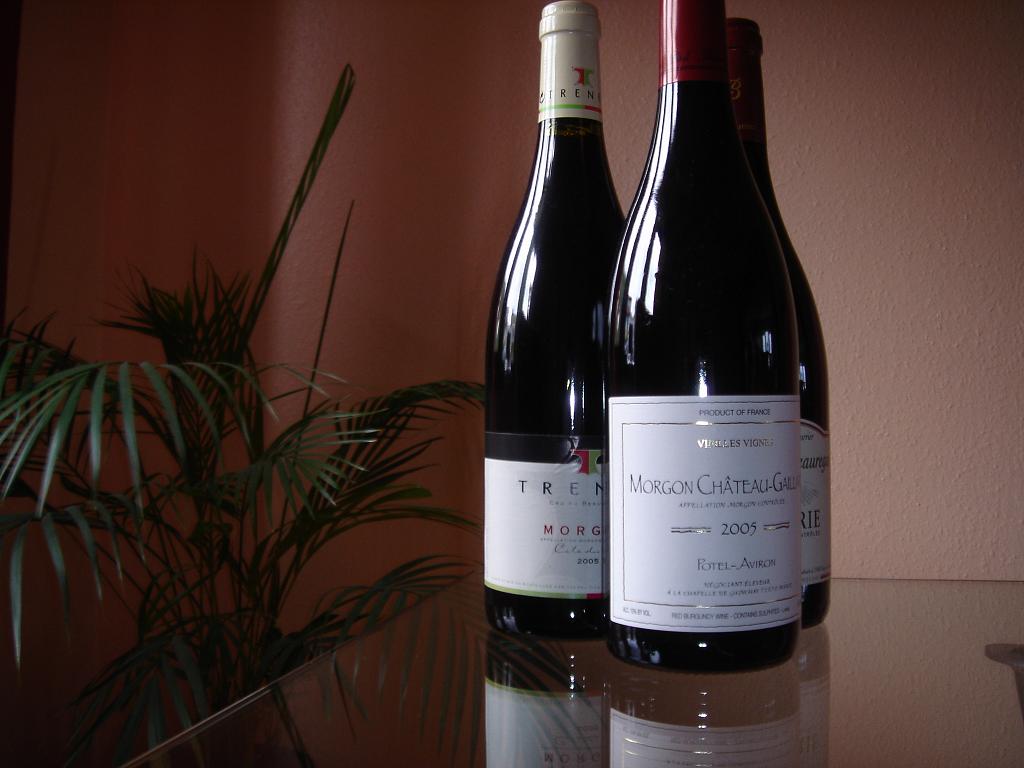 A quick search of my wine rack revealed a few Beaujolais from 2005 – a top year.  Morgon Château Gaillard Vielles Vignes, Domaine Potel-Aviron seemed to fit the barbie bill.  I have a temporary boycott on the Wine Society, so rather than pay £8.50 per bottle there, I would go to the US and buy it from www.empirewine.com at US$19.95.
Beaujolais is a super summer wine and definitely should be drunk cool.  I would say 12°C is about right.  15 minutes in an ice bucket does the job.  If your barbie is a cut above burnt sausage and burgers (and I like to think that mine was), then Morgon, one of the more serious Beaujolais crus is worth the extra cost above, say, a cheap Fleurie (itself a great aperitif, however).
Château Gaillard 2005 has the typical jammy, caramelly smell of the Gamay grape – almost intoxicating, if verging on slightly sickly.  The taste is a veritable fruit and veg stall (I was at Leeds market earlier).  A fantastic mix of flavours including, but not limited to, tomato, potato and plum.  Much more complex than a typical Beaujolais, it's my pick for the upmarket barbecue.
Talking of which, here's my tip for baked potatoes.  Wash the potato and place on the dull side of a sheet of tin foil.  Add a few liberal shakes of salt and then wrap the potato completely in the foil.  Place it directly in the barbecue coals and allow it to nestle there for about 20 minutes.  Turn and leave for another 20.  It should come out with a beautifully browned crisp skin with fluffy white middle.  Simply add butter and ground black pepper and enjoy – yum…  Now tell me that an oven baked potato can taste better than that!