We regularly use the plural when we mean the singular.  Nowhere is this more true than in Latin derived words used in a business context.  For example "can you tell me the single criteria for success?".  Erm no I can't, but I might be able to enlighten you with the criterion.
A gruff Yorkshireman with mixed ancestry by the name of Marco Pierre White clearly spotted that the single criterion for a good restaurant was to serve good food.  This is certainly a baseline, but in my view there are other criteria.  For one, there is history.  Criterion pre-dates Piccadilly Circus itself by 4 years putting a big red tick in that particular box.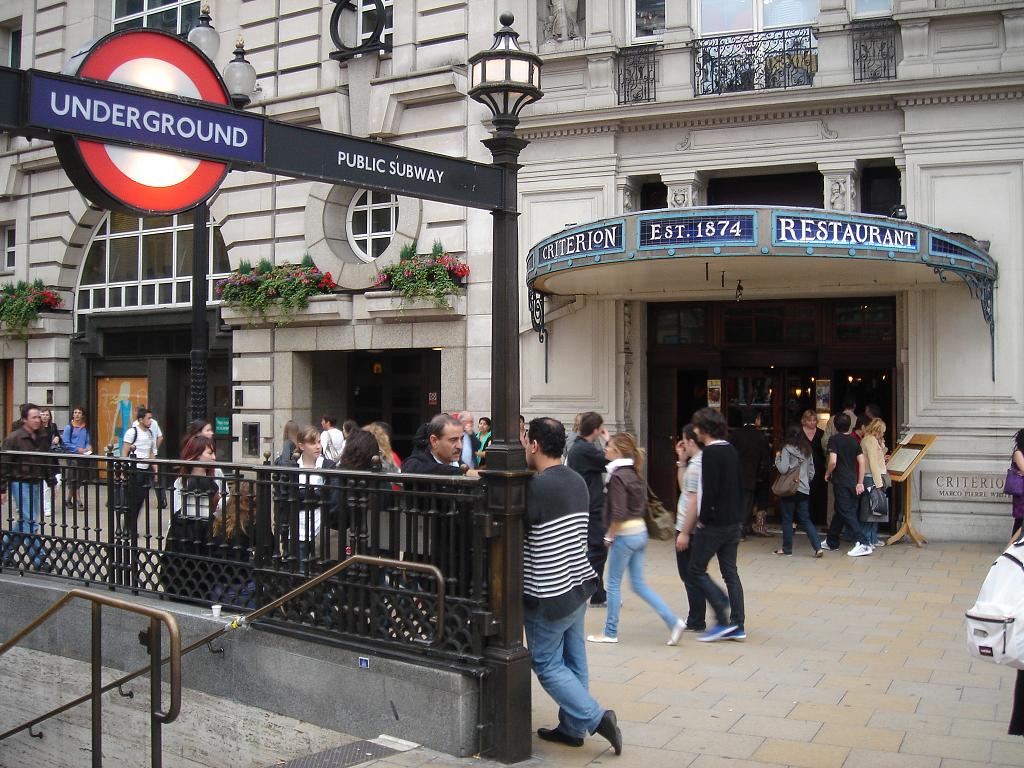 Another important part of dining out is atmosphere.  Criterion does not deliver this in spades, feeling a little bit like a Blue John mine, cavernous and empty even if nicely decorated.  However, "Fay Presto" the impressive table magician did go down a storm and it is worth visiting on a Friday or Saturday to give her a tip.  I suggested that she find a new career, although Alan was more generous, dropping her a few quid.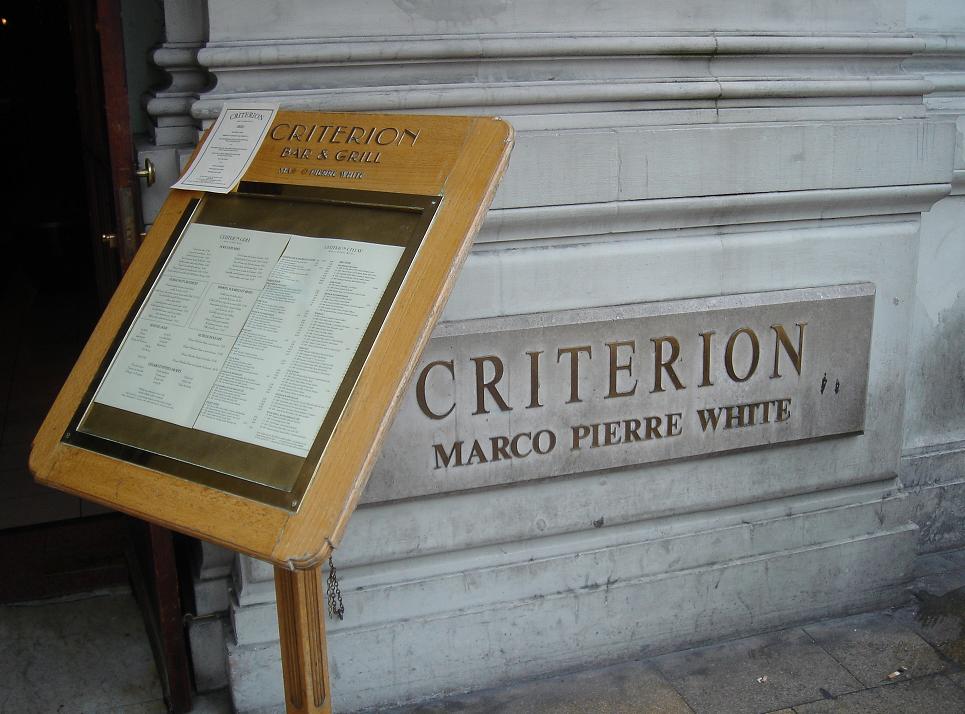 We dined with Alan and Heidi, as we often do when in London.  We, the out-of-towners, and worse still, from the north, made the (risky) choice of restaurant.  We needn't have worried, it was a top evening.
For me, perhaps the most important criterion to judge a resto by is the wine list.  Criterion's was excellent, although expensive.  The rest of the table marooned me on my isolated wine snob island to choose the bottle.  I spotted a La Dame de Montrose 2004 looking reasonable value at £65.  Google found it at www.tanners-wines.co.uk for £21.95 making the mark-up about 196% – not outrageous by many resto standards, especially in London.  This St-Estèphe was earthy and spicy with a hint of tarragon, plums, and cherries.  Although young, perfect with red meat.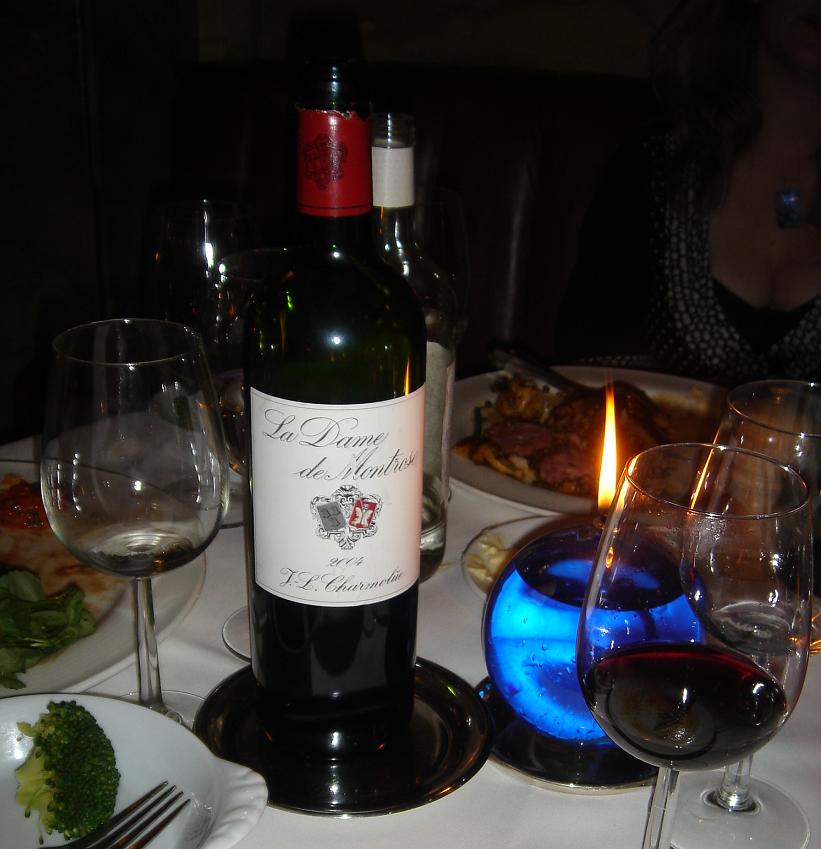 Firstly, Heidi and I enjoyed seared scallops with half a bottle of Pouilly-Fumé Les Berthiérs 2006 which tasted of pink grapefruit, lemon and blossom, complementary to the scallops which were simply gorgeous in a sauce vierge.
La Dame (the second wine of Château Montrose) was a perfect arranged marriage for the grilled calf's liver (or possibly calves' liver?) with sauce diable, and I thought I was experiencing the perfect meal.  The others, eating steak, begrudgingly admitted that my wine choice was spot on.
However, I don't want to sound like a "aren't policemen getting younger?" bore, but aren't cheese portions getting smaller?  Alan and I decided to share the "assiette" de fromage, but 6.32 grams of cheese is not going to feed two growing, albeit middle-aged, chaps.  At £7.50 this was the one rip-off of the night.  In fact, if you check out the "special offers" section of the website, you might just find a blank page, like I did – virgin white like Posh Spice, and emptier than David Beckham's head.
Otherwise, at £288.39 for four including service the overall experience is one worth repeating though not every week, unless you know the Aga Khan, or someone who can make £10 notes appear from a wine bottle.  Oh and the interior design is almost as impressive as the magic…  I've read some bad reviews of this place, especially when it flirted, briefly, with being branded under the Frankie's pizza chain (a JV between MPW and Frankie Dettori).  I think it is back to its Gallic best now.  Do give it another go if you are one of the former disappointees.
Criterion Grill, 224 Piccadilly, London, W1J 9HP.
T: 020 7930 0488. F: 020 7930 8380
E: sales@whitestarline.org.uk
W: www.whitestarline.org.uk