If Ian Fleming, the creator of James Bond, named this his favourite restaurant, and Adrian Gill, erstwhile restaurant critic of the Sunday Times, also raves about the place (albeit that he is presumably on a retainer for writing about the history of most of the major restos in Caprice Holdings Ltd), then any self respecting wino has to visit.  Sunday lunch is just the perfect time to eat oysters, and my rocks were from Malden.  I am embarrassed, though, to admit I had to ask the waiter to explain that Essex is where these crustacea were reared.  I am such a northern oik!
The service at Scott's is obviously superb, highly professional and (unusually) English.  However, our waiter was having an off day.  I had to ask three times for my wine to be topped up.  You may be thinking "lazy so and so" but I would have had to walk about 300 yards to get to my bottle of Pouilly Fumé from where they parked it.  Talking of which can you spot our car in the photo below?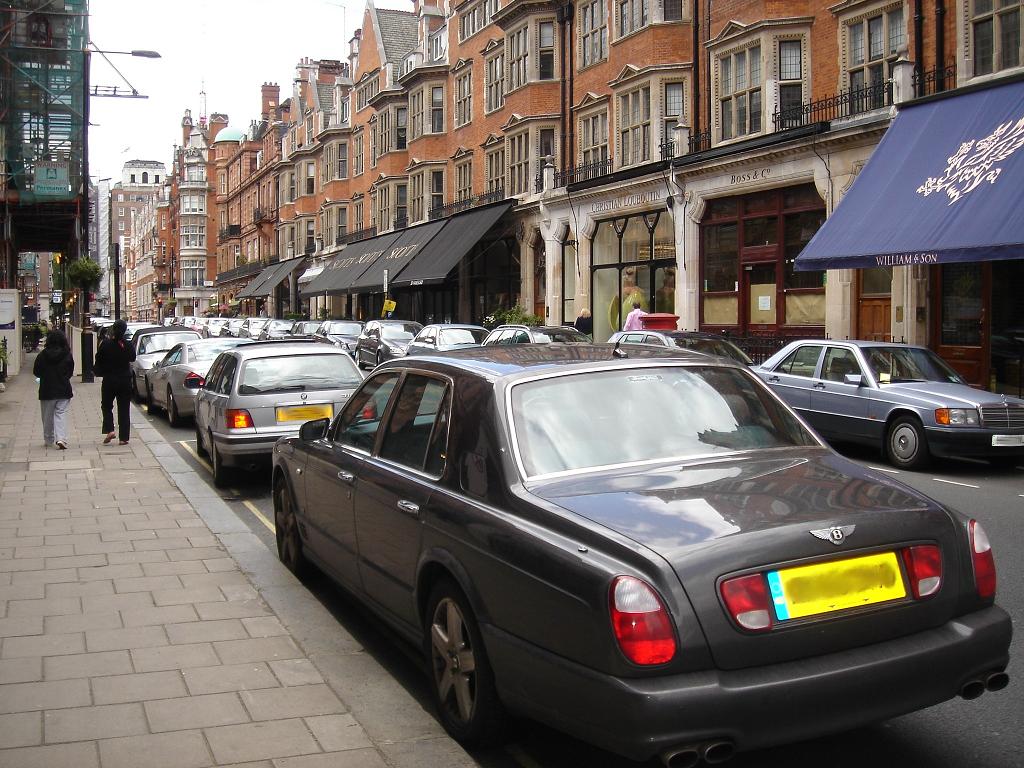 No I can't see it either.
Scott's is on Mount Street, Mayfair where you would have to be a Russian oligarch to have any chance of affording a piece of real estate.  With Berkeley Square just round the corner, the sound of nightingales is all but deafening, although the 200 year old London Plane trees do ensure that the little blighters are well above street level.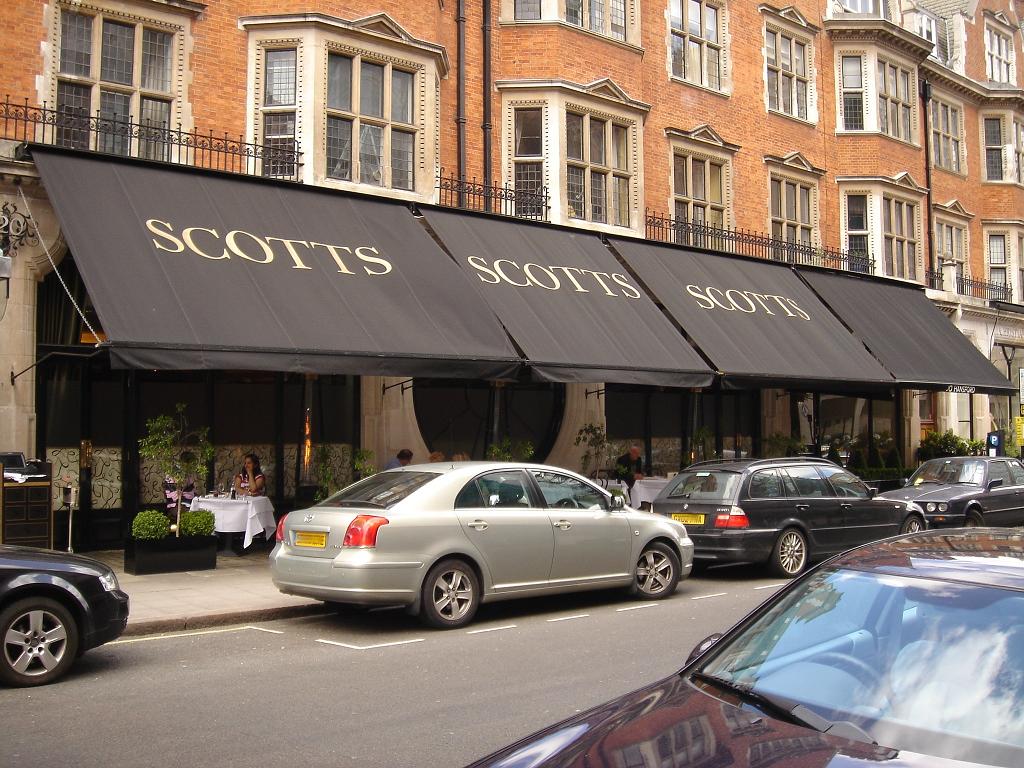 Inside Scott's, the decor is overtly expensive.  A huge raised display of shellfish at the Oyster Bar was enough to make my knees go weak.  Razor clams were planted in the ice as if skis outside an Alpine mountain restaurant.  A variety of other crustacea stared back at me as if I had just entered that weird bar in Star Wars.
The oysters were reassuringly ugly and all the tastier for having green tabasco available.  My main of pan fried brill was…erm…. brill, but at £24.75 I wasn't expecting seagull food.  Crisp skinned and nicely textured, not as flaky as cod yet not as meaty as tuna.  Fred is allergic to seafood (so yes, it is mean to take her to a seafood restaurant).  Fortunately, Scott's has anticipated this potential relationship breaker and offers a wide choice of meat and veggie dishes.
I selected a cheapish Pouilly Fumé Les Cornets 2005.  At Scott's, cheap means £39.50.  Berry Bros have this at £12.95 which reveals a mark-up of 305% which is quite high.  The wine was greener than a spring meadow (in colour) and tasted of gooseberry, lemongrass and greengages.  Very zingy indeed and only ever so slightly too acidic which was fine for the oysters.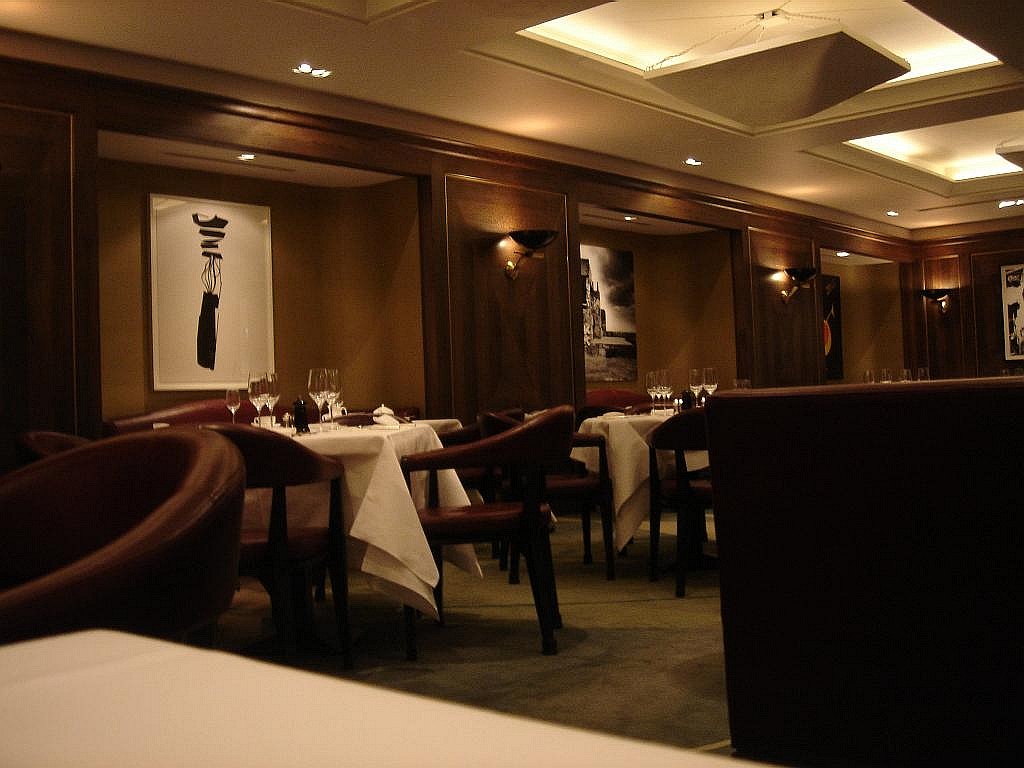 The cheese course came with a glass of Muscat de Beaumes de Venise Domaine de Durban 2005 – served super chilled in a frozen glass.  Certain readers would not approve of the "eye-glass" sized stemware but it suited me just fine.  With a glorious scent of honeysuckle, it tasted of heather honey and golden raspberry with just enough acidity to counter the sweetness.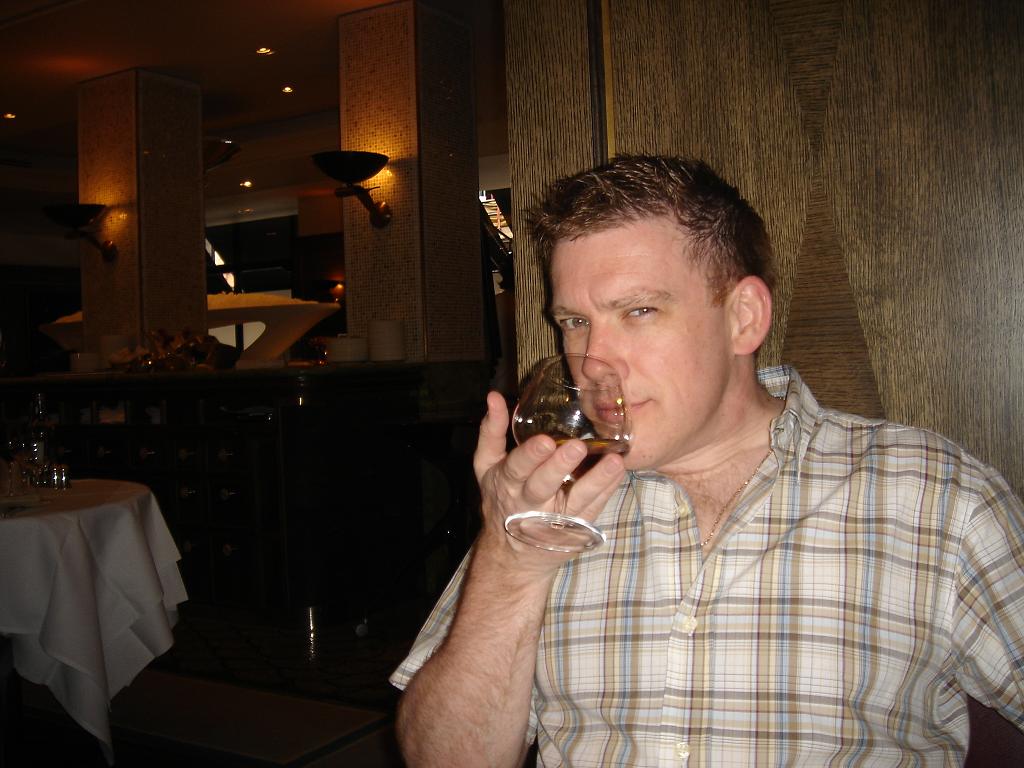 As usual, on these hedonistic Sunday lunches I couldn't order my macchiato (tasted Italian) without attacking the Armagnac list (5 available).  Just the one this time, Baron de Sigognac 10 year old, at £7.50, perhaps the most reasonably priced item on the entire menu.
The bill for two was just shy of £180 including service and (antiquated and annoying) cover charge.  It is difficult to judge but I sensed that Scott's is one of the most expensive places I have ever eaten (including the Ivy and Le Caprice from the same group).  Despite that I encourage you to start saving now.  By the time you get a table you might have enough in the piggy bank and if you even so much as like the look of seafood you will have a great dining experience.  Whether you are a Star Wars fan or not.
Scott's 20 Mount Street, London, W1K 2HE.
T: +44 (0)20 7495 7309 F: +44 (0)20Â 7647 6326
W: www.scotts-restaurant.com