Regular readers know that I sampled the Auction service at Virgin Wines with mixed results.  I discovered recently that they have started auctioning Cloudy Bay 2007.  Fabulous idea!  Everyone knows the price of Cloudy Bay.  Although Harvey Nichols sells it every year for about £16-18, other retailers struggle to keep it below £20.  The Sunday Times Wine Club sells it at a rip-off £26.95!  Virgin Wines?  You can start bidding at £1 for 6 bottles!
So I raced to the site and discovered with disappointment that, with 18 hours still to go, the bidding was already at £131 for a half case (£21.83 per bottle).  It only took me 1 minute on Google to find it at £18.99 at lebonvin.co.uk.  I am not saying that £131 for 6 is bad value, though.  It just pays to keep an eye on availability elsewhere if you value your coins.  Well worth visiting Virgin and placing a bid of £50 or so, just in case! I am going to keep going back for a look.
Anyway, the cricket saison est arrivé, and tomorrow I managed to get a ticket (sold out) for England vs New Zealand at Old Trafford (Manchester).  I know what you are thinking, how on earth is he going to tie all this nonsense back into a post about a wine from Touraine?  Listen carefully, I am about to begin…..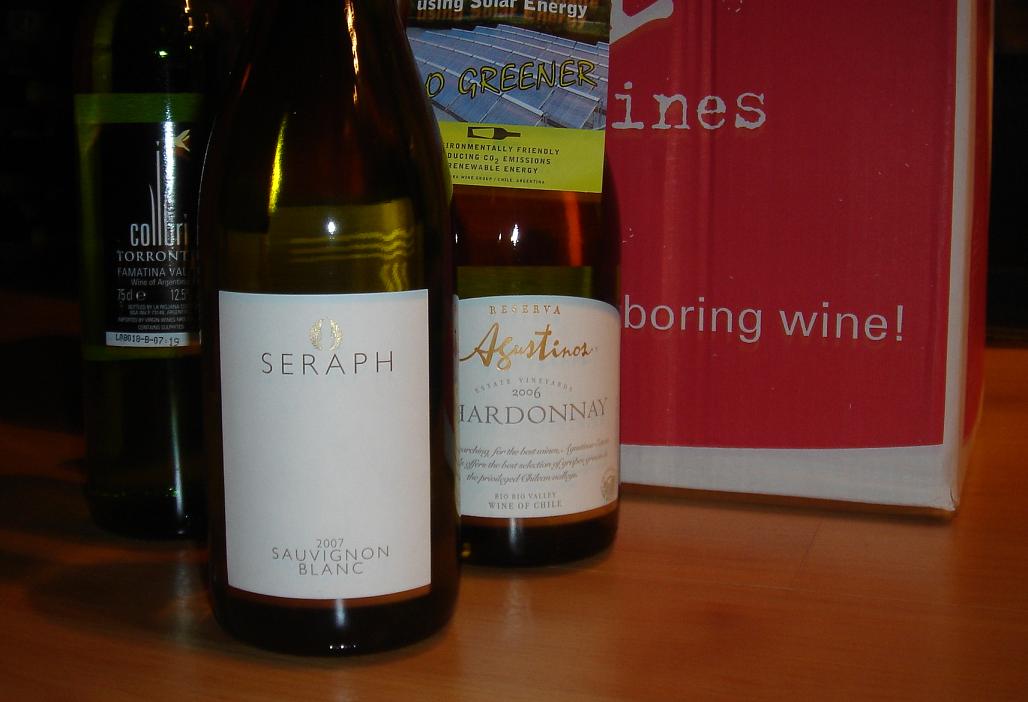 The Touraine came to me in a case of "All White Delights" from the Virgin Auction site.  I pulled it out of the fridge because it had a screw cap and I mistook it for a New Zealand Sauvignon.  I was thinking about New Zealand because of the cricket tomorrow and I wanted to jinx the kiwis.  When I realised my mistake I looked again in the fridge and found a bottle of Hunters 2006 Sauvignon.  Time for a taste off!
The comparison is totally unfair of course since the Seraph was £6.99 at Virgin (even less in the auction case).  The Hunters was £9.95 at Wine Society so in a completely different class (if you know the British tax regime).
Seraph was pale, almost ghostly (sorry) with a sharp acidic taste, lacking a little length and the fruit was mostly grapefruit and the sweetness came from basic sugars.  However, very drinkable for the price.
Hunters just about warranted the extra investment.  More complex, less acidic, with exotic fruity flavours and a finish as long as Linford Christie's lunchbox.
So New Zealand won this battle but then again the cost of the squad was much higher.  Pound for pound there was nothing between them in value, but if you pitch Man United against Accrington Stanley the chances are that United will win (regrettably).
What does this mean to England tomorrow?  Come on, this is Manchester – let's just hope it doesn't rain!