I spent a week in the Beaujolais region during the vendange of 2005.  Don't be stupid, I wasn't picking grapes, merely relaxing, doing a little walking, some good eating and plenty of wine drinking.  My favourite spot was Fleurie with two great little bistro restaurants and one, more famous, mushroomy one with a star from some rubber company (too expensive and too indoors for me so I didn't bother).
Personally I loved Café de la Bascule, where properly chilled local wines were poured over lazy autumn sunsets, accompanied by fine, but rustic, French food and just a pinch of French arrogance to season.
At the time, the marvellous 2003 vintage was running out fast.  People were fighting like Biafrons at an impromptu pizza party to get the last bottles, and being a big fat bloke, I managed to grab a few from local suppliers.
It turns out that 2005 was a pretty nifty year too, and I recently realised I had not tried much.  So off to the Wine Society website to see what was left.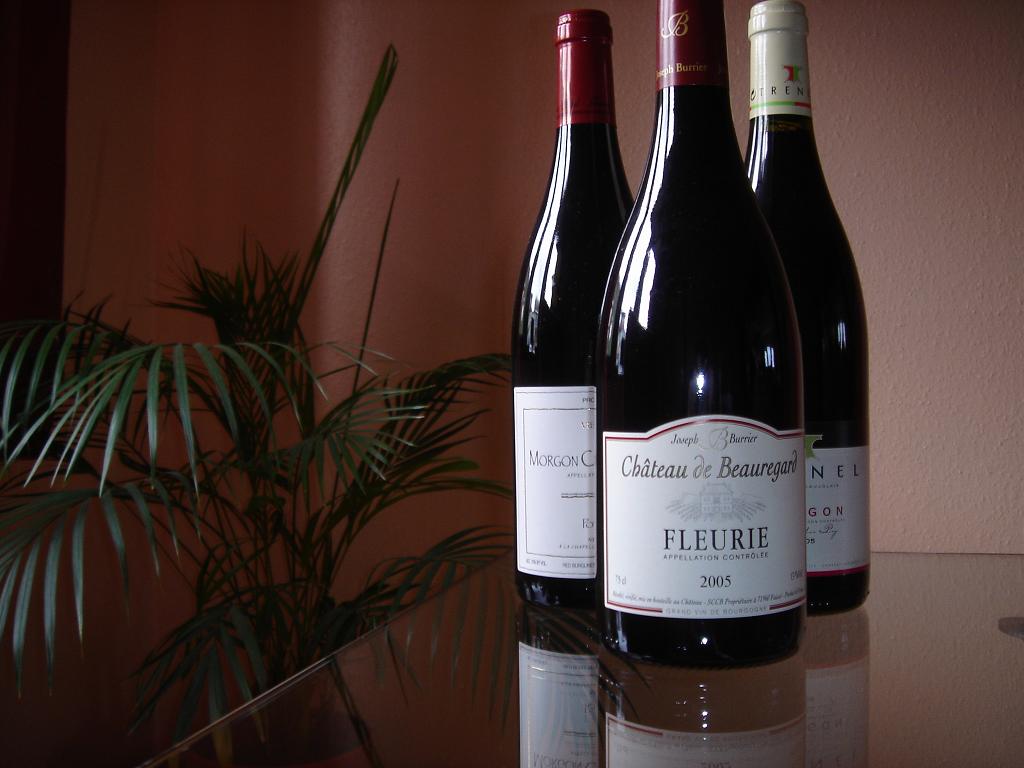 Beaujolais in general, and Fleurie in particular, are not generally marked out for longevity.  Everyone knows that Beaujolais should be drunk young (although I would make it your habit to avoid any offered to you on the third Thursday in November).  Some of the 10 crus, do produce wines with longer lives, neighbouring Morgon being a notable example.  I still have some from 2003 that is drinking more like a Pinot Noir from the Côte d'Or, despite being 100% Gamay.
This Fleurie looked like a serious attempt to wage war against brevity.  Aged in oak barrels by Joseph Burrier and, at £9.50 a bottle, presumably as weighty as the coinage I had relinquished from my moth eaten wallet, it certainly tasted more serious than the light fruity drink now Gamays of Fleurie that I am used to.  The flavours were fragrant redcurrants with some sweet red peppers, a little mushroom, but all the while supported by orangey zest and lime.
Lovely!  If you try it, I recommend chilling down to 12 degrees (Celsius) or so to get the best flavours.