I've just returned from the opening night of the Opera North production of A Midsummer Night's Dream, Shakespeare's play reconfigured as an opera by melody dodger, Benjamin Britten, whose proud boast seems to be never to have written an opera in a major key.
I normally love Opera North (full disclosure, I know one of the chorus quite well), but I am not a Britten fan.  A Midsummer Night's Dream reminded me of all the negative aspects of the earlier, and otherwise superior, Peter Grimes.  Incessant horns and strings in deliberate discord, keeping the audience on its edge in the same way Hammer House of Horror films used organ fugues to build tension.  Britten never seems to let go, though.  It was like sitting on a train, delayed because of a fatality on the line.  One feels sorry for the victim (or cast in this case) but I just wanted to get home as quickly as possible.  Listening to a gauntlet scratching up and down a blackboard would have been more entertaining, and arguably, more musical.
The humour (what little existed) was 50 years old and could probably only have been written by a tortured homosexual of the repressed mid 20th century.  There were clearly a few from that era in the audience, occasionally chortling and even applauding.  I watched with the same cringingly embarrassed feeling of watching a Carry On film from the Beatles epoch.  Fortunately, to avoid total boredom, I was simply able to stare up at the awesome ceiling of Leeds Grand Theatre, the home of Opera North, and surely one of the best theatres in the world for architectural detail.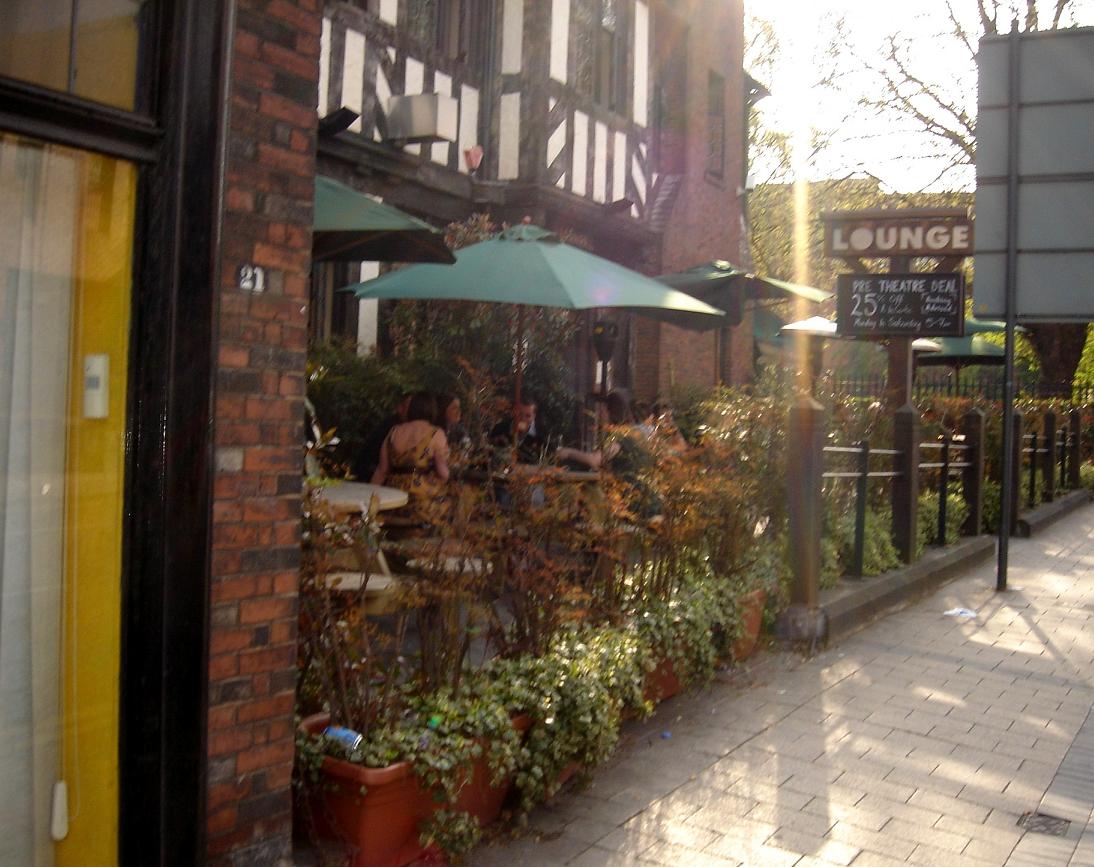 Just round the corner from the Grand Theatre is Lounge Bar and Grill, and that is where we chose to eat before the performance.  With 25% off, the bill for two with a bottle of wine came to only £40 plus service.  Even for Leeds that is cheap.
Although claiming to be original, Lounge is a clear copy of Living Room chain (or vice versa) and is trying to trade on the recent trend of bar, grill, cocktail and beer in a trendy atmosphere.  Lounge is a fantastic building, more pub than bar, and the restaurant upstairs is quite trendy with a nice view of the park next to St John's Church.
The food was competent and tasty but the portions were too big (well, I guess this is Yorkshire).  My goat's cheese starter, served with warm figs, was lovely.  The calves liver to follow was also good but tried a bit too hard to emulate foie gras (thick cut and wobbly).
On an average wine list I managed to find a gem – Doña Paula 2006 Malbec from Mendoza at £16.95.  It was served way too warm as usual.  I am thinking of starting a campaign to get restaurants to serve wine at the right temperature.  I am sick of getting rich whites served at 5°C (instead of 12) and ordinary reds at 25°C (better at 15).  Anyone want to help?
Once I had negotiated an ice bucket from the flabbergasted waitress, the wine was pretty good.  Plums, cloves, Xmas spices, candied peel and butter/sugar cake mix.  Not at all jammy even though 14.5%.  The colour?  Purple.  Pretty good all round, unlike An Early May's Nightmare in Britten.  Sleep safe and sound folks and please don't listen to Britten if you have a razor blade in your hand.
Lounge Bar & Grill, St John's House, Merrion Street, Leeds, LS2 8JE.
T: +44 (0)113 244 4234Â  F: +44 (0)113 243 9680
E: info@loungebarandgrill.com
W:Â  www.loungebarandgrill.com