Inspired by my happy experience of Faldeos Nevados Argentinean Chardonnay, I was moved (but not in the intestinal sense) to try another.  Oops…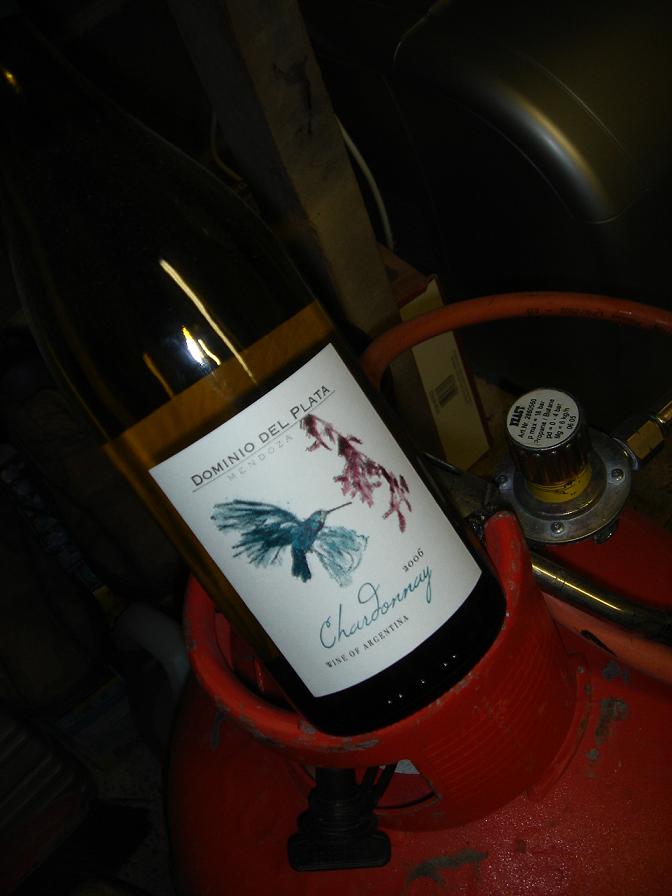 Dominio del Plata comes from Mendoza and I tried the 2006.  At a whopping 14.5% alcohol it must be one of the strongest white wines in my cellar.  When I say "cellar", of course, I mean a simple wine rack in my dining room, placed on the coolest wall and away from the radiator which I try to keep switched off, which doesn't impress my dining guests much on a winter evening……but I digress.
The label on this blockbuster advised of 6 month's ageing in "medium toast" French oak to "add complexity and harmony" but by my first tasting its very simplicity brought discord between my taste buds; the sweet ones clanging like church bells, tolled by my campanologist sour buds.
It is one of the oddest wines I have ever tasted and I don't think I like it.  Whereas the label reported tropical and pit fruit aromas, I got rotten apricots and candied pith.  The label's "mineral backbone characteristic" was not a character that I wanted to be friends with.
I can only assume that the excessive price of £6.50 from the Wine Society is merely driven by the duty payable on the excess of alcohol.  This is, after all, a loud wine.  Louder than a pink striped tie and with the same fashion sense as if said tie had been matched with a green shirt.  I can find no excuse for this wine to exist and this is a shame because it's a rare Argie wine that disappoints.  Let's be kind then and call this a rare Argentinean wine.
Turn down the volume and switch off the oak and I may be interested in trying it again.