Of all the restaurants where I have sat beneath a canopy of Maple leaves, Le Perron in Geneva is undoubtedly the best, or come to think of it, actually the only one.  Having said that, I suppose I should be grateful to be sitting outside at all in October in Europe.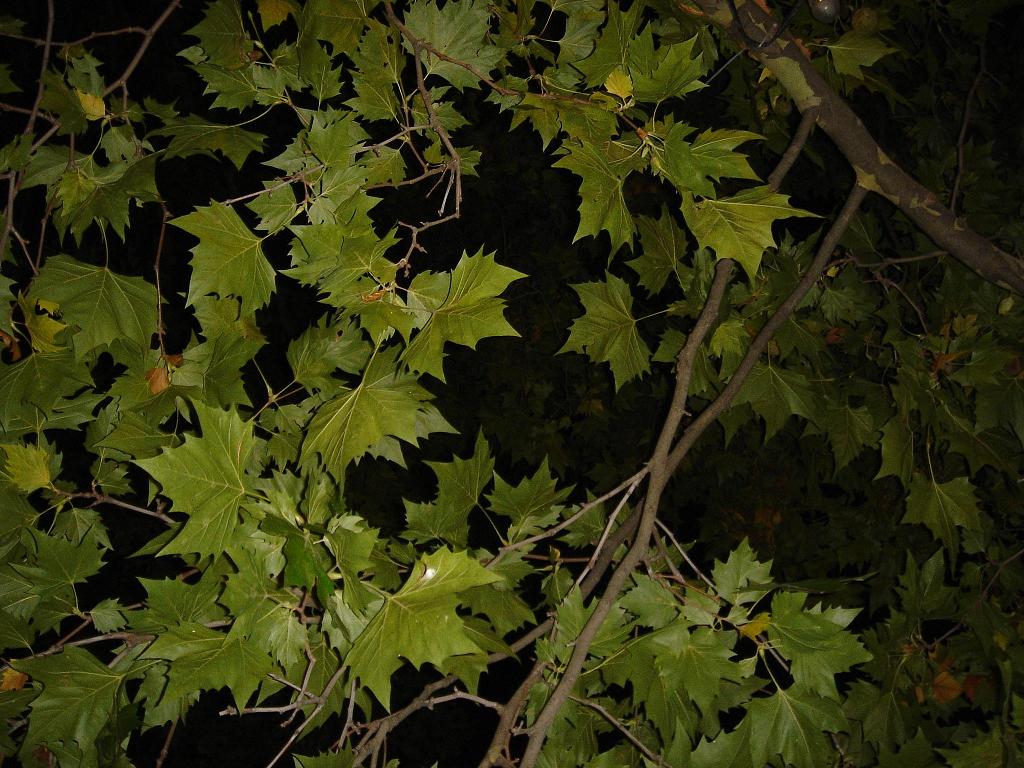 Arriving at Le Perron, in old town Geneva, it is not at all clear what type of restaurant it is – Italian, French, Romanche or even German?  Whilst sitting outside wondering which of the four national languages of Switzerland we would be greeted in, I was surprised to hear French with a Far Eastern twang.  As enthusiastic as my mate Miki from Japan, our waiter was a gem, and (I guess) a first generation ex-pat.  Which only reminded me that Japan is one nation I would love to visit.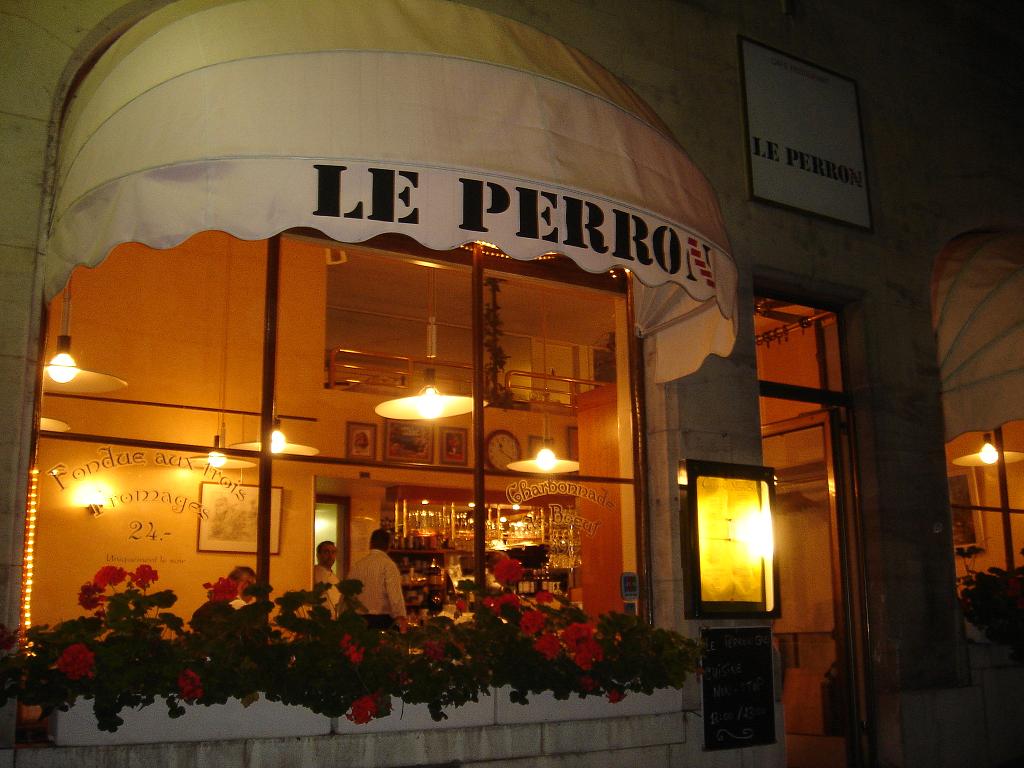 Travel dreams aside, I was bought back down to earth with the pleasant bump of the wine list's arrival, which had several French treasures amongst the local Swiss residents.  It was my last night in Geneva and I had had my fill of local wines so I was pleased to see a claret as "wine of the month" from an excellent year, 2003.  The Château Sainte Barbe (CHF42 = only £18 – no rip off) was quite tannic but displayed blackcurrants, raspberries and spicy vanilla oak.  It was strange to come back to Merlot/Cabernet Sauvignon after so much Pinot Noir and Gamay.  But it was a good move because the filet de boeuf morilles demanded something a little more serious.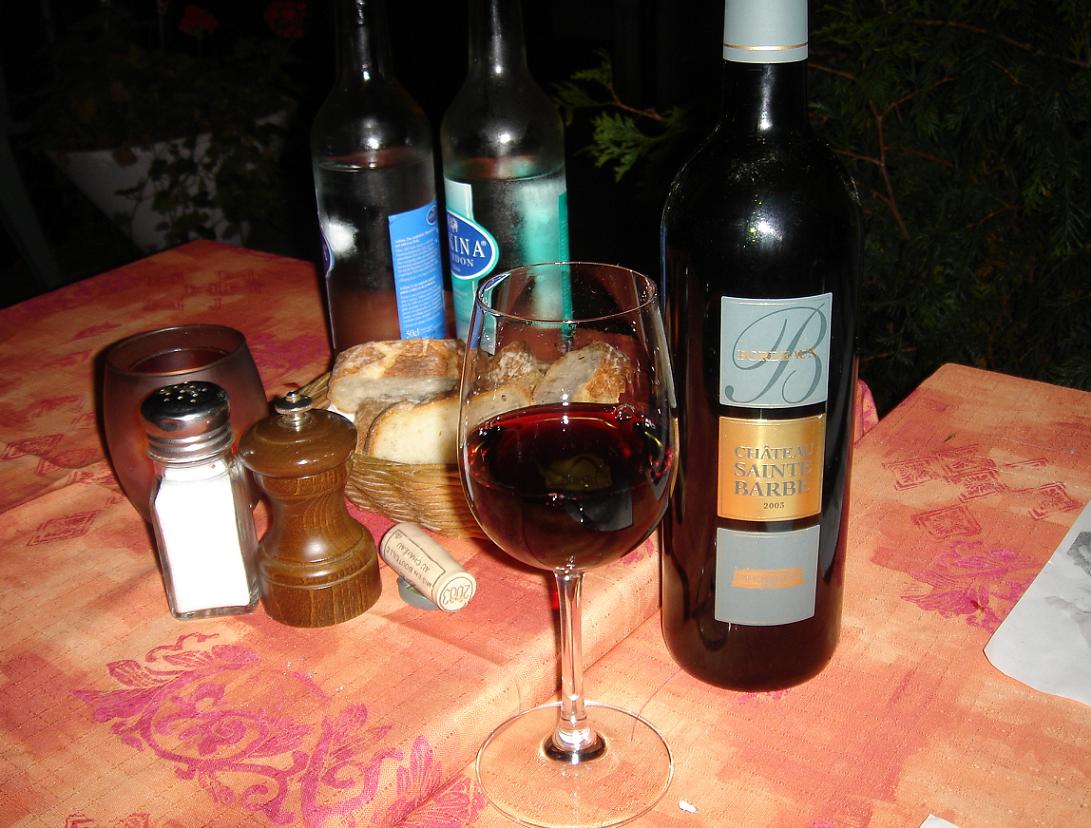 In fact the steak was not exceptional.  Nowhere near the quality of the starter of green salad which came with a French dressing approaching my own in taste (and that is the only decent thing I can do in a kitchen).
In summary, the wine was better than the food but both were superseded by the atmosphere which was fantastic.  Three elderly ladies on bicycles popped in for a glass of wine, laughing and smiling.  I hope they made it through the Geneva Mercedes filled roadways unscathed.  It's nice to see some old folk who really enjoy life.  I hope I will be like that in 20 years, although I suspect I will be more like Victor Meldrew.  Many would say I am already a grumpy old man, but at least a nice glass of wine cheers my spirits!  So does a bill of CHF 163 which translates to approx £70 or US$144 – great value in any language, even Romanche!
Next time I am in Geneva I will seek out Le Perron, although maybe for lunch rather than dinner, or perhaps an early evening aperitif on a bicycle.
Le Perron, 5 Rue du Perron, 1204, Genève.
Tél: +41 (0) 22 311 3108. Fax: +41 (0) 22 311 3163.