As one aperture in my life opens, another closes.  Having recently discovered a long lost Godmother, today I learnt that my Godfather (unrelated) has passed away.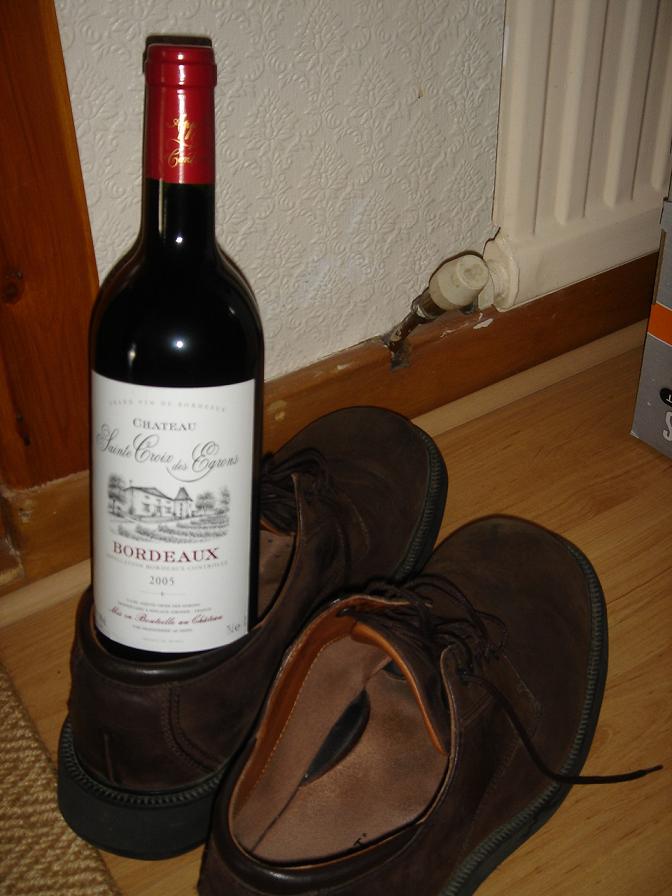 Richard, or Dick as I preferred to know him, had the most English of senses of humour and probably an inspiration behind my own.  A proper stiff upper lip combined with a sometimes wicked view of life that never failed to make me smile.  Humour in an understated, subtle, not-in-yer-face way.  People can work humour out for themselves without having to be bricked in the face.
I very much loved and respected Dick and I miss him already, albeit that we met relatively rarely.  His wife Bridget survives him and, although she is normally a tower of energy, strength and ebullience, I know that this will be test for her.  I am pleased that I did visit Dick in summer 2007 and, although he was obviously weak, it never crossed my mind that it was to be the last time I saw him alive.
If Dick is watching from somewhere he will hopefully be pleased, and possibly even amused, to see me trying my latest claret in his memory.  This one is Château Sainte Croix des Egrons from the fab 2005 vintage.  When first poured, it was nowhere near as subtle as Dick's humour.  Mostly vegetal on the nose it had a sharp flavour with a slight vinegary taste, yet fruit was evident.
Red fruits emerged in much more subtle way as the wine evolved but there remained some rusty ferric overtones.  I think the wine is still slightly too tannic and would benefit from another 2 or 3 weeks in the bottle.  Still at £6.67 per bottle should I really be complaining?  It's one of the better value bottles offered by Laithwaites/Sunday Times Wine Club and it may be worth buying a few to lay down.
Meanwhile, I will continue to remember Richard Hislop's life with an ever so slightly too tannic but otherwise superb Bordeaux.  Here's to you.  May you rest in peace.