The somewhat entertaining, but supercilious and frequently AWOL Sunday Times restaurant critic, AA Gill, rarely extends his gastronomic tentacles beyond central London.  So I was surprised to see that he had, according to a poster at Piccadilly rail station, nominated San Carlo in MANCHESTER as the best Italian restaurant outside the capital.  Surprised not only because he had ventured so far north as to get the apocryphal nosebleed, but also because San Carlo is far from the best resto of any type anywhere.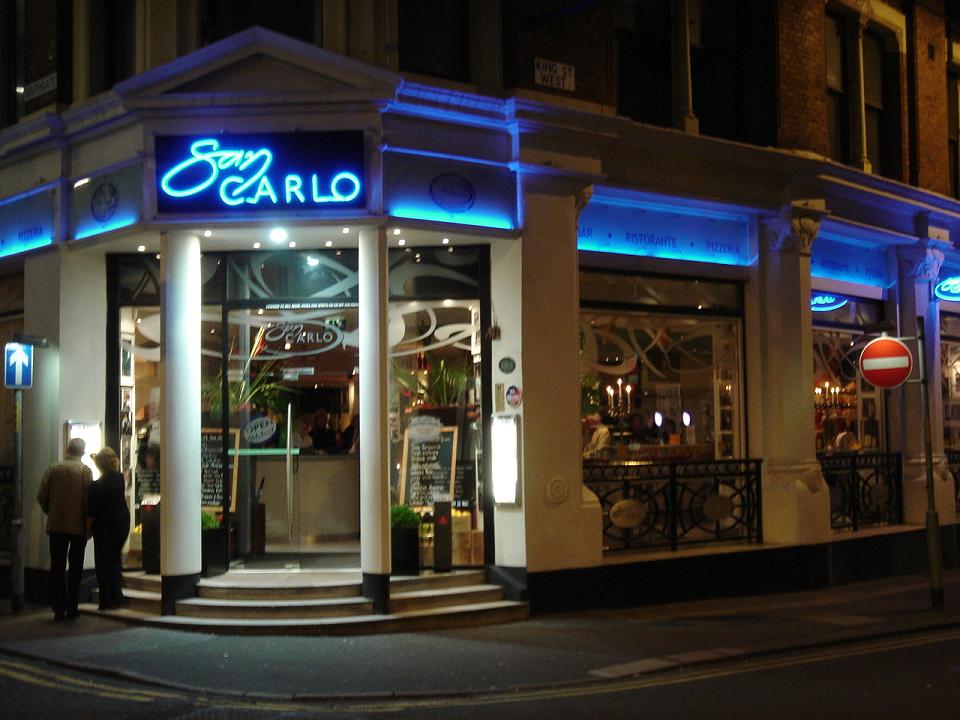 However, that is not to say it is bad.  It certainly attracts the high society of Manchester, as evidenced by a patchwork quilt of famous mugshots decorating every nook and cranny of internal wall space.  Sadly, on the night we visited with Jeff and Michele, there were no faces of note.  Only sad old football players from the dark side of Manchester – Rio Ferdinand, Carlos Tevez, Wes Brown and others I can't be bothered to name.
The menu was virtually unreadable in the gloom being typographically diminutive and lacking contrast, so I ordered from the blackboard.  The waiting staff are attentive (sometimes too much so) but ours lacked knowledge.  He couldn't tell us where the Oysters came from, or how various other dishes were served, and he overfilled our wine glasses.  The stemware was not worthy of drinking wine from, and there were no water glasses on the table, which had not been prepared for the "shift change".  We had booked for 9pm, one of two choices (the other being 7pm) for the night, so you can imagine the chaos as the niners scrimmaged with the seveners in a pitched battle that was ultimately to see the hungry, sharp and edgy newbies defeat the sated and slowing coffee drinkers.
But that's the bad stuff out of the way.  I like San Carlo, and have had many better visits than this slightly disappointing one.  I even spotted a waiter formerly of the Flying Pizza recently, which is a highly encouraging endorsement of San Carlo's recruitment policy.
The Sauvignon Blanc Del Collio 2005 (£21.95) was perhaps too fruity a choice for the oysters (which were, in fact, from Colchester).  The peachy, apricot and greengage flavours were delicious but the contrast with the unctuous, salty and spiced oysters was just not quite there.  A case of two superb individuals that should be married to other partners.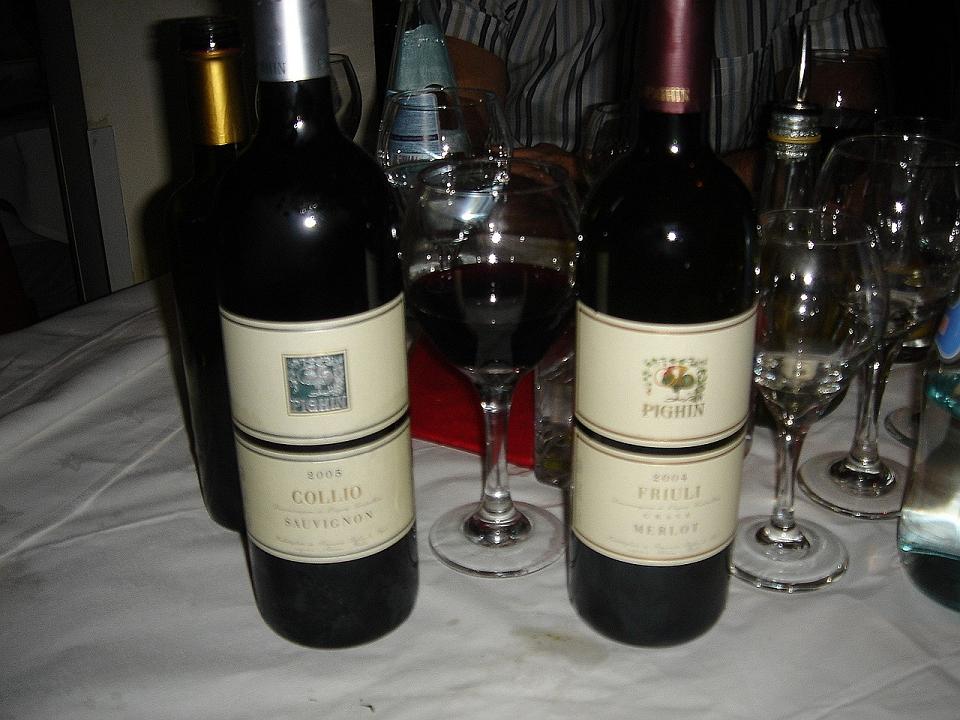 The red wine, Merlot Grave del Friulli was surprisingly nice at only £16.95.  Nicely tannic with some wood spice and cherries.  Most Pighin wines seem to retail at £8 to £10 per bottle so the markups are looking very reasonable.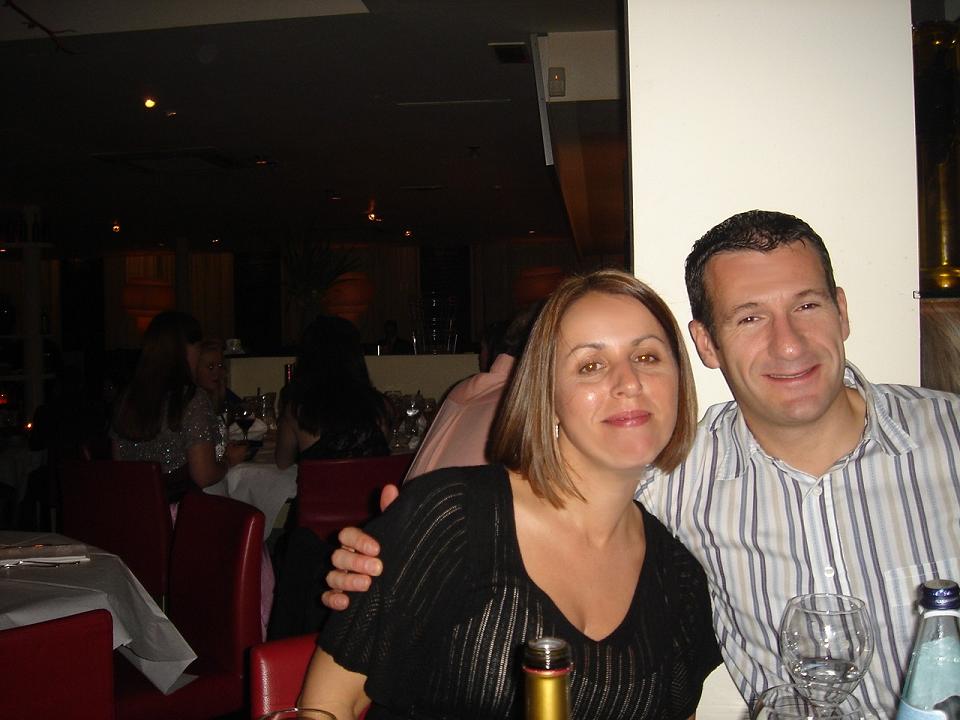 My scallops arrived for the main course and were nice, if served in a slightly insipid sauce, but I was mollusced out so I admit it was the wrong choice anyway.  They were five in number and served in their shells which left me wondering where to put my spinach.  My faith was restored by an excellent post meal macchiato, definitely made by an Italian.
Next time I may try more from the pizza and pasta selections, both of which are excellent, from previous experience.  I guess that's the problem here.  Every time I have been to San Carlo has been a good experience apart from this single occasion.  Is it fair to write a bad review of a good place based on a single experience?  Maybe.  But if you have been several times and you know it to be a good place to eat, then maybe not.
Please try it when you are in Manchester.  You may bump into Tom Jones, Russell Crowe, Brian May, or Bob Hoskins.  Or you may be unlucky and sit next to the Neville brothers.  But like the Ivy in London, the attraction of San Carlo is not the celebrity clientele, it is the quality of the food, the service and the reasonable wine list – just ask them to change your wine glasses!
San Carlo, 40-42 King St West, Manchester, M3 2WY.  T:  0161 834 6226.  E:  manchester@sancarlo.co.uk.  W:  www.sancarlo.co.uk