Jeff and I were in London for the Challenge Cup Final at Wembley.  Those of you not from Perpignan, Australia or the north of England will not understand Rugby League so let's move on.  In any case RL was not the only sporting occasion of interest that day.
August Bank Holiday weekend in the UK and Chelsea FC (lucky home win against Portsmouth – David "Calamity" James to thank) knocks the glorious Man City (unlucky defeat away at the Arse) off the top spot of the English Premier League.  So we thought we better nip down to Chelsea and see what all the fuss was about.
We found the King's Road to be quieter than expected.  Plumping for the Bluebird Café we were able to enjoy an outside seat with the rich, famous and good looking.  Needless to say we displayed the panache of Diego Maradona and Carlos Tévez doing a pasa doble for Gianfranco Zola.  The food was pretty good though, despite the stares.  Jeff's Greek salad was fresh green and tasty, while my fishcake was tender, moist and lightly spiced.  I guess the chef must be used to serving skinny footballers' wives judging by the "bucket" of fries, though.  I wouldn't like to be given that bucket to bail out a leaking boat.  It would barely have been big enough to accommodate my glass of house Sauvignon Blanc, which was just as well really because I drank it quickly.  The wine was nothing to write home (or here) about but pleasant enough with the fish.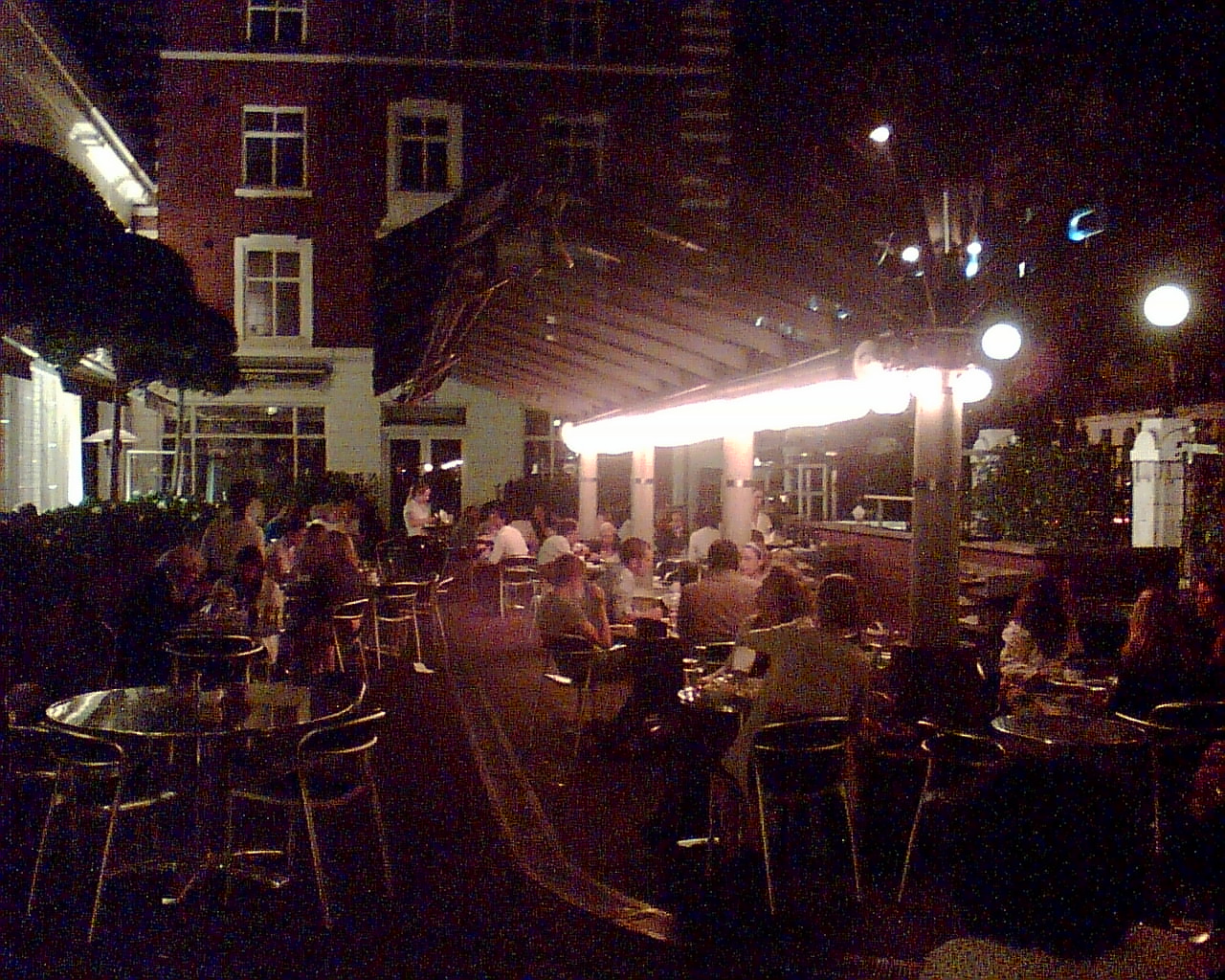 Including 12.5% service the bill came to £43.88 which is not too bad for London.  On a warm, evening it was a fairly nice place to sit, well back from the main road.  I recommend you try it, if you are in the area.
The next day, back in Manchester, another warm one.  Sunday lunch in Castlefield beckoned and having recently been to Choice, this time Freda and I selected Albert's Shed on the opposite side of the Canal.  It is part of a complex that includes the trendy bar Dukes 92 where the beautiful people congregate on sunny weekend afternoons.  Due to the impending match at Old Trafford, the beautiful view was occasionally punctured by groups of fat, balding men in red Ronaldo shirts, but they quickly headed for the Swamp dramatically improving the vista in the process.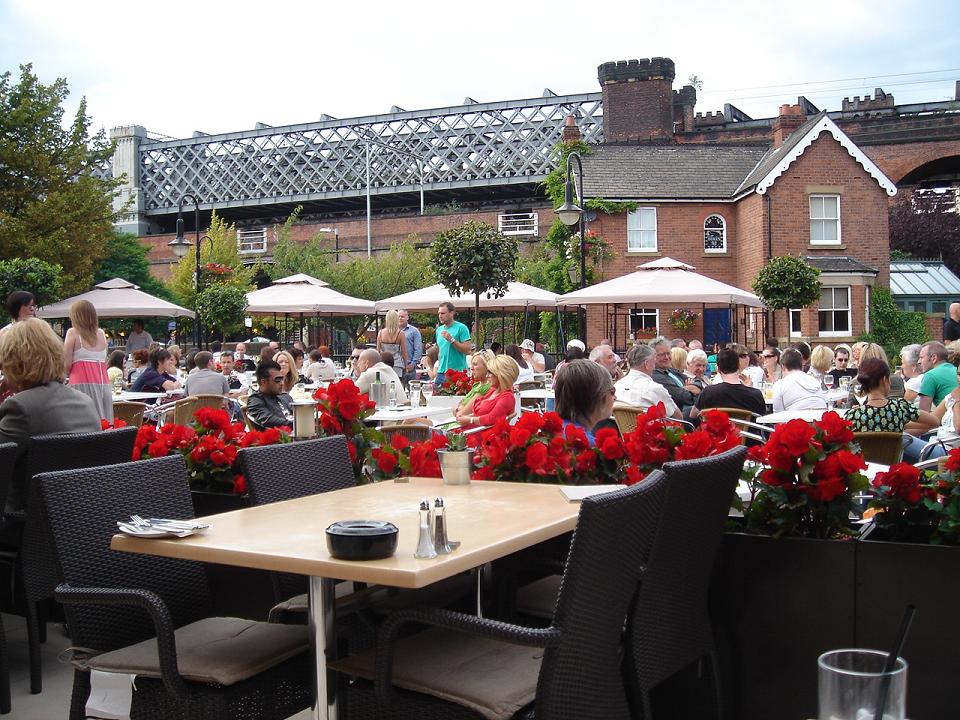 Sunday lunch was a pretty reasonable £15.95 for three courses of high quality food.  The main course was beautifully presented – a tower of beef striploin, Yorkshire pudding and roast and mashed vegetables, which when de-constructed was a much larger portion than I expected – were we back in Yorkshire???
The waiter was a little over-apologetic, for no reason because the service was good.  The wine list was fairly limited which is fine on a Sunday.  I chose the Santa Caterina, Pinot Nero, Collia (Italy) 2005.  I wanted a fruity but fairly serious wine.  This was slightly jammy but nice for being only 13% alcohol.  Raspberry flavours (so intense I was trying to pick the pips out of my teeth), with some cedar spice.  I really enjoyed it and definitely recommend it with the Sunday roast.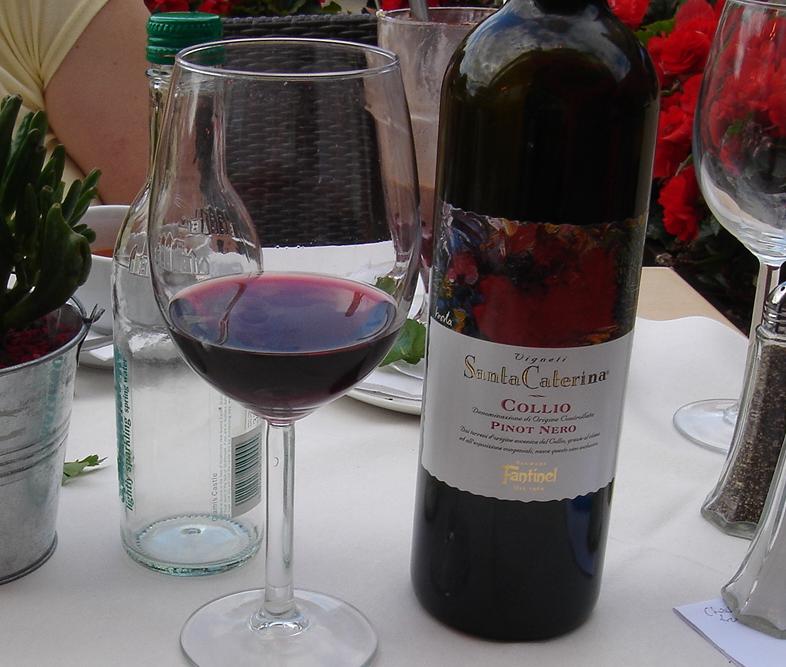 The in-crowd were simply divine, dahhling, and its a great place if you like people watching.  Expect to be stared at because most of the crowd spend most of their time talking about most of the other people.  "Have you seen that dress – ghaaaaastly!".  "Oh my God, looooook – did she do her make-up in the dark???"  If you can get over (or ignore) this "Chelsea of the North" attitude, you will find an exceptionally good restaurant with trendy bar attached.  At about £60 for two including wine and tip, it's also pretty reasonably priced.  I'll be going back.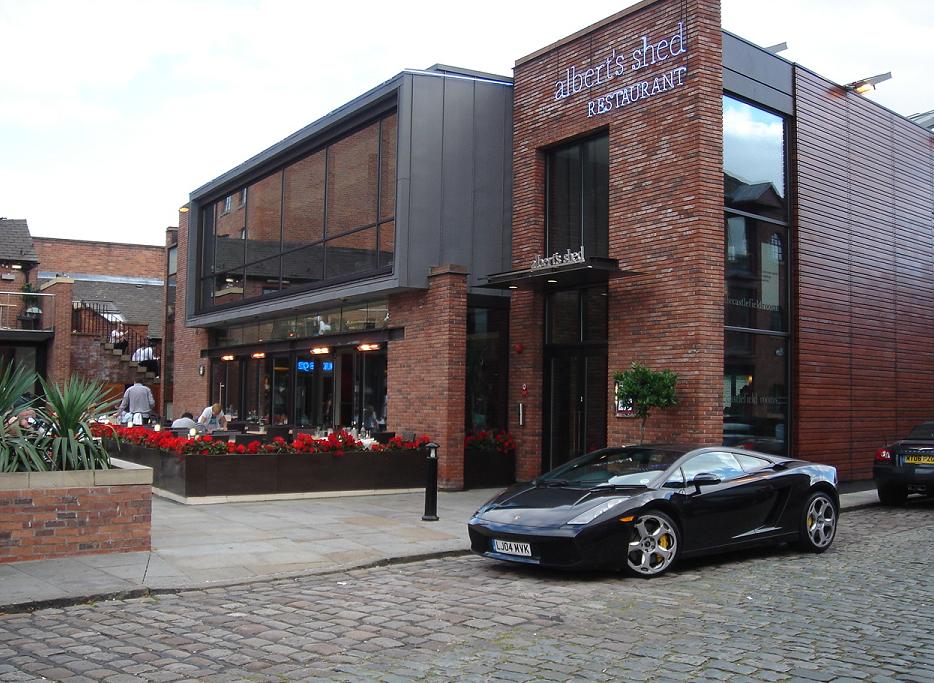 Albert's Shed, 20 Castle Street, Castlefield, Manchester.  M3 4LZ.  T:  0161 839 9818.  E:  info@albertsshed.com.  W:  www.albertsshed.com.
Bluebird Café, 350 Kings Road, Chelsea, London.  SW3 5UU.  T:  020 7559 1000.  www.bluebird-restaurant.com.