Although not of the Catholic faith, I feel the need to confess.  To you.  I have sinned.  I am guilty as charged.  What is my heinous crime so dark and mysterious?  I am a beginner.  No, really! At everything?  Truly, everything!
Maybe it's an age thing.  I love my job and pretend that I know lots about enterprise software but the truth is that every year that passes I double my knowledge on that subject.  At that rate of acceleration, it makes me realise how little I actually know.  For example, if my knowledge keeps doubling every year, then in ten years time I will know 1024 times more than I know right now.  That proves that I know virtually nothing.  And so it is with wine, my other "specialist" subject.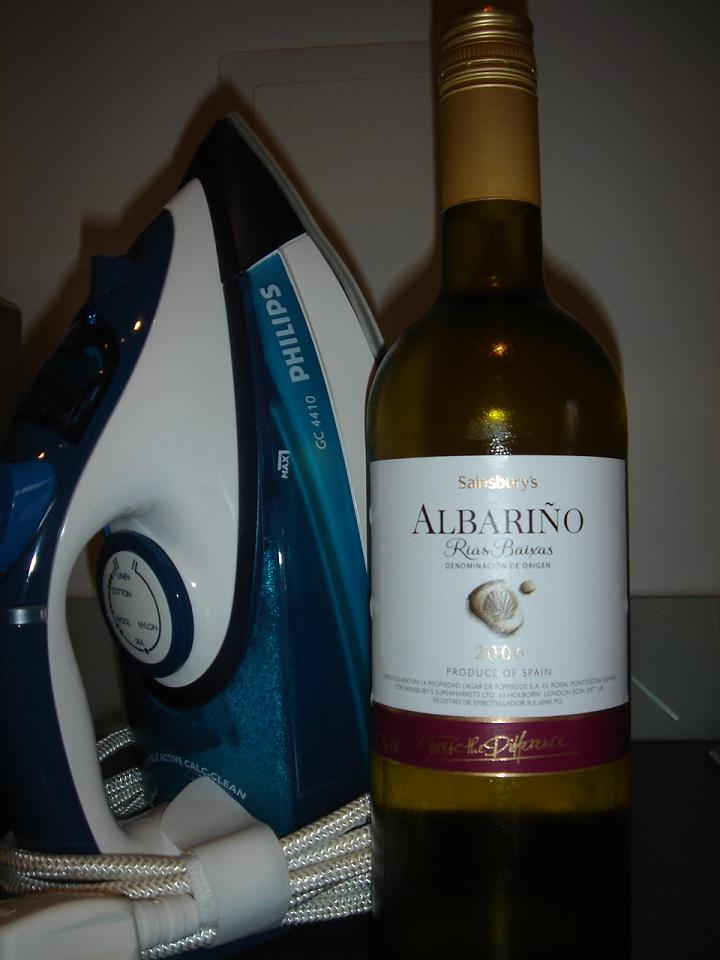 I have only this year realised that the Albariño grape exists.  I am sure I must have tried a wine from this grape at some point, but my recent trip to the Costa del Sol was the first time I actually logged the fact I was drinking one of Spain's great wines!
So, since I returned, I have been keeping an eye out for an odd Albariño, and tonight I am sampling Sainsbury's "Taste the Difference" Albariño Rias Baixas 2006.  Another Regent Road milk stop where the wine shelves cried out to me, as if in despair, "come hither, young man!".  But there was no young man, so I went instead.
Albariño seems to be grown mostly in the Galicia region and is reputed to have similarities with Riesling and Viognier.  This one tasted of apricots and white grapefruit with a little spice (white pepper???).  Is Albariño the new Grüner Veltliner I wondered, or am I just behind the times?  Maybe both grapes are mainstream these days.
It had a clean crisp taste and the colour had a green tinge reminiscent of the Rais Baixas region (so I hear).  At 12.5% the wine was fairly light but a very refreshing summer drink.  I sampled it next to a spicy pizza (American Hot) and it went really well.  It would equally make a top aperitif.  Here's the snag, though – unless you live in the UK, you can't buy it.  However, if you want me to ship you a bottle, just let me know.  The Sainsbury's price is £5.99 and a contribution to postage and packing would be most welcome….
So if you want a wine that is clean, ever so slightly green, and you don't want to pay too much because you are mean, then you should try Albariño.
I am really stretching the English language now and promise to try harder next post.
 By the way, does anyone know why Albariño bottles are made from such dark glass?