England were playing India at Trentbridge so I thought I'd pop along with my mate Alan.  We spent the first half of the day waiting to see if any play was possible.  Even though we were in the ground, the only news was coming from the BBC website via my mobile phone.  By lunch we were fed up waiting so went outside to find a place to eat.

On Radcliffe Road we found a Greek-Cypriot eaterie – Pappas.  Founded by the fantastically named couple Christodoulos and Carol Papachristodoulou, surely this was going to be authentic and it was.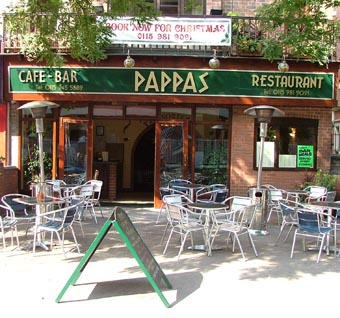 We started on Keftethes – testicle sized pork mince balls with herbs, shallow fried but lightly cooked – superb.  This was followed by Kleftiko, a lamb shank on the bone, slowly roasted with cinnamon bark, bay leaves, sliced garlic and lemon juice.  I must say I do like the Mediterranean fashion of serving a lemon wedge with lamb and pork – it does add flavour.  Alan, who is much more experienced than me at Greek food thought it was top notch – I agreed.  Greek and Turkish food is generally extremely tasty, and yet mostly very healthy too.
No time for wine over lunch so back in the cricket ground I found a 185ml bottle of 2006 Wolf Blass South Australian Chardonnay.  It was rubbish – enough said.  Such a small bottle of piss would have been overpriced at £1 but in fact I was charged £3…
The cricket started at 3pm and the Indians were on top straight away.  Late in the day they were still setting attacking fields and the wickets were falling like the FTSE.  Innings of the day for me was Alastair Cook, partly because of his first name, but mostly because he played a mature, steady innings in very tough conditions with his partners deserting him like Italian war heroes.  Hard to believe he is only 22 – one of a few bright hopes in the current England team.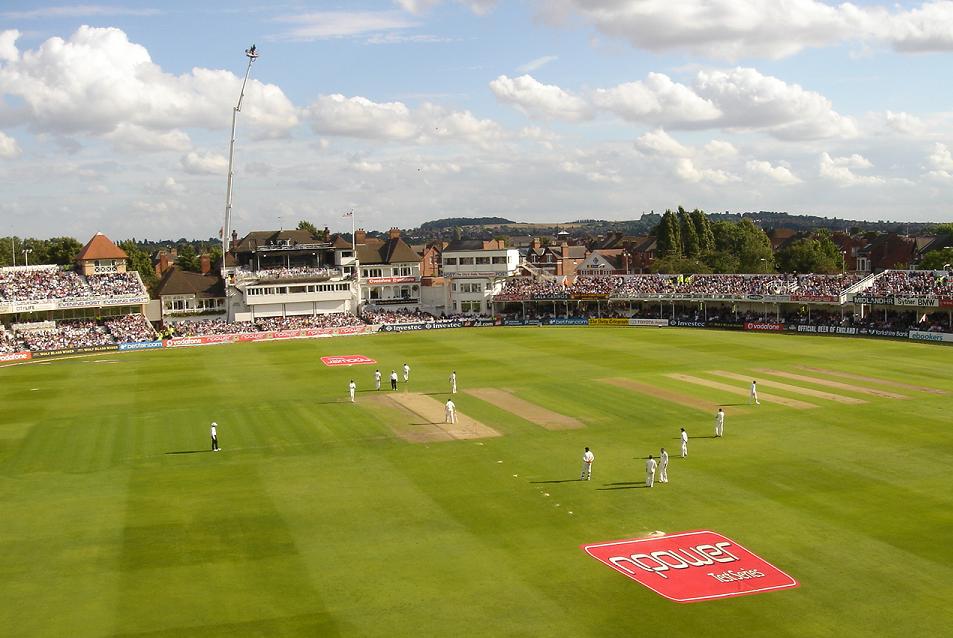 The journey home was not a lot of fun.  Waiting for a bus to the station that never arrived meant I missed my planned train.  On enquiring at 8pm, there were no further trains unless I paid £31.50 to go a different route.  I had only paid £30.50 for my "return" ticket this morning.  Why was I given a restricted ticket when I asked for an open return?  I asked the price of a single to Leeds – £30.  This is getting ridiculous.  "Bring back British Rail" I cried (a bit too loudly) "privatisation hasn't worked!"  I considered fare dodging but wimped out.
My new route took me via Grantham and onto a familiar GNER train – ah I know them so well.
But I have never reviewed train fayre, so to cheer up my weary journey I nipped down to the buffet car and secured a half bottle of white, a salmon sandwich and a bag of crisps for a mere £12.65.  I got some very odd looks when I got my camera out and took the photo below…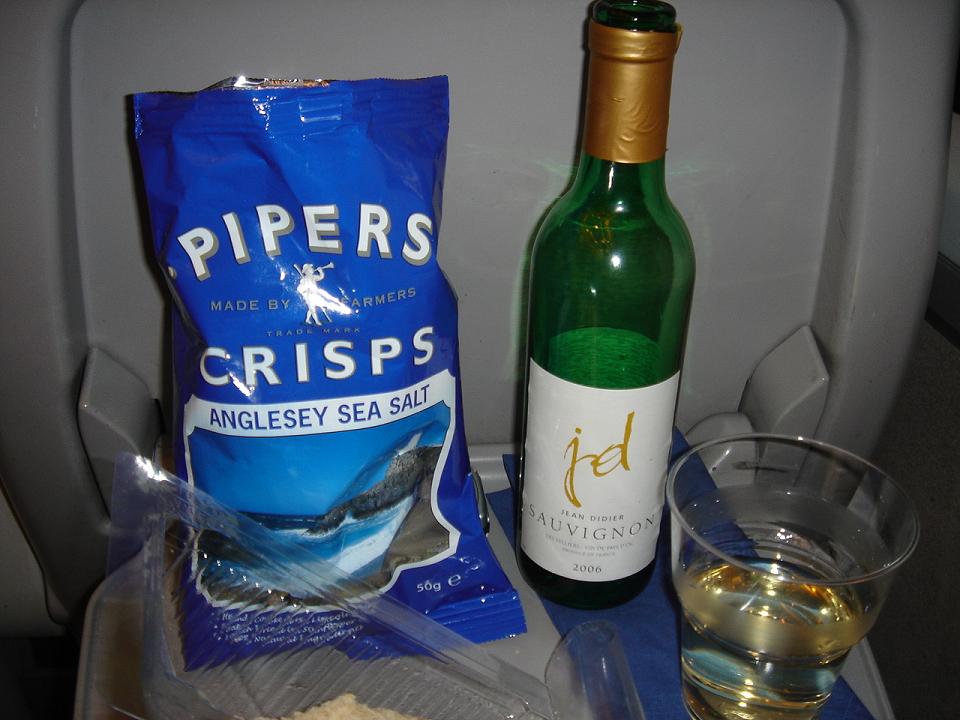 This 2006 Languedoc Sauvignon from Jean Didier was not reminiscent of any previous Sauvignon I have tasted.  The wine displayed a distinct personality, with stewed apple and petrol fighting for the right to be named "most prominent flavour".
Now here is an admission – I love product marketing and I really wonder just how anyone eats Piper's Crisps – do they read the packet?  Here's a few gems I picked up.
"Hand Cooked in Lincolnshire" – whoa I'm hooked already!
"Made by farmers" – they are not exactly renowned for their cooking skills are they – please can I have mine made by a master fryer or a competent crisp manufacturer?
"Halen Môn sea salt from Anglesey" – well that's miles away from Lincolnshire and anyway, have you seen the diesel floating in the sea round Anglesey from the Holyhead ferries?
"100% natural" – OK that's encouraging but why is the sell by date 4 months away from now, then?
As it happened they were mostly over-cooked and not that tasty.  Quite handy if you want to cut your gums in a masochistic hari-kari though.
The highlight of a pretty entertaining day was Pappas Restaurant.  If you are anywhere near Nottingham, do give it a try, especially on a match day.  Just don't go by train.
Pappas, 25 Radcliffe Rd, West Bridgford, Nottingham, NG2 5FF
T: 0115 981 9091
E:Â Â pappa_chris@hotmail.com
W: www.pappasrestaurant.co.uk