Somewhere roughly east of the Eden Project in Cornwall you may stumble across Newquay and Watergate Bay.  Here you will find another highly commendable charity establishment.  Fifteen Cornwall is Jamie Oliver's project to give young (and often disadvantaged) young people the opportunity to make something of their lives, by learning how to cook very very expensive food.
As it was the first anniversary of the opening of Fifteen Cornwall and this marked the graduation of the first batch of trainees we thought it would be rude to turn down the opportunity to try the highly popular place.  OK then it wasn't exactly a personal invite from Jamie but it was nice to be there.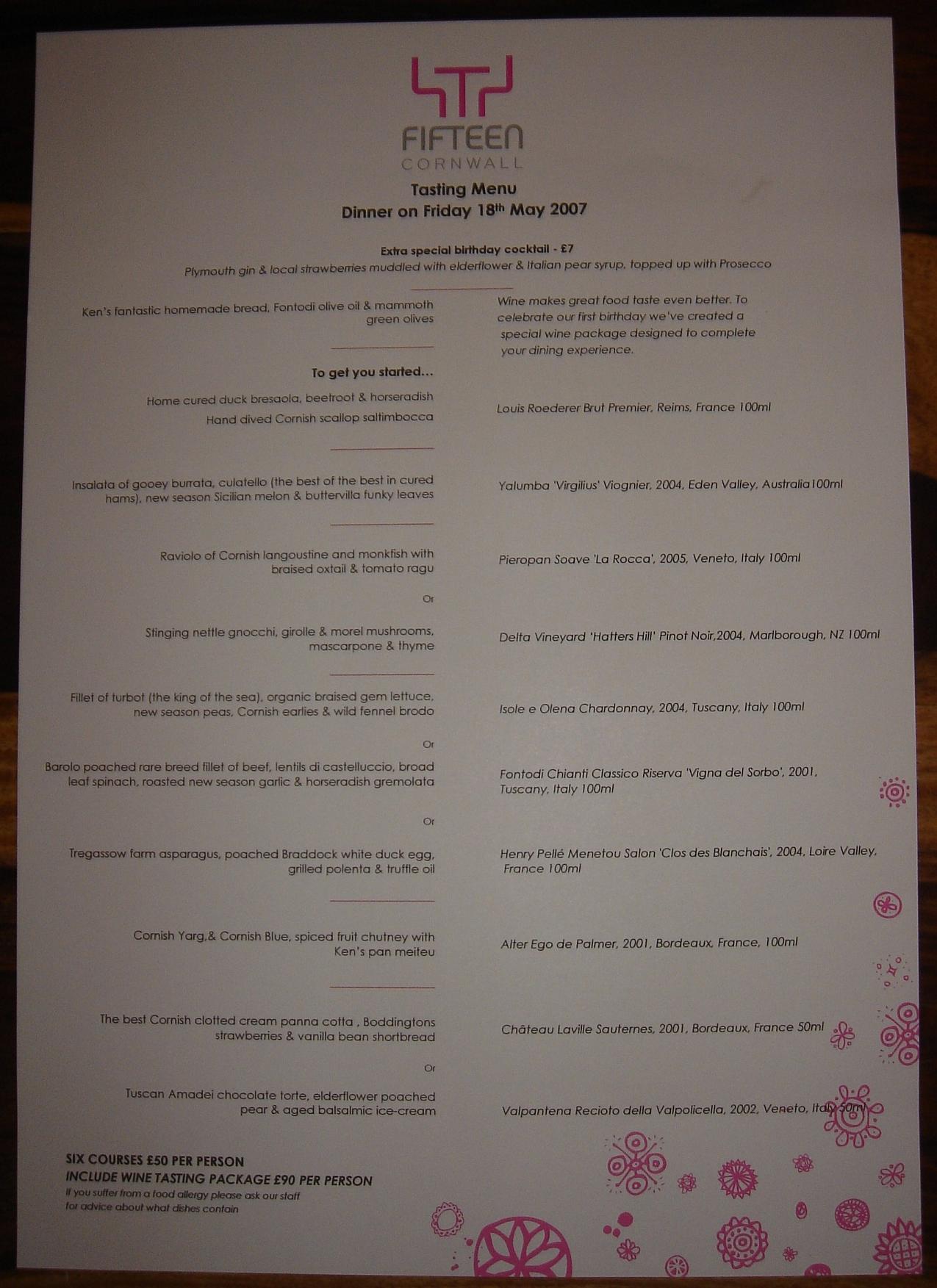 At first glance the tasting menu (the only option) looked expensive at £50 per head.  With an optional £40 wine tasting package and £7 for a birthday cocktail this was going to be more like the West End than the West Country - oooh aaarr me deerio.
With my VFM head on, I stupidly added up all the wine portions and discovered that my £40 got me about two thirds of a bottle.  It would be a bit ungracious to suggest that a charity was offering "rip-off markups" though and there were many highlights and with one exception I thought the wine was perfectly chosen to accompany the dish.
The highlights for me were:
Yalumba Viognier 2004 – an Australian wine that I would never have chosen from a straight menu.  The sommelier mentioned apricots but I got grass and kumquats – very nice with the "ham salad".
Delta Vineyard "Hatters Hill" Pinot Noir 2004.  I think I may try a few more New Zealand Pinot Noirs as soon as I get the chance.  Lovely raspberries, plums, cranberries, strawberries – like a bowl of stewed fruit!  Gorgeous but only one glass please…
I also very much liked the Isole e Olena Chardonnay 2004 from Tuscany.  Chardonnay seems to be coming back into fashion – to be honest I started drinking it again as soon as the fashionistas moved onto Pinot Grigio (simply diviiiiiine daaaahling).
I was less impressed by the choice of Alter Ego de Palmer 2001 for the cheese course.  It's just my opinion but I much prefer dessert wine with cheese – especially blue cheese.
The Château Laville Sauternes 2001 was weak really and I could see why that was not served with the cheese.  Parma violets and caramelised marmalade is not enough to get me going.
This is unfair criticism though and I am being very picky.  The wine was served in Riedel glasses (with the 15 logo imprinted – nice touch!).  The food, without exception, was absolutely top.  The ingredients were mostly locally sourced but not to the point of political correctness, just for the beautiful flavours.  Where foreign stuff was introduced (like the exellent culatello) it really added value to the dish.
I guess the only real criticism I can level at the place was average macchiato, and the single lone gents toilet.  I hope this is temporary because the (perhaps intended) consequence was a sort of "bog ettiquette" where various men were casually eyeing the toilet door with one foot on the starting blocks.  Fortunately I did not suffer any false starts and my pants stayed dry.
With it being the trainees' graduation day, they were not cooking but circulating and chatting with the diners.  We were entertained by a guy (wish I could remember his name) who had done some jug and then seen the light.  He was moving to a top restaurant for a month to complete his training.  I wished him all the best and told him I would have traded his place in prison for Diego Maradona if I had had the power.  Nice guy.
Fifteen Cornwall, On The Beach, Watergate Bay TR8 4AA.  Tel: +44 (0)1637 861000 www.fifteencornwall.co.uk
Watergate Bay, and Fifteen Cornwall viewed from the other side of Newquay.