Recently I went to the Harrogate Flower Show at the Great Yorkshire (everything in bloody Yorkshire is bloody "great" apparently!) Showground.  Amongst the commercial stands selling everything from gardening gloves and phallic water features, to clothes and picnic hampers, there was an odd display of flowers….and the usual bit of local produce…
Now you've all been there.  The twee little stands where grannies used to sell their home made pickles and marmalade – well guess what?  Yep, they have been replaced by commercial organisations making a profession out of attending shows and selling mass produced jam.  Actually that's a bit unfair – there are still some good ones to buy from, just make sure you taste first.
So I found some marvellous lemon curd which brings me to tonight's wine.  My regulars have been following my travails (and travels) through a Wine Society mixed case.  Typical of their region and (with apologies to Kenny Everett) "at the best possible price" they represent a typical wine of a given region.
Did I ever tell you about my visit to "Typico Canario", a restaurant somewhere on Fuerto Ventura.  Can you guess what sort of food they served?  Can you guess what the English couple next to me ordered?  Can you imagine why they were offended to be told that egg on toast was not on the menu?  The English abroad can be embarassing.  I wouldn't mind but the resort was full of places doing English fried food with a cup of tea or a flat warm beer.
So back to wines typical of their region.  I am ever more impressed by this case of different wines from around the world linked only by the Wine Society buyers.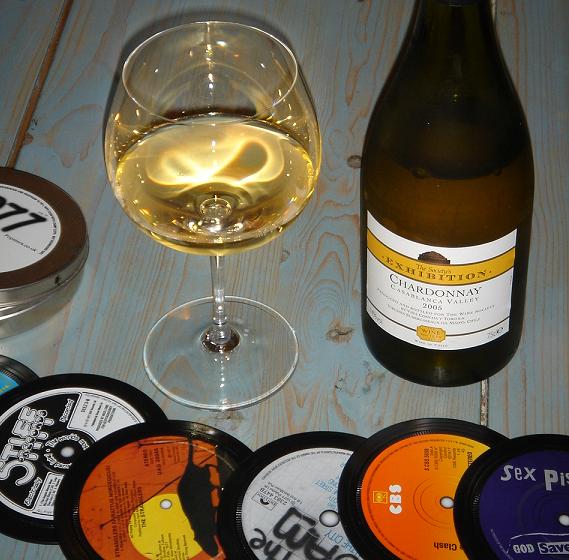 This one, the Society's Exhibition Chardonnay from Casablanca Valley 2005, was another gem!  Lemon curd on vanilla ice cream was my assessment.  I don't know where the label writer tasted a "lightly honeyed palate" I found it much more exciting and zingy than many Burgundy Chardonnays.
Aged in oak, I discovered that the wine is made by the excellent CONCHA y TORO.  At 14% it's a full bodied white, but I liked it immensely.  Recommended at 12-14 degrees (I actually would drink it a bit colder) it's a page 3 stunna (page three on the Wine Society's recent mailing). 
Is it Chile in Yorkshire?  On the day of the Flower Show it was 21 degrees Celsius!  Record April temperatures.  If this global warming continues, I am going to plant some Pinot Noir and a little Chardonnay in my garden.  And then order some more wine from the Wine Society…