New Zealand Sauvignon Blancs have had a good time recently but I think the old world is fighting back with aplomb.
To support my case I am going to ask you when the last time you tried a Sancerre – any Sancerre.  Or a Pouilly Fumé?  Find the right one and you get sublime Sauvignon Blanc with more subtlety than the impudent new world youths.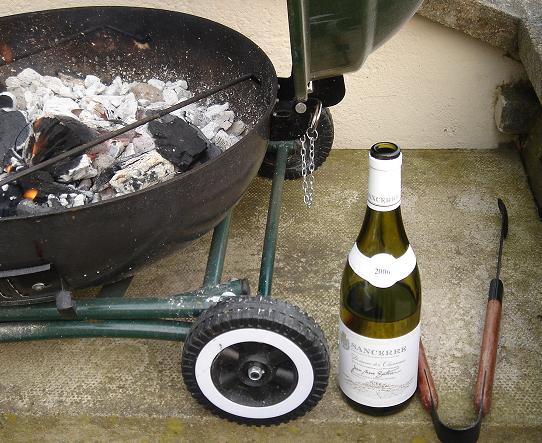 I tried this cheeky little 2006 Sancerre (most Loire whites are best drunk young in my experience) which I picked up free of charge from a friend so no idea where it came from but a quick Google suggests it's about a tenner a bottle and well worth it I say.
Is it better than the famed 2006 Cloudy Bay SB?  No.  Is it worse then?  No.  It's just a different experience.  It's a bit like choosing between Teddy Sheringham and Wayne Rooney.  They can both score goals but one is red scum and the other used to be, so you just wouldn't would you?
Seriously though, this Sancerre was subtle.  Not so much cat's piss as salty lemon.  Not so much gooseberry as pink grapefruit.  Possibly a touch of pepper (like a Veltliner).  Much smoother but perhaps lacking the real zest of the Kiwi wines.
A recommend you get down to your wine dealer and ask them whether they are Manchester United fans and if not, buy some Sancerre immediately.