Southampton Row is a funny old street.  Well funny yes, but mostly old.  It looks like it is stuck in a time warp from the 1960's and 70's.
However, there are one or two secret places I know where you can find food amongst the best value in London.  One of them is Old Amalfi.  An unremarkable establishment with tacky decor and no expense wasted on fine table linen or other unimportant items.
However, the food is terrific!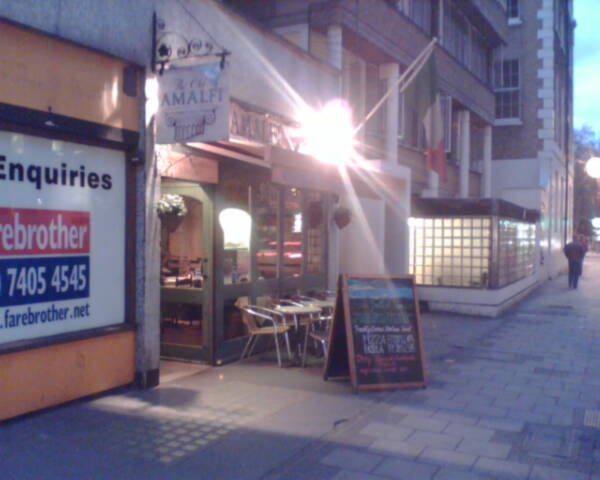 After chugging down an ice cold Moretti I was a bit disappointed to see that the wine list was not dreadfully inspiring.  We chose an Orvieto (orv yetto) Classico, at only £14.95 – good value for London.  Tasted nice as well, and looked to be imported direct rather than by some English Wine Chain Massacre.  For the record it was by Nistri and had Altarupe on the bottle which could have been the maker or the area.  Anyway the good news is that a Google search found it listed only on an Italian site!  Normally I would complain about the markup but that is not easy with a decent wine at this price so let's assume it is top value…
The food, by the way, was extraordinary.  Clams seem such a pointless mollusc.  They are so tiny and awkward to eat, I am prepared to wager that if I was given a bucketful, I would not be able to eat them fast enough to sustain myself.  So only the Italians would take clams and make them even harder to eat, by chucking them in with a load of pasta.  The Linguine with Clams was legendary though – the pain of getting to the clam meat was rewarded by exquisite flavour and a slight crunchiness from the salt and sand.  The bresaola (brez-owler) I had to start was also top quality, served with buffalo mozarella (what's wrong with cows these days in Italy?).
My final compliment is that they made a café macchiato (mac yarto) as only Italians can – awesome.  Rustic, charming, friendly and great value.  No wonder it was packed on a Tuesday night.
Old Amalfi, 107 Southampton Row, WC1B 4HH.  0207 636 5811.  www.oldamalfi.com