I've been most impressed by nearly all the Wine Society's own brand wines.  Then I saw this bottle by "Hand of God" which seems to be ripping off the Wine Society's brand – I had to investigate.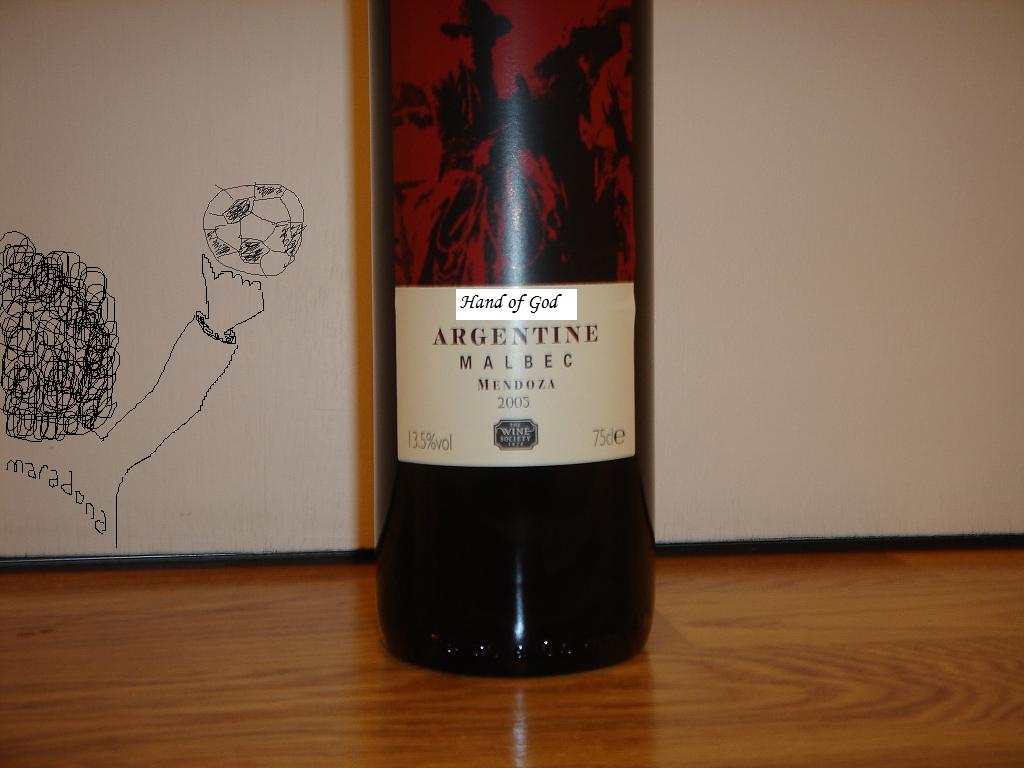 I was right to be suspicious.  I think the Wine Society has switched suppliers for this "own brand" wine, or maybe Hand of God has the upper hand.  Here is my evidence:
The Wine Society describes this Malbec as having a "ripe and brambly nose" with "a long finish".  I got rich cherry fruitcake and the finish was so long I can still taste it two days later.
The Wine Society says it is medium bodied but I found it medium-full bodied.
The Wine Society says it is in stock, but my bottle was bought several months ago.
The Wine Society says it goes well with mushroom risotto but I thought it went well with a creamy brie.
The Wine Society says it is made by Susana Balbo but my bottle says it is made by Dominio del Plata.
When I rang Susana Balbo she didn't know Diego Maradona and claimed not to have heard of the "Hand of God" incident!
OK smart arse!  I looked it up too and I also know that Susana Balbo runs the Dominio del Plata domaine.
Seriously though, this wine is superb value for money like nearly everything I have tasted from Balbo and most things I have tasted from the Wine Society.  Let's hope it is not just the favourable exchange rate that makes it so cheap in the UK right now.
The Wine Society says it is good value but at £4.95 I say it is stonkingly good value!
As we near the year end, I am reminiscent of the fact that I started this weblog focussing on Malbec and Maradona, in a (hopefully) amusing tone.  Maybe it's time to put this topic to bed and start focussing on the next big football story – the appointment of Fabio Capello as England Manager.  And he is bringing his full Consigliere with him.  I next foresee Italian players claiming that their great aunt had an English dog and that this qualifies them to play for us.  Is this just another form of outsourcing?  Will the whole team comprise and be run by Italians?  What value a world cup victory in that case?  I guess 2008 will start to reveal its secrets soon.
In the meantime, Merry Xmas to you all.