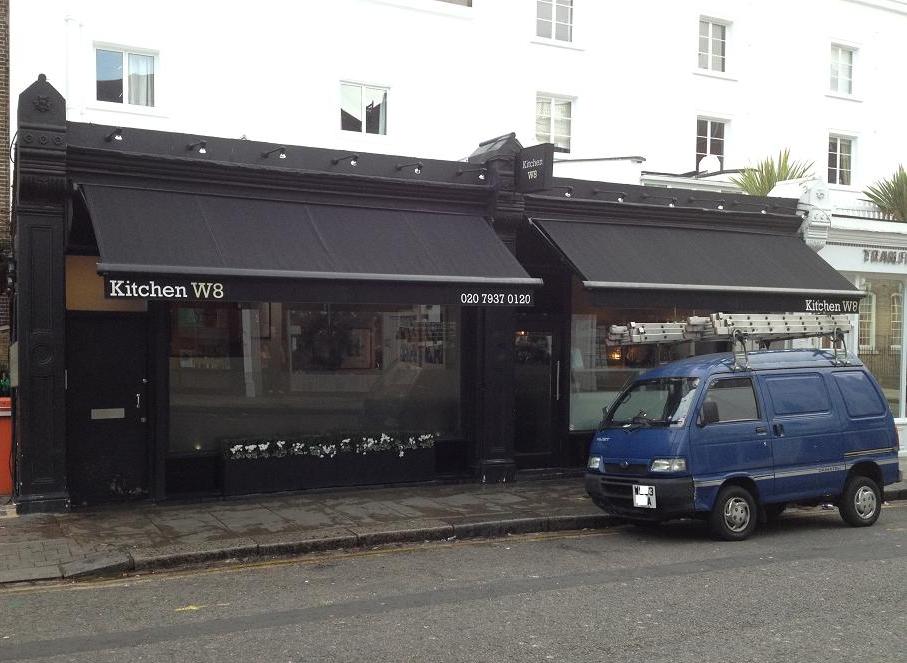 They say you should never judge a book by its cover and I guess that goes for the title too. With the external look of a mid range café, and named after the second smallest room in a house (1930's house at any rate), Kitchen W8 does not elicit Great Expectations.
But the interior reveals that, far from a Dickensian workhouse, this is actually an upmarket dining room supported by heavyweight dark wood furniture, substantial white tablecloths, and 'reassuringly' high prices.
A base level Albarińo by the reliable Terras Gauda had my teeth chattering, not just from the £36 price tag (above average markup on the retail price of £11), but the fact it had come straight from the blast chiller, or perhaps a Heston style liquid nitrogen cask.
Ravioli of partridge, £9.50, followed by breaded fillet of plaice, £18.50, put me on the second cheapest meal plan apart from the set menu (only available to zee ooorly burrrds, monsieur).
The wine, once allowed to air was a little too acidic for the gamey pasta, and even too sharp for the fish. I don't think it was faulty. As is often the way, it got more pleasant as I got more pissed but it did have that confected haunt of sour Haribo jellies. I put this down as a bad choice on my part. If I could have afforded a nice Montrachet of some description, I think it would have been the wine Estella to my food's Pip.
Kitchen must be doing lots of things right judging by the number of people reading the book on the graveyard shift of a wet Tuesday evening in November. The food was hard to fault. The service was keen, efficient, polite. Everything you could want. Apart from overfilling my wine glass – once too often. Once I had wrestled back the bottle, I really enjoyed the meal. I only hope my Magwitch like manner in dismissing the wine waiter was not ill-received.
One bad mark is awarded for disrespecting my tea. Served in an ugly pottery set, rather than china, and/or silver, and with a pathetic stainless steel tea strainer. Check out The Wolseley for how to serve our venerable British leaf infusion properly.
Another problem is the price (£83 juste pour moi), which on my budget, makes it a special occasion place. For top end French cooking, it is more than competent, I might even say excellent. The trouble is, I ate recently at nearby Trinity in Clapham which had WOW factor in a similar style, but in all departments, and for a similar price. In this sense, whilst taking the omnibus south to the famous common is always an option, you should nonetheless visit Kitchen with Good Expectations, but the means of Miss Havisham.
Kitchen W8
11-13 Abingdon Road
London
W8 6AH
T: 020 7937 0120
E: info@kitchenw8.com
W: www.kitchenw8.com