A bull at the door is a welcome nod to Wall Street riches, and I only wish my shares were stampeding a little harder right now.  But as a promise of what was to come, the comedy doggie doo left under the hindquarters of the statue was a more accurate entrée to the Bloomsbury branch of Black & Blue.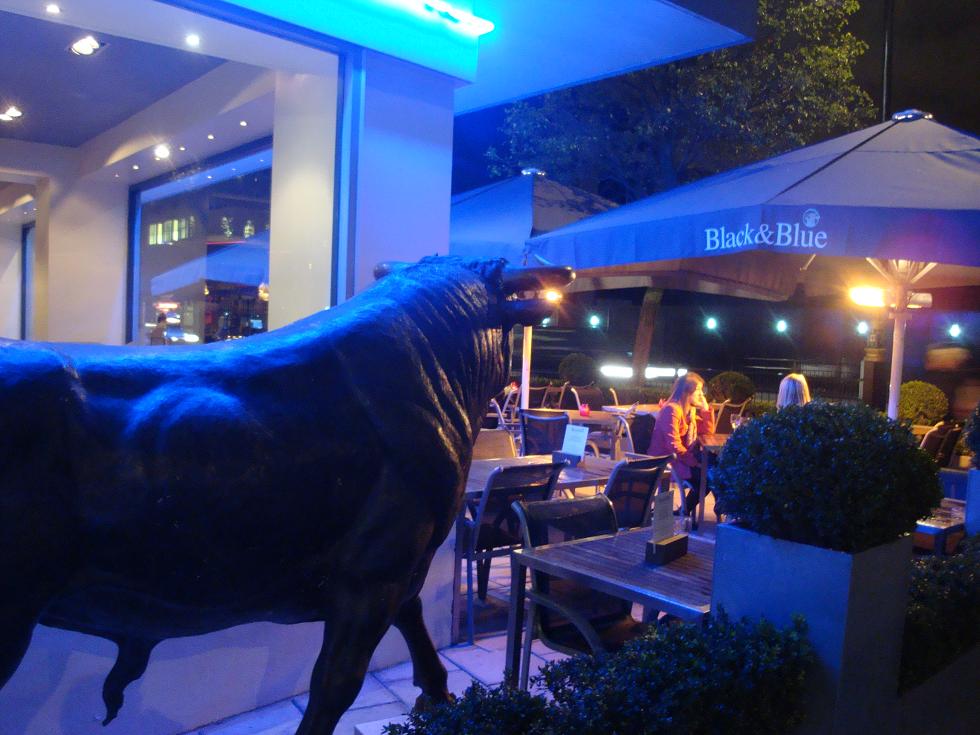 The menu is as basic as it gets for a steakhouse. I mean, so basic that regulars of Goodman and Hawksmoor would walk straight out. Of more concern, however, is the wine list. Four wines from the 'steak friendly' section (for there were only four) were barely named, let alone afforded the courtesy of their year of birth.
I suppose it might have made a difference if my throat hadn't been scorched by inflamed rocket fuel masquerading as a Bloody Mary. A short Hallelujah moment when wine two: 'Catena Malbec' arrived as the genuine article. Sadly not the Zapata or Alta, but real Catena,, from the year of our Lord 2009. At £32, well marked up for a wine you can often find for less than a tenner retail, but as reliable as ever once given 10 minutes in an ice bucket with the sole purpose of bringing the temperature down from 'skillet' to 'chopping board'.
A freshly fallen shroud of virgin snow generally comes with more seasoning than a Black & Blue T-bone. The 'mixed' salad was much better dressed. In fact so much so that snow would have been no more likely to penetrate the thick winter coat of grated cheddar and walnuts than a rocket-propelled Bloody Mary of mass destruction. Underneath its robes, the salad actually wore Janet Reger underwear in the form of the zingy salad dressing which was the only sign of a bit of bully in a steep bear market cycle.
The Occupy Wall Street protests are targeting the wrong corporates. Banks are teddy bears compared to steak massacring chainsaws like this. We deserve better and I am going to camp outside my local Lehman's branch until Goodman gives me my own table.
Perhaps I am harsh. Looking over a fabulous Black & Blue terrace, laughing faces sheltering from the autumn clouds, under parasols warmed by planet threatening electric heaters, that all the same look comforting and cuddly, everyone outside was having a ball. None of them were eating. If I should ever start smoking again, Black and Blue will be my first port of call for an al fresco tipple. If I am after food, I think I'll stick to Hawksmoor, Goodman and Redhook, and hell yeah, wine prices aside, even Gaucho Grills.
Black & Blue
37 Berners Street
London
W1T 3NB
T: +44 7436 0451
W: Www.blackandbluerestaurants.com
(Visited November 2011)