Anthony Flinn Jnr is blazing a one man trail in this part of the world. Not necessarily with his cooking, although we'll come to that. No. Mostly in being the powerhouse behind saving the most beautiful building in this metropolis, Leeds Corn Exchange.
Not content with opening a bistro, a champagne bar, a fromagerie, and a café/patisserie, Flinn has now thrust American cuisine into this arty setting, otherwise populated by eclectic and bohemian shops of the sort your lost cousin from Hebden Bridge would sacrifice a goat to be seen in.
With the help of the Flinns (other family members are part of the team including his dad, Anthony Snr, who does "the finance") and the retail footfall they have encouraged, even generated, this building is back to its beautiful, stunning, decadent self.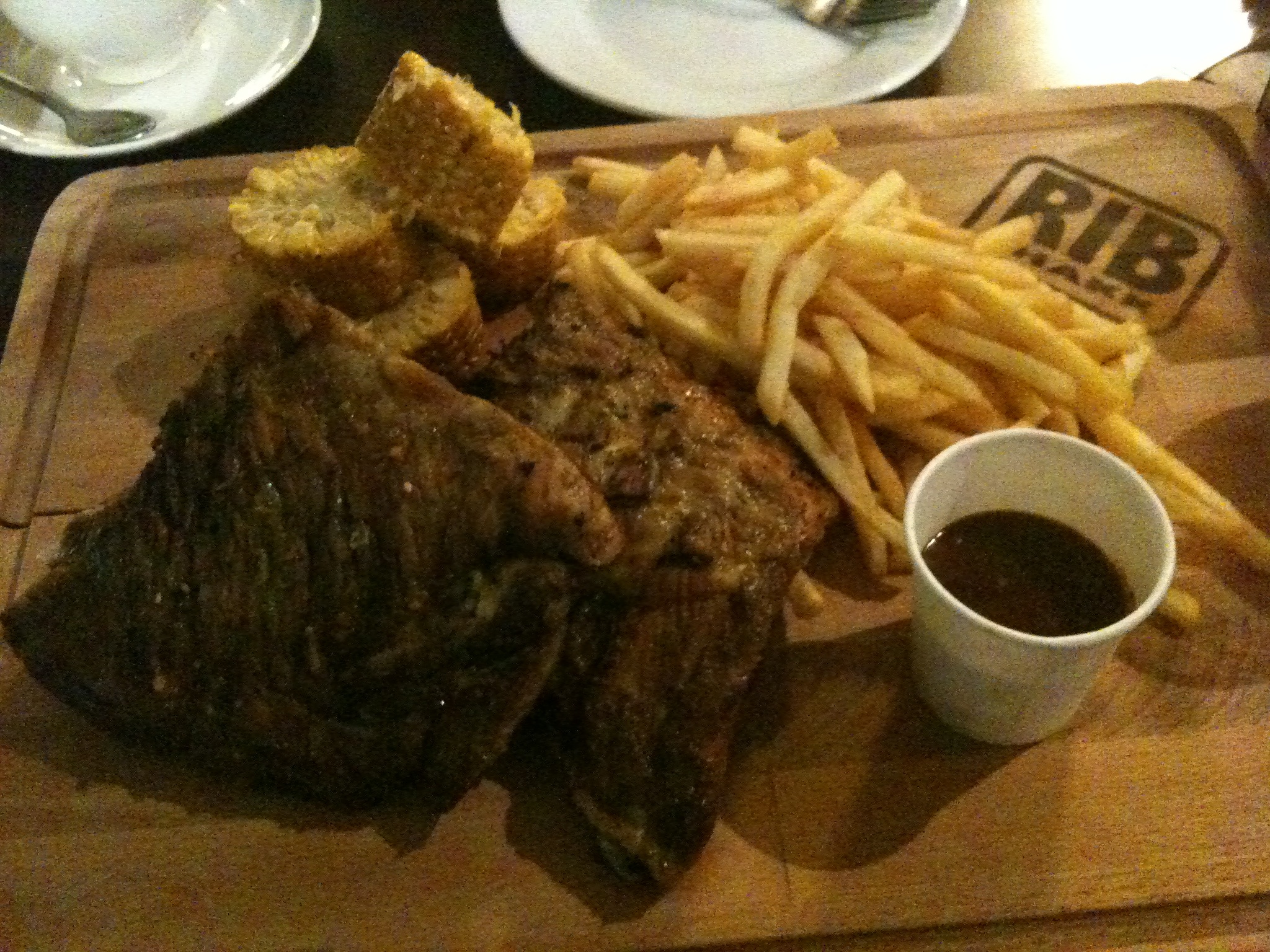 I love the brasserie, "Anthony's Piazza" (even though I consistently whinge about the wine serving). It fits pulchritudinously into this cavernous space like a dreamy Watership Down meadow under a crisp night sky. Ideal for a first date, an evening meal gives you the opportunity to stare upwards at the faux stars on the high domed roof, while eating bistro classics like Baked Cod, Pork Tenderloin or Côte de Boeuf. Hardly the place for cheap and cheerful American fast food then. Yet here we are in the same space, sitting in Rib Shakk, under the Victorian arches, looking at a pig-filled board as big as a Turner painting, and to a man who is Hank Marvin, just as beautiful.
But before we get too excited, let's clear the bad news. Despite the glorious setting, which contemporaneously brings to mind the best of Charles Dickens and Colonel Sanders, the delivery is a little cheap. Although the motto of Rib Shakk appears to be "It ain't a sin to get sauce on your chin", it would still be nice to have something to wipe it off with. The box of "Medicated Izal" style napkins and miniscule fresh-wipes don't quite cut it. On retreating to the washrooms, I was just on the cusp of giving up and walking out with wet digits, when the hand dryers suddenly spluttered into life. Toothpicks would also be nice in a place where one of the prime objectives is to get meat stuck between your molars. But these are mere details that will hopefully get resolved.
The main issue is that Rib Shakk is stuck half way between a self-serve fast food outlet and a full service resto. I certainly felt a bit awkward, and I wondered if the staff thought I was trying to do an impression of Lee Evans (Norman Wisdom if you are maturing in years). First, you are invited to sit down and the waitress provides menus. You are then asked to go to the till to order and pay. This includes drinks and salads, the latter of which you are asked to "build" yourself from the counter. Returning to your table with salad, you then wait for drinks and food to arrive. A table for two is barely big enough to accommodate an enormous wooden platter, so don't order one each.
Personally I think it would work better as a diner type concept. I had to get up mid-meal to go to the counter to order a second glass of a cheap but cheerful Merlot, reach into my pockets for the change, nearly drop my wine glass out of my sticky fingers on the walk back – and I'm still picking bits of mustard and cider BBQ sauce off my remaining coins (I know. I don't spend them readily).
Maybe this is another thing that will get ironed out. In the meantime, I'll put up with my complaints for the mucky, piggy, dirty, delicious food that is produced. It is a joyful eating experience that is difficult to call "fast food" since the meat is marinated and then slow cooked for up to seven loving hours. I can't comment on authenticity as I have never eaten in a US equivalent. I can tell you that I munched on crisp fresh salads, smooth buttery corn cobs, moreishly seasoned fries and pork ribs that with the addition of a "mopping sauce" turned a sow's chest into silky pursed lips. The only food fault I could find was some rather spongy chicken wings. Tasted great but with the texture of frogs' legs, before they are cooked.
Slaving away at the burners on the night of my visit was the boss. It's fun to watch Anthony Flinn, whose rubber tyred culinary journey has taken him from El Bulli to a bit of Bully, carefully plate up (or more accurately, board up) rib stacks, jaunty towers of corn on the cob, intriguingly constructed mounds of fries, and precisely planted buckets of wings. There is a final discerning, and in some ways contemptuous, glance at the board as if checking his tie on the way out of the house. Does it look just so? Is the composition correct? Are the ribs on the golden section?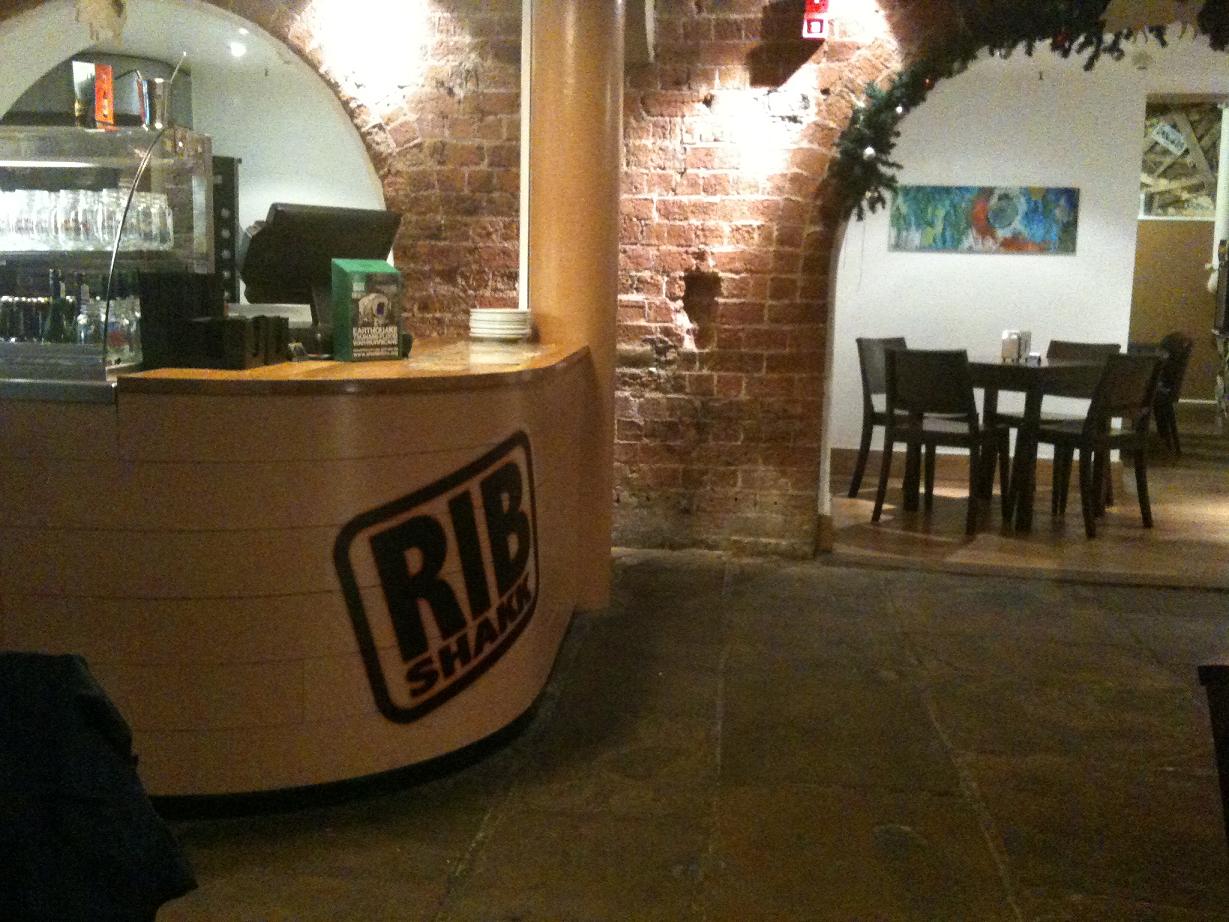 I don't wish Nando's any ill will, but walking back to the car park, it was almost a shame to see the Portuguese napalmed chicken specialist full of Yorkshire folk. In one sense, I wanted to yell at the people of Leeds – you can get much better barbecued food! In another, it is a wake-up call for Rib Shakk, that a few bolts need tightening if, as stated, there is an ambition to emulate Nando's success as a nationwide chain. The two are on a price par although you're probably going to end up with a larger bill at Rib Shakk because whilst chicken is cheap, pork and beef are for life. We had enough ribs and chicken wings to test the waistband of Joey out of Friends' eating pants, and the bill for two including drinks was about £40.
A Tweet up meeting is planned for January, 2012. Fancy joining us? Simply connect to Derek Hardy or me on Twitter, or leave a comment below. No offence taken if you don't fancy it, but make sure you try Flinn's meat yourself. Whilst there is a need for tweaking, there is plenty good enough about Rib Shakk to make an exploratory visit mandatory.
Rib Shakk Leeds
Piazza by Anthony
The Corn Exchange
Call Lane
Leeds
LS1 7BR
E:Â leeds@ribshakk.com
W: http://www.ribshakk.com/