It was like stepping into a Victorian hunting odyssey.  I almost expected a golden maned Aslan to stalk majestically through the lobby.  Or the wardrobe door to open to reveal Mr Tumnus the fawn hanging butchered, ageing for 28 days, or whatever fawn meat hangs for.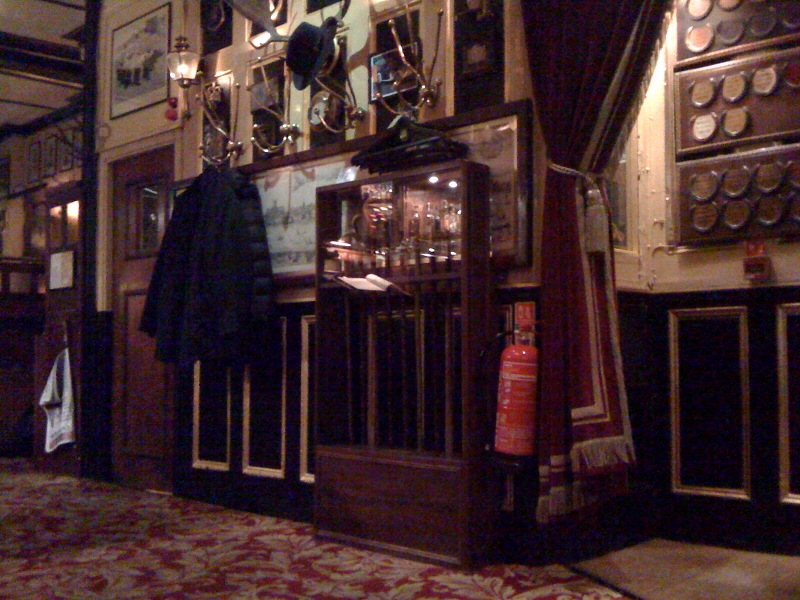 The entirely appropriately named Julian showed me to a totally spiffing, and intriguingly unique, table for one.  Facing the back of a church bench I wondered if I should sit or kneel.  But it was, like nearly every table, surprisingly discreet.  I never felt I was being overlooked despite constantly tapping into my iPhone, which I am certain was breaking Rules' rules, helpfully pointed out on the menu and translated roughly into Mancunian as "leave yer phone at 'ome, in the 'ouse, with our kid".
Potted shrimps with wholemeal toast looked like compôte of chopped garden worms, but tasted of prawn delight, and slept dreamily on my stomach bed, wriggling back and forth in an ocean of Burgundy Pinot Noir that I was marginally disappointed to have to ask to be chilled down from "room" to "cellar".  I almost left it in the ice bucket long enough to bring it down to "North Sea" which was a near miss.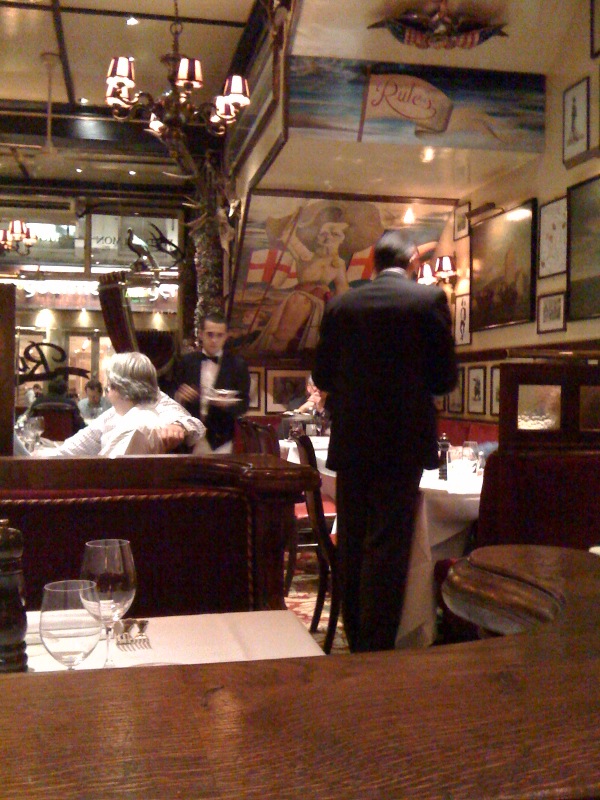 I love attention to detail, and the fact that the toast came in a warm solid silver rack on a warmed plate, took my mind away from the horsebox and Shogun disasters that had been befalling the couple at the next table.
Pheasant pie with creamed morrels and parsnip purée sounded great, but like the Jugged Hare had scarpered. Running out of game options on a menu that professes a speciality in the genre, I bolted for breast of wild duck with artichoke and black cherry sauce.  The duck was slightly tough but hyper tasty, the sauce adding value in all departments.  Except, whereas the hare had scarpered, a hair had made it into my purée.  Also whilst I am complaining, I was not sure if the mashed potato was deliberately unseasoned but I found myself reaching for the condiments.  I rarely dare to deliver this ultimate insult to a chef but the ground black pepper and crystallised sea salt really helped. I couldn't find enough will to complain whilst sat on my Jack Jones.  There was hardly a waiter nearby to complain to, as I think the service is geared towards couples and groups rather than iPhone obsessed singletons.  I even had to pour my own wine which I actually prefer, but I think was an intended "punishment" for demanding an ice bucket.
But these are such minor complaints given the superior quality of the whole meal and experience, that I wouldn't hesitate to visit again for the sheer class.
Domaine Rossignol-Février sounded more like a ski holiday than a wine but thankfully priced to suit Thomas Cook clientele (£35). However that had legged it too.  Maybe the menu and wine list here are on a seasonal migration?  Or is Gordon's new 50% tax rate that is scaring them off?
The Domaine Michel Juillot Bourgogne 2006 that was brought on as a substitute was so full of strawberries it could have been a fool, or possibly an upper class twit.  There was just enough chicken run for a Pinot enthusiast, though, and a little spicy kick to complement the cherry sauce with the duck.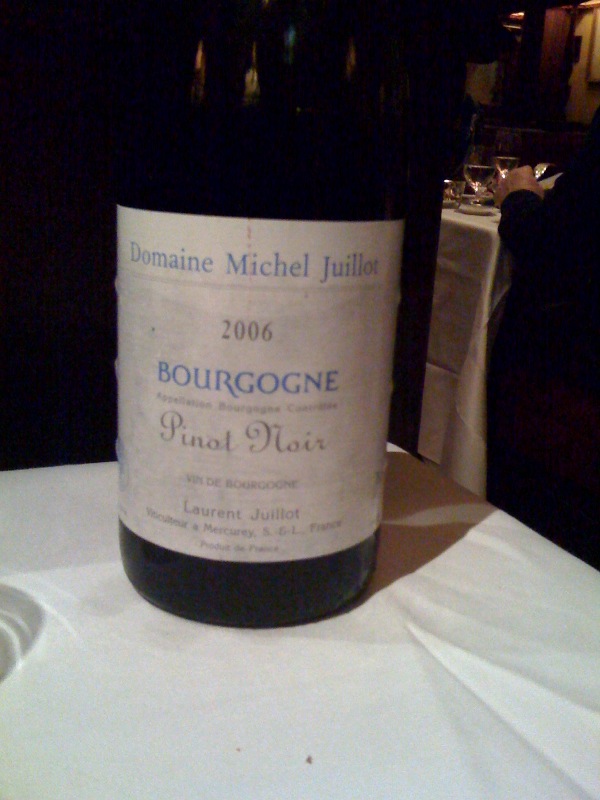 The patrons of this veritable establishment are much posher than me, but surprisingly don't look down their noses at a northern oik invading their space. This is old money.  The type of patrons who would shun a faux colonial pillared porch in favour of a substantial limestone entombed port-cullis.  These people probably come here to eat game only when they have been unsuccessful on their own shoot that afternoon.
Then, horror of horrors: An American accent, two Norwegians, some young people, a Welsh woman!  Seems my stereotype is a little outdated.  Ordinary folk come here, although I am guessing from the price list that they only come on special occasions.
I couldn't resist the deliciously soft, sludgy, warm and sugary treacle tart which elevated my bill to a lofty £90.22.  Even including service this is not cheap for a single arse on a lonely pew.
However, if you have a special occasion, and you like game, and you are in London, or you are simply dead posh, you should visit Rules.  Quite an experience.
Rules was recommend to me my Chris Pople.  You can read his review here.
Rules
35 Maiden Lane
Covent Garden
London
WC2E 7LB
T:Â  +44 (0) 207 836 5314
W:Â  www.rules.co.uk