I've got my comeuppance for slagging off Mark Hughes.  Man City announced that the UEFA Cup quarter final home leg would be a "reward for the fans" and tickets were priced at only £5 so "ordinary fans" could come and watch.  I am obviously not an ordinary fan since, despite numerous calls to the ticket office (engaged tone) the match is sold out and I have to watch on some backwater internet channel.  Shame – I am in Manchester on 16 April when the town turns into a Hamburger for a night.
So perhaps I should be more complimentary about people I have never met.
Everyone knows that it is impossible to mass produce and mass market a decent wine – especially a Pinot Noir.  Trouble is, nobody told Alfred Hurtado.  His Chilean Cono Sur brand is taking over the world and rightly so.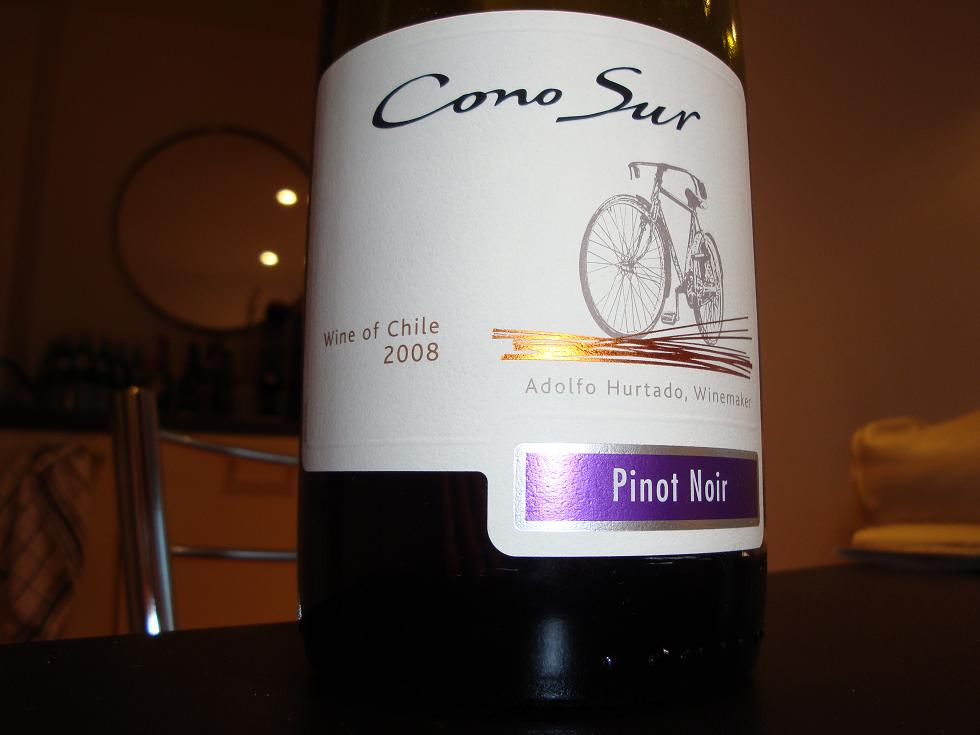 This Pinot Noir from 2008 is as mauve as the label and could easily be mistaken for Ribena (other blackcurrant cordials are available).  It has all the hallmarks of a decent Pinot Noir – barnyard chicken run and red berries with a little spice.
It is quite like a £15 Kiwi Pinot in every respect except price.  This was £6.49 from Majestic.  Also available from Tesco and Sainsbury and, no doubt, almost every wine retailer you can think of.
I definitely recommend that you follow the instructions on the label and serve this wine cool.  All Pinot Noir should be served fairly cool in my opinion and at 14 degrees, Cono Sur Pinot Noir is exceptionally drinkable for the price.
When you have finished chasing bankers, chill and relax with a globalised wine brand that is sure to make Alfredo richer than Fred Goodwin.  Now there is a dilemma.