I met Rob McIntosh in Manchester, the night before the UEFA Cup Final (Rangers lost 2-0).  Piccadilly Gardens was packed and all the pubs were overflowing with friendly but very pissed Glaswegians.  Fortunately, the Scots had not found the Northern Quarter, an eclectic mix of trendy, funky, bohemian bars, clubs, clothes shops and arty establishments.  Rob had spotted the old fish market earlier and a bar/resto on the other side of High Street confusingly named The Northern Quarter.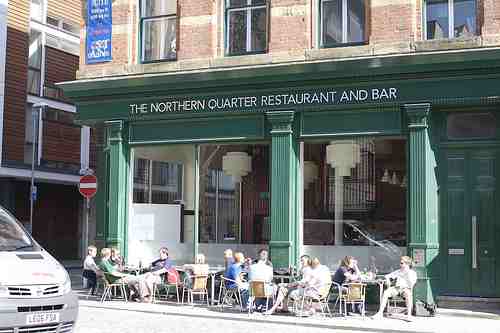 I can learn a lot from Rob's extensive oenological knowledge base, tucked away inside his cranium.  Because he works in the trade he feels that he shouldn't review wines on his weblog which is a shame because we could all benefit from his interesting views.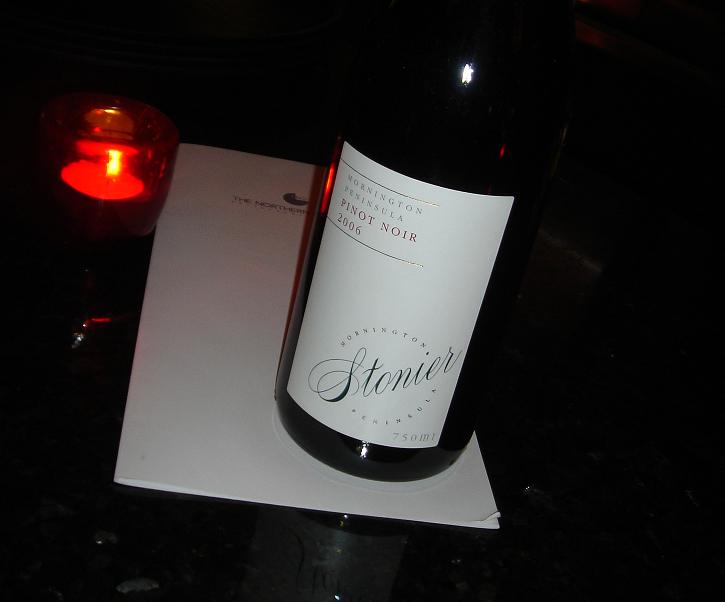 His view of my choice of wine (Stonier Pinot Noir, Mornington Peninsula 2006 – £32) was that it smelt of fake dog turd, "but it tastes better".  We both rued the fact that is was rescued from the top of a warm shelf and we immediately asked for an ice bucket.  Chatting with the manager, we learnt that he could not serve red wine at anything cooler than 23°C or the customer sends it straight back.  Shocking.  The customer is always right but in this case I volunteer (and Rob agrees) that the customer is wrong.  Or even if they are right, they are missing out by having to suffer miserable and flabby wine.
The wine was very drinkable but disappeared all too quickly as we put the blogging world to rights in the wee small hours.  I am hoping to attend the European Wine Bloggers Conference in the summer which Rob has a hand in both organising and sponsoring.
If you can't make the conference, perhaps you might want to try and find us at The Northern Quarter poring over a decent wine list and chatting idly.  The food, although we had already eaten elsewhere, looked good too.
The Northern Quarter. 108, High Street, Manchester M4 1HQ T: 0161 832 7115 W: www.tnq.co.uk