It is 15th January 2008 and I am at the end of my New Year detox.  I am not sure whether it is time to celebrate or commiserate.  Maybe I am a tad masochistic but I enjoyed it more than ever this year.
Nonetheless, this afternoon at a board meeting I had a large black coffee, and I would have eaten some chocolate biscuits had they been on offer.  For lunch I had a fat filled chicken mayonnaise sandwich.  Tonight, I felt I ought to complete a hat trick of poisons.  I felt obliged to sack my temporary tee-totalism.
I was ill over Xmas so didn't drink much anyway.  However, on NY eve I got totally mullered on champagne and that is the last alcoholic drink that passed my lips.  So, to celebrate the end to my New Year dry period, I thought I might start again where I left off, and open some bubbly.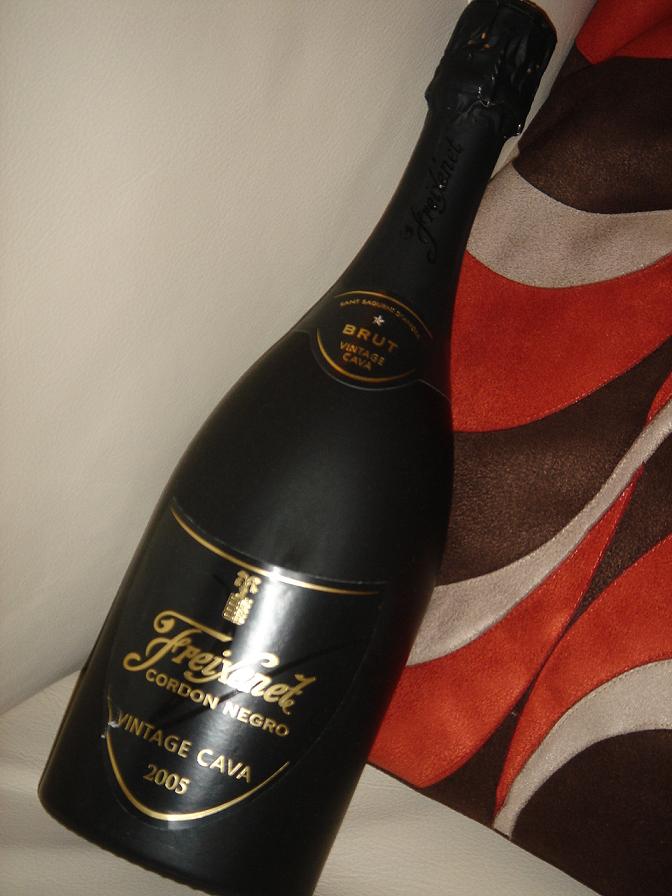 Every year after drinking myself stupid on New Year's Eve, I vow to take a two week detoxification.  Some think I am trying to prove I am not an alcoholic.  Others say I have run out of money.  I say, it is simply a good idea to purge one's body occasionally.  As well as abstaining from Bacchanalia, I also eat healthily and exercise more.  I am realistic enough to know that I won't stick to this regime for more than a couple of weeks, and I also have the most earnest of devotions to my readers - I have only managed to keep this blog going during early January because I had some old notes to write up.
So I had placed this bottle of Freixenet (I think it is pronounced Fresher (as in college) – net (as in curtains)) Vintage Cava 2005 in the fridge about two millennia ago in anticipation of this evening.  But I ummed and ahhed before opening it.  I diced with sobriety, before, after due consideration, I capitulated to the memory of how many nights I have spent enjoying wine.
So the cork was popped and the aroma was very lemony – too much so.  It did mellow over time but I still found it a little sharp and acidic.  It was also not as fizzy as champagne, and I don't think that my glass was dirty.
In summary I expected butter but I got margarine, albeit decent quality margarine.  It left me wondering whether this vintage cava was any better than the ordinary Freixenet which I enjoy very much for the price.
Having said all the above, I found this wine at Tesco for less than £10 per bottle which makes it so much cheaper than average quality champagne and probably much better VFM as a result.  Freixenet, or Freixenet Vintage?  I am not sure – maybe a re-taste is required.