Well the English football season is back and what better way to celebrate Man City's stunning victory over West Ham, than with an English wine review? 
This wine was made from a grape variety about as well known as most of the Man City first team.  For those not in England, Sven-Göran Eriksson has been on a buying spree across the globe bringing in players from Bulgaria, Brazil, Italy, Spain, Switzerland, and Bosnia & Herzegovina.  Names like Elano, Bianchi, Geovanni, Garrido, Fernandes, and Schonburger.  Oh no, hang on, that last one was the name of the grape used to make this Three Choirs Stone Brook 2005.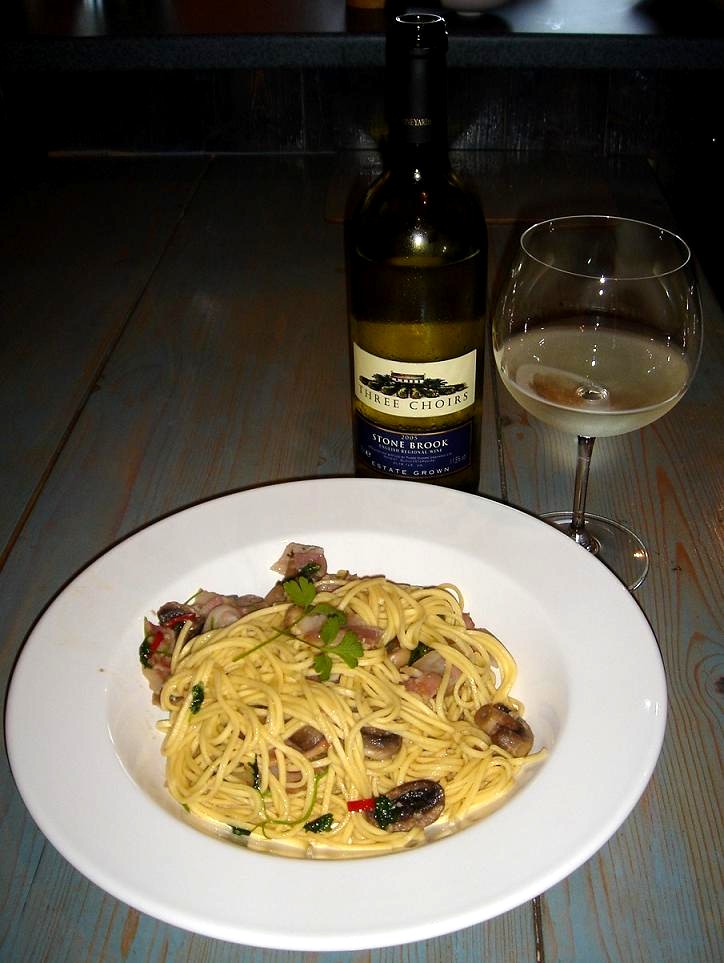 At 11.5% it's an easy drinking wine and pretty good value at £5.95 per bottle.  Not wanting to rub American noses in financial affairs, but currently that's more than $12 – ouch!
Displaying lemon zest and apricots in a quite rich style, it reminded me of Torrontés.  Not just a quaffing wine though – it also went well with my favourite home made pasta dish – fresh linguine with mushrooms, bacon, chilli, garlic and wilted parsley.  OK don't be smart, I know the picture shows spaghetti but I couldn't source fresh linguine on that day!
I'd recommend the wine to go with spicy dishes or just as a pair of teeth.
The Schonburger (aka Rosa Muskatt) grape is apparently a cross between Pinot Noir and Muscat.  Right now I am watching a cross from Elano onto the head of Bianchi who scoooooooooooooooores!  And unlike Maradona he didn't even need to use his hand 😉