(With apologies to anyone who speaks proper Italian out there….)
I was mooching around Deansgate in Manchester looking for a quick bite on my own.  I decided to try Pesto (website under construction at the time of writing).  As best I can make out, this is an Italian take on tapas.  Yeah, that's exactly what I thought!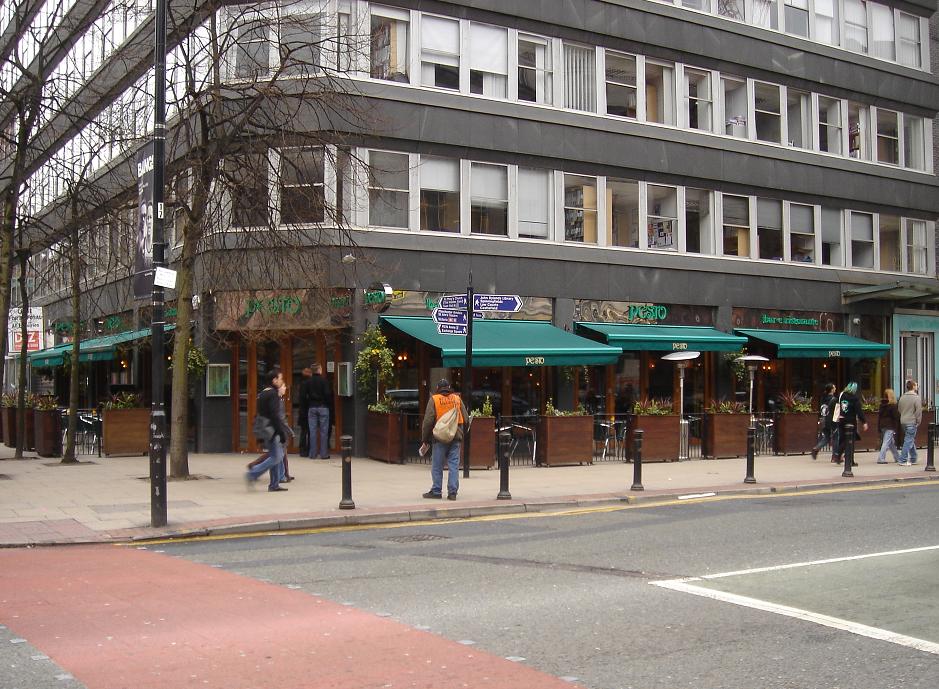 The quatro formaggi pizza was a right laugh.  Nothing like pizza at all.  I suppose at £2.95 you don't expect Mount Vesuvius, but a paltry little "compact disc" of cardboard topped with cheese was not quite what I expected.  I would suggest a singular slice of a proper pizza to be a superior proposition, perhaps with a peck of pickled pepper.
The Frito Misto (fried seafood) was soggy.  The rocket salad was nice.  The Risotto Funghi was rice.
Let's cut to the chase, Italian tapas isn't going to cut it for me.  The food was not awful, it was fine….but not great.  The wine list was limited but I found a surprising friend in the Italian Pinot Grigio by the glass.  I don't expect any more than cold, wet, tasteless insipidity (no honest! I've checked that word at dictionary.com – it exists!) from the stuff.
But the wine was really nice.  I can't remember the last time I thought that about an Italian Pinot Grigio.
The bill was £26.90 just for me, including two large glasses of my new mate.  That isn't bad really.  I recommend the place for lunch, but for dinner there are so many better places in Manchester including many Spanish tapas bars and a good few "proper" Italians.
Molte Grazie.
Pesto, 115, Deansgate, Manchester, M3 2NW. 0161 831 9930.