I saw the musical recently at Leeds Grand Theatre – it was so so.  This post is nothing to do with musicals though.
Regular readers will know that I am a new member of the Wine Society in the UK and have been experimenting with various wines, mostly the Society's own brands.
At £7.50 the Society's New Zealand Sauvignon Blanc 2006 is less than half the price of Cloudy Bay but way more than half the quality.
I have tried the Cloudy Bay Sauv. Blanc 2006 and I must say it is excellent and, dare I say it, well worth £15 to £20 a bottle.
But to be honest, my bank manager would not permit me to drink that sort of stuff regularly for very long, so I like to look for something cheaper.  The Society wines seem to fit the bill all too regularly.
This one does not really resemble Cloudy Bay – its sharper with more gooseberries and just a touch of cat's piss.  But don't take that as an negative – I love cat's piss!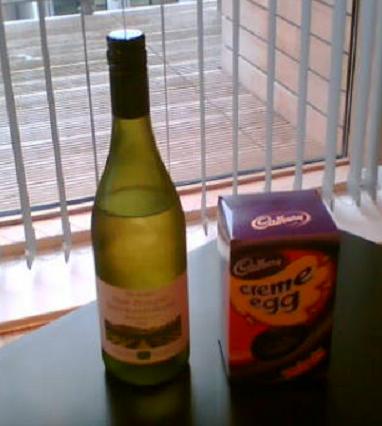 It didn't really match the Easter Egg but I think it would do better with seafood, especially mussels.
All in all though, I really enjoyed it – another triumph for the Wine Society brand.  They really are looking like top value wines and this SB is one for the re-order list.
All I need to do now is open a Brazilian themed steak restaurant, buy in value for money wine from the Wine Society, mark it up by about 350% and serve it to mug punters who can't tell the difference between a close shave and a 5 o'clock shadow.