I've just returned from EWBC in Lisbon with a newfound passion for Portuguese wine.  The whites impressed me most, even though they represented a mere champagne flute to the magnum of reds on display.
Espoṛo Reserva 2007 was a leftover bottle of tinto that found its way into my luggage by means not requiring wallet surgery РI can reveal no more than that.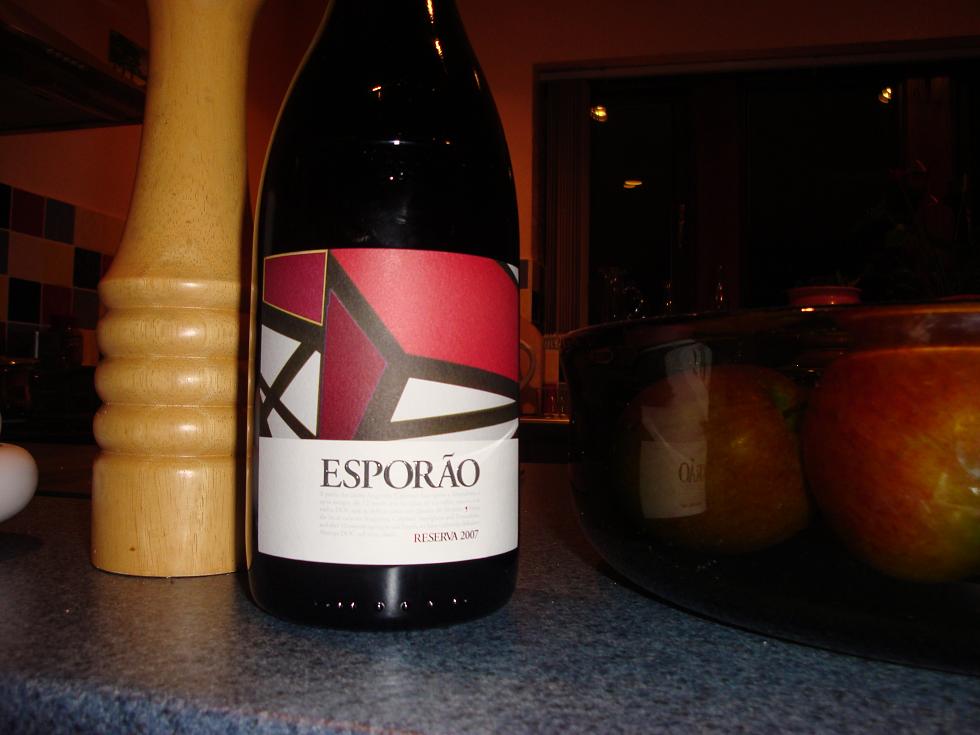 Having spent a weekend sucking on bitter, tannic, raspberry flavoured tea bags by the bakers' dozen that made my cheeks feel like Marlon Brando in The Godfather, it was a strange choice to open an Alentejo red on my first night at home.  But the problem with such tastings is not the wines themselves.  It is the numbness in the mouth after so many wines that, taken individually, would go superbly with meat, but with only a sip of water and a comedy biscuit to divide them, develop teeth greyer than a John Major suit and a tongue rougher than a night out in Scunthorpe.
This Esporão is very impressive.  Richer than Bernie Ecclestone, fruitier than Graham Norton and with seduction measured at the higher end of the Bardot scale, it is a Christmas spice box in a glass.
All the wines from the conference (and indeed the world, eventually) are logged by Adegga with a unique AVIN number, a sort of ISBN for wine.  A very helpful way of ensuring that what you read online corresponds exactly to the wine in your glass.  Follow the link, and it excuses me having to tell you where it came from, which grapes it was made from, what stopper was used and where to buy it from.  Doesn't seem to show the ABV, though,  so I will tell you that it is 14.5% – consume responsibly.