Meet a Yorkshireman and the word "baaaaaaaaaaaaa" springs to mind.  How ironic then, that this land of sheep, where I have spent a large portion of my life, is seeing a proliferation of steak houses making a bovine takeover bid.
But here, sheep have other uses, mostly exercised at night and often, it is said, at the edge of a cliff so they push back harder.  Such nocturnal activity demands that they remain alive.  Perhaps this explains the fondness for eating beef, with or without Yorkshire pudding.
When it comes to dining, Leeds residents like to maintain their stature.  Quantity is, therefore, the primary measure of a good meal.  And there's nowt wrong with that, provided that the quality is as good as the portions are big.  And I prefer that they contain meat and not just carbo-fillers such as the eponymous local batter delicacy.
Blackhouse Grills is a juggernaut chain expanding rapidly, with six restaurants already spanning the country from Glasgow to London, but with the majority in the north of England.  I spotted one in Leeds.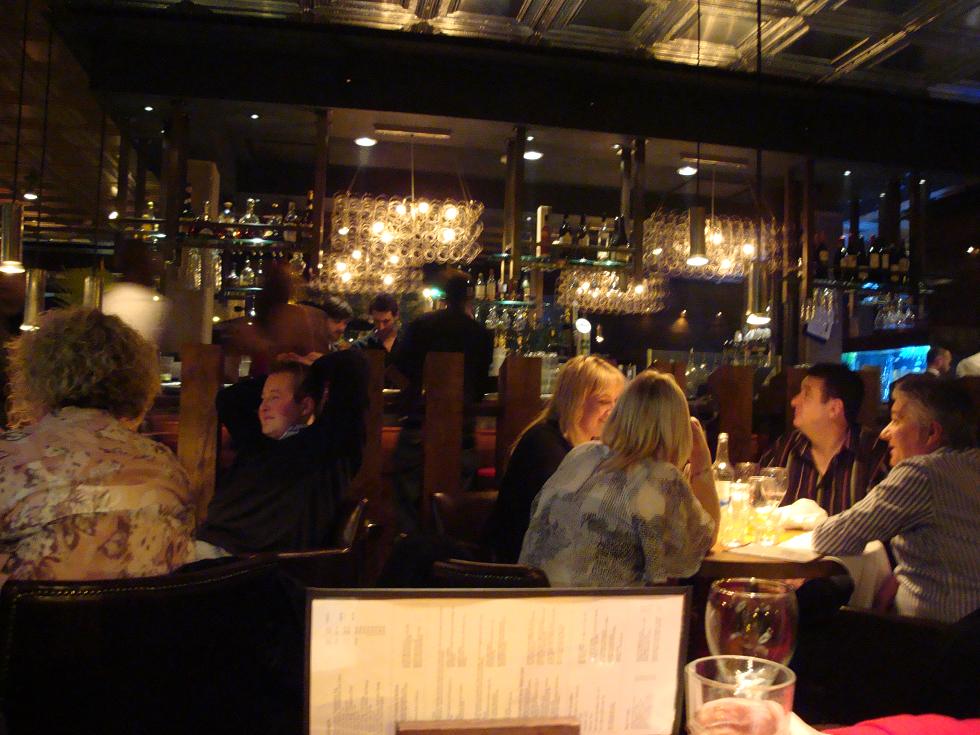 The juggernaut reference is not to the chain, but rather the restaurants, which are substantial, rugged and heavy.  I always find it reassuring when a place is made of steel and grit and sweat and large planks of wood.  It builds ones confidence.  If the steaks arrive with only half the sturdiness then they are sure to please.
My 8oz fillet was cooked almost as rare as I ordered it and was juicy and delicious, but where was the blood?  A rare steak should leave a sanguine puddle on the plate, but mine, despite tasting and looking rare, barely leaked.
The Irish Rock oysters at £8.95 for six are about as cheap as you can buy them off Leeds market and the only disappointment was the lack of green tabasco.  Oh and they had been shucked both sides.  I like to be the final and terminal executioner.  I presume that the oyster is dead once the first muscle is guillotined, but somehow they seem fresher if still connected to the second valve just prior to swallowing.
Tarquino Malbec was at the cheaper end of the wine list.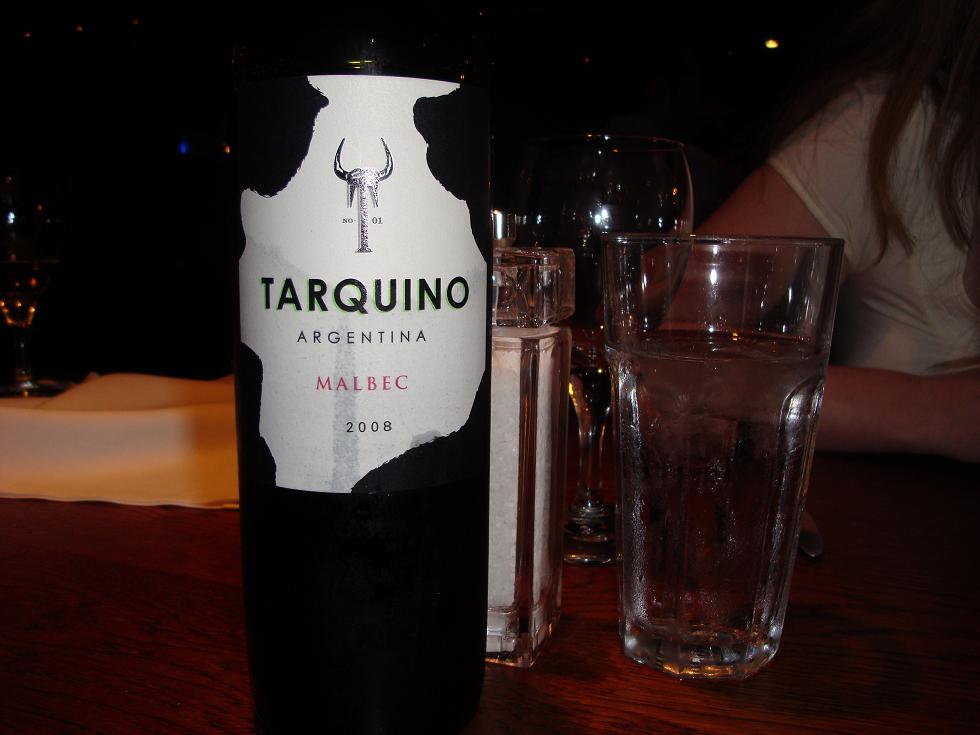 It tasted of chewing tobacco, jam, jam and jam.  Musty and dusty like a 1970's Chilean cheapie.  It was as warm as I have ever been served a wine.  Once chilled to below 30 degrees it improved and displayed spicy peppery cardamom pods, and bramble jelly.  Good with steak but complete pap on its own.
The interior of the restaurant, and especially the bar, is imposing.  All the tables I saw were for 4 to 6 people so the dating couples were not shoe-horned into tiny two seaters as is often the case.  The position and view through the big glass frontage is also impressive and certainly better than the underground sibling, Grill on the Alley in Manchester.  From the team that bought you mature cattle market bar chain, Living Room, Blackhouse has studied their target market carefully and got it spot on again.  It is just a different type of cattle this time.
The bill for three came to £122.70 plus service.  Not bad for the quality, and erm indeed quantity, which was consistently sufficient even for Yorkshire palates.  As gravity pulled my swollen midriff down the steps past the smart balcony full of smokers it was I that was the juggernaut.
Blackhouse Grill, 31-33 East Parade, Leeds, LS1 5PS
T: 0113 246 0669
E: leeds@blackhouse.uk.com
W: www.blackhouse.uk.com/restaurants/restaurants-leeds