The title may sound like a cryptic crossword clue, but it simply refers to the last time I tried Dog Point Sauvignon Blanc, the 2006 vintage, which was a superb example of this varietal's clichéed ability to smell of cat pee.  I was pleased to receive a bottle of the 2007 recently as part of a mixed case so I wondered if I should hide the neighbour's cat (on heat) before I opened it.
I know some of you beat up on Kiwi SBs and find them the height of 1990's fashion – so last decade man – yawn, yawn, yawn.  If you are one of those, or you are not into feline urolagnia, switch off now.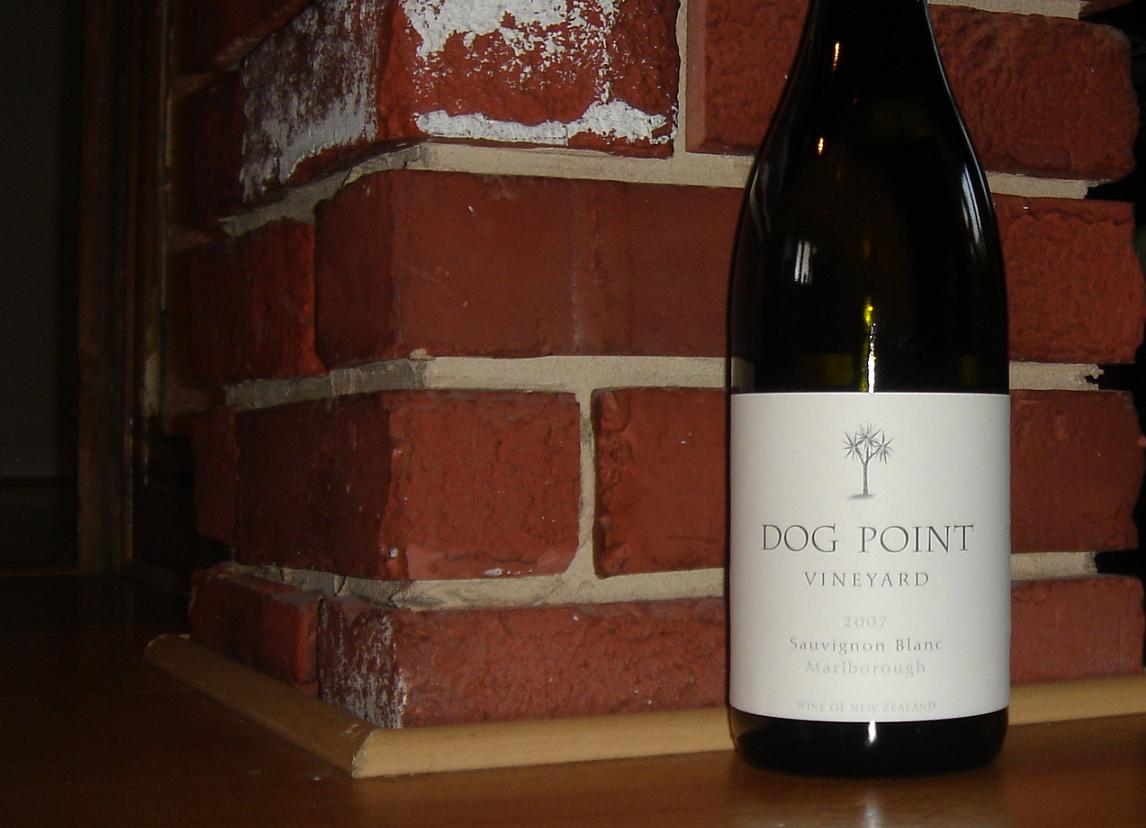 On the other hand, if you love the smell of cat piss, and let's be honest, who doesn't, especially when the cat has been fed on lemons and limes, this is another stinker.  Once again, the citric urine is balanced by more exotic fruits than gooseberry, perhaps nectarine and even a little honey.  It's a lovely wine on its own but it goes incredibly well with Brie and salty crackers (Ritz for example).
On average, I love NZ wine labels, especially this classy clean canvas.  But one thing I am a little bored with, in respect of Kiwi SBs, is that every wine is now made by someone who "used to know a person who had a dog whose owner was once the head bottle washer at Cloudy Bay".  I don't really care too much if Ivan Sutherland and James Healy came from Cloudy Bay.  I do care if their Pointy Dog tastes nice, and fortunately it is super.
I have been very kind to The Wine Society.  I like being a member and they should like having me, given that I place about 90% of my disposable income into their bank account every year.  But a little quid pro quo wouldn't go amiss.  I have written honestly about their wines and regularly enthused about their service.  I have quoted their Chief Executive, and this site has been responsible for adding to their membership.  So it irks just a little that, when I merely asked that they might include me on their page of links to wine sites on the web, a curt reply from their (unnamed) "E-Commerce Development Manager" regretted that he had to give me a negative response.
I guess when you are (in theory) a not-for profit organisation, you act unlike more commercial organisations.  Or maybe the Society is just a bit snooty and prefers to link to "proper" wine journalists, rather than the common man, especially given the uncouth title of my website.
So I can't tell you where I procured my Dog Point, but I do know that you can get it from Caro's Wines in New Zealand, and Wine Star in Australia.
If you are in the UK, I suggest waiting for Berry Bros & Rudd to stock it.  They only have the 2006 at time of writing but I am sure they will have the 2007 soon.