Forget the preamble.  This Corbières is the most interesting and, frankly, gorgeous wine I have tried in ages.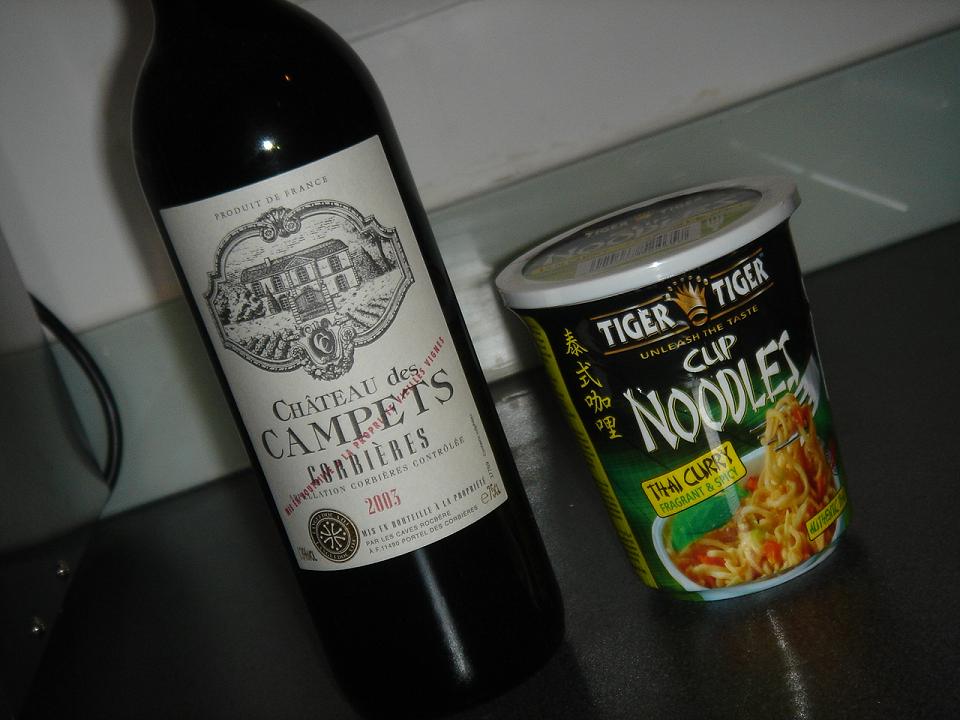 I found it at Laithwaites (although it was sadly out of stock at time of writing).  I cannot remember the price, but it was definitely not expensive.  I fear that it is absolutely necessary to stick to the 2003 due to the freaky hot summer that year.  It killed several hundred French people so one can only imagine the effect it had on shrivelling (er….I mean concentrating) the grapes, and this wine is an amalgamation of several.
Verily, it is the complex mix of Carignan, Grenache, Syrah and Mourvedre that contributes to the beautiful complexity of this wine.  The heady mix in this fruity, spicy little number was difficult to appreciate at first.  I settled on strawberries, orange juice, sherbet, plums and grapefruit on the finish.
I could dream up phrases like "fruit explosion",  "a taste of a sunny day in winter", "sunny wine for sunny people", or "bring back sherbet dips!".  However, the best recommendation I can offer is that I would like more of this wine.  Has anyone out there got any?  If you have, and can ship to the UK, please let me know and, unless the price is silly, I'll buy some.
Awesome!
By the way, I was interested to see that Laithwaites described this wine as "Rhone style" and yet in the panel below titled "If you liked this wine you will love…." the alternatives offered were mostly Cabernet Sauvignon "in a Bordeaux style".
As a second "by the way" can I also admit that getting the word "verily" into this post, puts me in the admirable position of owning a winning betting slip.
And a third and final "btw", in case you were wondering about the photo.  I don't know if you get Pot Noodles in your country.  I think dried noodles in a pot originated from a country far to the east of the UK.  Pot Noodles are dry, tasteless, full of artificial ingredients and generally chav.  However, Tiger noodles are classy, tasty and generous.  The high class call girl amongst the slag of snacks…